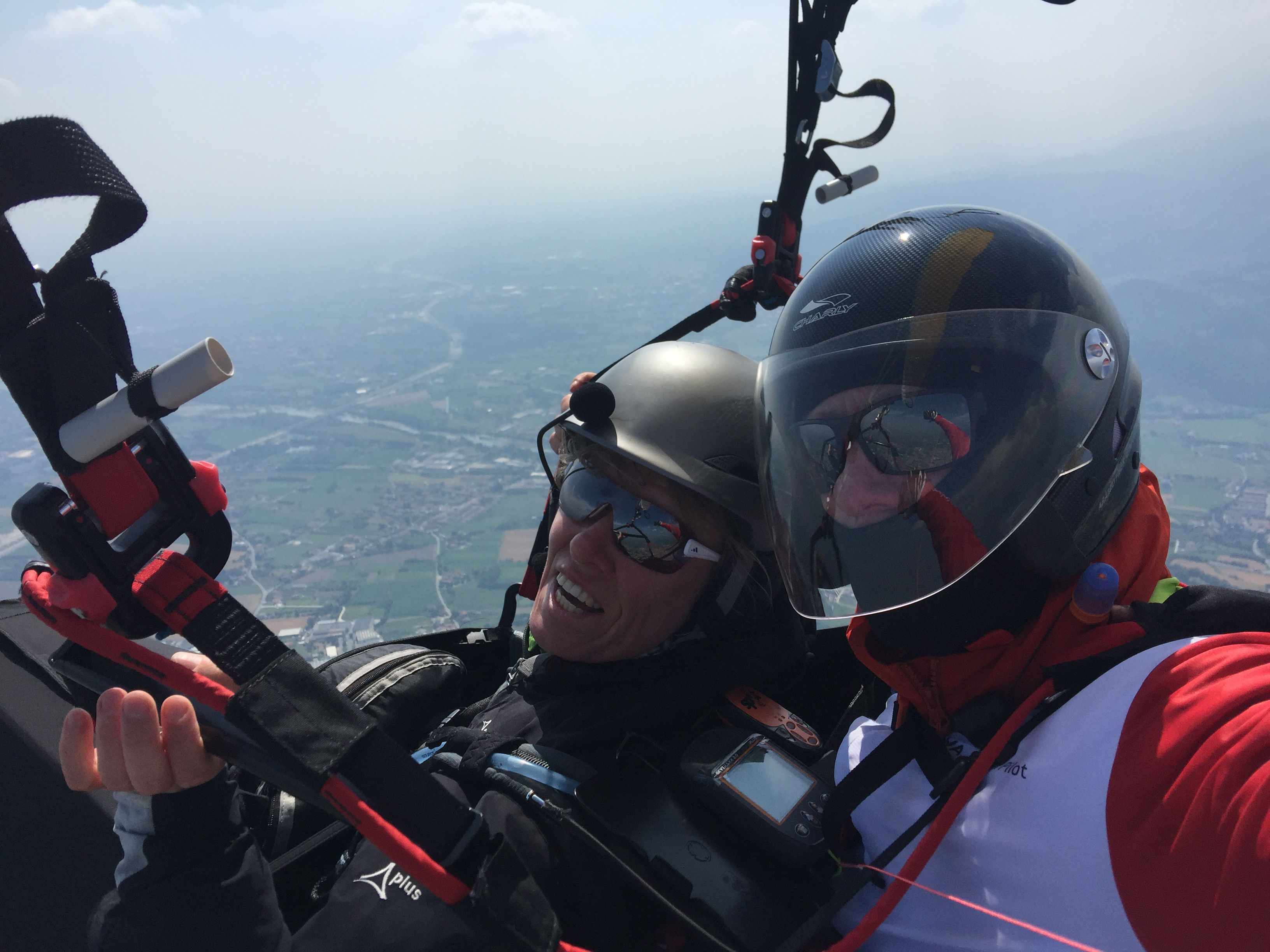 Next Post
Previous Post
It was on Ulli's and my mind for a while already…..flying XC together. This year it should become reality. In April, I started the tandem course, which took five weeks from entry test to license.
The next big challenge was the selection and the preparation of the needed XC gear. It was easy for the glider – for sure NOVA BION 2M. But protection from the cold and leg comfort was much more difficult to realize. Standard tandem harnesses are not designed for XC flying. Finally, we ended up designing and making our own tandem-pod covering the pilot's and passenger's legs in one cocoon.

Making of tandem-pod……with a lot of improvisation and fun.
Now, after almost two months of tandem experience and returning from a two-week holiday trip right now – the outcome of our project is pleasing and promising. We managed some really nice flights together – making us learn a lot and – luckily! – also strengthen our partnership.
The results in the online contests are also very satisfying: currently 1st in German XC and 4th in the world ranking of XContest speaks for itself. Two flights from Speikboden with 137 and 168 km FAI-triangle have pushed us up the rankings.

On course to 168 FAI and always reading the clouds for best line
The 168 FAI is currently the longest ever on German XC and XContest by a German pilot. And the 137 FAI even fulfils the strict FAI definitions of national records. So I just claimed the flight as a new German record of free distance around a triangle. Actually, we weren't planning any records or so. I only became aware of it when I started to write this story for the team blog. Neither was I aware of these rules at all. (If you're not as well – it is worth to look at them!)
Tandem XC-flying is real team work for us. If you consider the passenger role as a passive one you're totally wrong. Ulli is the main contributor to weight shift with her 53 kg. Especially in small thermals it is a real difference when she moves her full body weight by pulling the inside spreader with both hands. Additionally she's something like the Navigator like in an airplane in the early days of aviation. She checks frequently wetter radar and nearby stations with here 6"phone mounted in passengers cockpit. Picture service and air-canteen not to be forgotten…..

My glider and me….uuuups my wife, my glider and me   ;-)
About our learning curve: The major achievement was how important the right and levelled communication between us is. Don't overload the other one with thoughts. And all commands needs to be precise and standardised. Again, it's a bit like in an airplane cockpit. The other big topic was to make Ulli confident with my flying style and decisions. As she is a pretty experienced pilot too, she would potentially take different decision. Again good communication rules. But anyway, she is not a passenger, she is the co-pilot!
 
Just after landing a heart-shaped red balloon welcomed us on ground. What a sign!
Tandem flying is much more difficult then I considered before. Not only physically, it is more a mental thing: being responsible for someone else totally changes your own behaviour (at least my behaviour). Risk management becomes more central and important. Also the lower end speed of the glider forces me to consider the most efficient and safe flight path more than normal.
All in all, it is a great experience that we definitely don't want to miss!
This story is to be continued. See you next time in the air!
Cheers
Stefan (and Ulli, of course)
Links:
XC.DHV.de ranking: http://www.dhv-xc.de/xc/modules/leonardo/index.php?name=leonardo&op=comp&rank=1&subrank=3
XCOntest.org ranking: https://www.xcontest.org/world/de/ranking-pg-tandem/
137 km flight: http://www.dhv-xc.de/xc/modules/leonardo/index.php?name=leonardo&op=show_flight&flightID=884036
168 km flight: http://www.dhv-xc.de/xc/modules/leonardo/index.php?name=leonardo&op=show_flight&flightID=885478
Link to download FAI rules: http://www.fai.org/downloads/civl/SC7D