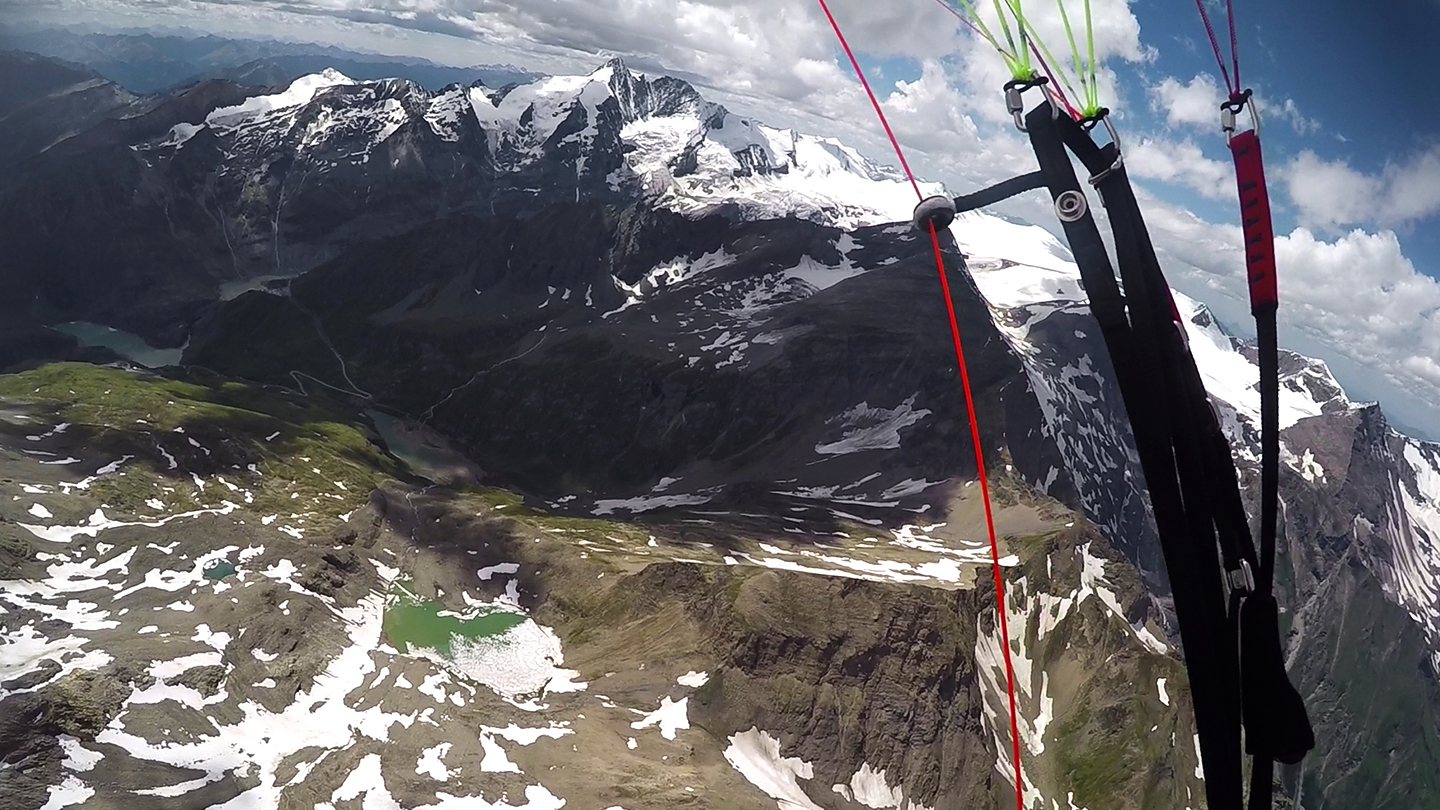 Next Post
Previous Post
Last Thursday (June, 26) was possibly the best day of the year to date. I was planning big – but I bombed out near Lienz already at 10.30h in the morning. More than ten hours before sunset. Maximum penalty! Once again, I was awfully disappointed.
To spend the rest of the day on the ground – waiting for my buddies Johanna, Didi and Tim – was not an option. I needed distraction … be airborn again, soothe my "pain" ;-)
After a short autostopp and two and a half hours of hiking, the middle station of the Kalser mountain railway lay directly on the way up. Because I wanted to fly and not to walk, I did not let me beg for long, jumped into one of the passing gondolas and got ready for take-off while riding up the cable car.
Arriving at the Adler Lounge, a pretty posh mountain resort at the top of the cable car,  I felt a gusty wind from northwest to northeast. The clouds also showed a lot of wind in the altitude. If, however, the wind allowed to reach cloud-base, I could use the west component well for a jump over the main crest. Flying from the south side of the Alps to the northside would not be the worst option… And it would take me a little way home.
After a short look for a suitable take-off, I was finally airborn at two o´clock in the afternoon. The cooling did very well. With increasing altitude, thermals were quite disrupted, but the climb to the base was possible. Additionally, the wind was turning southwest. Perfect!
Video of my short but amazing trip
–
With almost 4,100 meters and partly 30+ km/h tailwind, the route to the North was very easy. I would have liked to stay longer at this magic place, but not today. And so the many impressions around Großglockner, Pasterze (glacier at Großglockner) and the main crest were left behind far too quickly. Over the Großglockner Hochalpenstraße I could already see and feel Zell am See, Steinernes Meer and the Hochkönig. But the clouds indicated clearly what to expect: more torn into pieces, windier. When I flew the Ferleiten Valley northwards, it still went on rapidly, although with considerably more turbulences than on the south side.
Deutsche Übersetzung unter https://www.youtube.com/watch?v=LWkWE2ZF60c
Link to flight: http://www.dhv-xc.de/xc/modules/leonardo/index.php?name=leonardo&op=show_flight&flightID=889670
Doarama: http://doarama.com/view/1478916