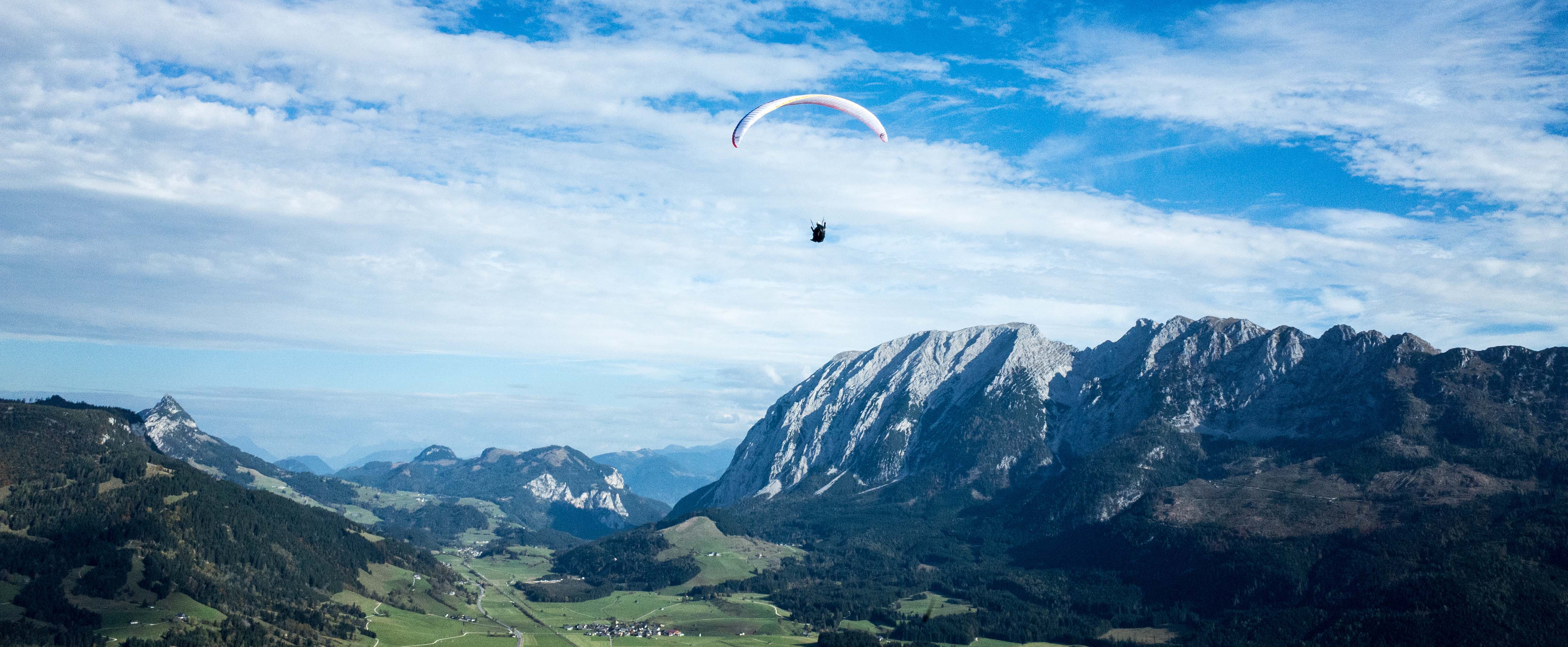 Next Post
Previous Post
Am vergangenen Wochenende sind die zweiten Nova walk and Flying Days über die Bühne gegangen und es war wieder ein voller Erfolg!
Gemeinsam mit dem Paragleitclub Alt Aussee, Toni Bender, Thomas Hofbauer und mir stemmten wir ein Walk and Flytestival mit über 80 Teilnehmenden. Von Freitag bis Sonntag konnten mit zuvor reservierte Nova Demoschirme von den umliegenden Bergen testgeflogen werden. Auf die meist recht alpinen Startplätze führten ortskundige Guides von denen die meisten vom Gastgeberclub kamen.
"Ist denn das nicht wahnsinnig viel Arbeit?" wurde ich des Öfteren gefragt, und ich muss antworten: "jein". Denn wie auch vergangenes Jahr wurden die Aufgaben an ein großes Team verteilt. "Jeder hat das gemacht was er möchte und dann macht die Arbeit auch Spaß" meint Robert Heim, der Hauptorganisator des Gastgeberclubs "Alt Aussee". Tomy kümmerte sich in den Wochen vor dem Event darum, dass allen Teilnehmenden während des Testivals ihre Wunschschirme zur Verfügung standen, kommunizierte im Vorfeld mit dem Paragleitclub Alt Aussee und studierte intensiv das Wetter in der Woche davor. Ich gab im Vorfeld ab und zu meinen Senf dazu, teilte vor Ort gemeinsam mit Toni (der immer einen genauen Überblick über alle Schirme behielt) die Demoschirme aus und stürzte mich dann auf die bildnerische Begleitung des Events. Diesesmal habe ich fast nur gefilmt und das fotografieren an motivierte Teilnehmende "geoutsourced" – herzlichen Dank dafür! Um mich flott zwischen den Wandernden hin und her zu bewegen übernahm "Hofinator" Tomy kurzerhand auch noch mein Packl – so macht Teamwork Spaß :-). Der Fliegerclub stellte die Guides, organisierte ein gemeinsames Abendessen mit Filmvorführung und mietete extra einen Shuttlebus um uns die paar Kilometer zu den Ausgangspunkten zu fahren. Der President Kurt Freller höchstpersönlich fuhr an diesem Wochenende unzählige Kilometer, anstatt das durchaus thermische Flugwetter für sich zu nutzen!
Es wurden der Sarstein, der Loser, der Lawinenstein, der Elm, der Salzofen und der Kalmberg bestiegen, alle zwischen 500 Hm und 1400 Hm und Süd bis Südwest ausgerichtet. Großer Dank geht an die versierten Guides Herman Stimitzer, Jürgen Fuchs, Andi Holzer, Robert Heim, Peter Eidlhuber, Gerhard Pernkopf und dem Teamkollegen Werner Luidolt.Eigentlich war jeden Tag leicht föhniger Südwind angesagt. Der war aber dann aber doch sehr schwach ausgeprägt und ließ uns an manchen alpinen Startplätzen recht beherzt anlaufen…
Die nichtfliegenden Angehörigen spazierten um den See oder auf den Loser und genossen das Flair am Landeplatz bei noch sommerlichen Temperaturen.
Die begeisterten Rückmeldungen motivieren uns natürlich nächsten Jahr wieder ein solches Testival durchzuführen und wir haben da schon eine Idee…..
Eine ausführliche Bildergalerie gibt es hier:
https://www.flickr.com/photos/126910603@N07/sets/72157648749975302/
Weitere Berichte von Teilnehmenden:
http://knackwurstflieger.blogspot.co.at/2014/10/nova-walk-tage-2014.html
http://carinthian-paragliders.blogspot.co.at/2014/10/nova-hike-flytage-2014.html