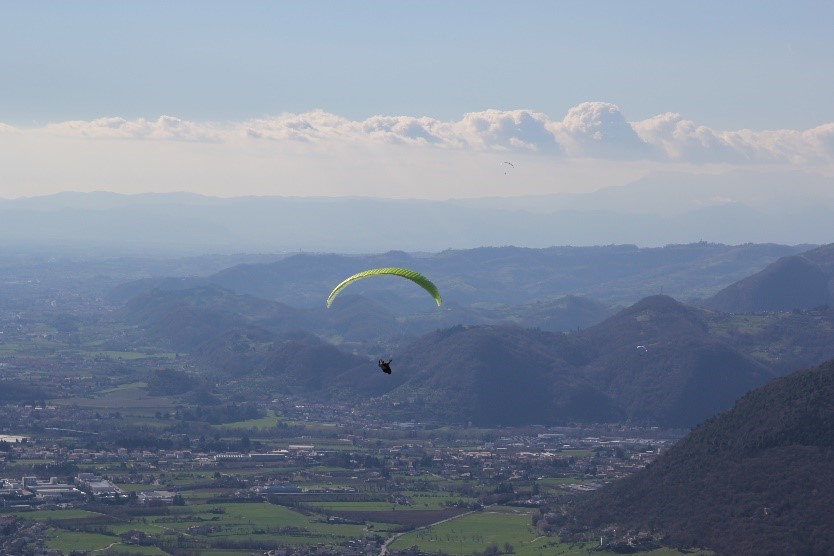 Next Post
Previous Post
As I have had a fantastic paragliding season 2014, I decided to write a short flashback about the most memorial moments of this year!
The application
During the season 2012/2013, I started to think about if I should apply for a place in the Nova Juniors Team. Back then, I did my first bigger XC flights and I realised that although I had some nice flights, something is still missing. It was not so easy for me to get connected to other pilots who were into XC flying. And when I saw Roberts flight from the Wank together with Till, I thought, wow that's a great thing! That's what I am looking for! So I finally decided together with a friend to send an application to Till.
I got a response very quickly (which I really appreciated) and after some emails and a lot of questionnaires, Till told me that I'm in the team . I'm sure you can imagine that I was really really happy about that =)
Season starts with my new Mentor
I finally got my new Mentor in early February and immediately felt at home under it. I did some nice early season warm ups in Bassano where I realise really quickly that this wing has a lot of potential. So I decided to raise my goal to 200 km FAI for this season (which was twice as long as my current PB).I also met Chris in the Stubai vally one day. We exchanged numbers and made some plans for the upcoming season.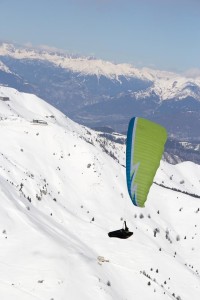 (warm up in Bassano)
First big flight in 2014
As the XC-season started really early this year, I tried together with a friend to circle the Karwendel. We planned a 115 km FAI from the Brauneck and at the 2nd of April we did it in 5 hours. Although the first leg was really slow due to the strong south wind, we managed to fly from Innsbruck to the Achenlake straight without any circling-this was a real milestone for me. It was the first time that I realised how fast you can fly with your glider if you don't need to circle. This simple insight helped me a lot!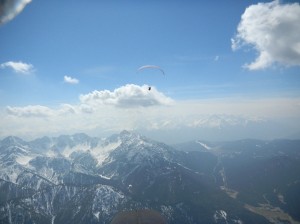 (crossing Seefeld)
First 200 km FAI Attempt:
I missed the first really good day in the Eastern Alps because I decided to try the Speikboden. This ended quite quickly with snow and thunderstorms. But I had the chance to take the second good day. On the 20th of May 2014, Chris, Patrick and I decided to go to the Hochfelln to try a big FAI triangle. Although we had a really early start, the first leg didn't work so well for me and I lost a lot time to come into the Pinzgau valley. Once arrived, I tried really hard to catch up the others, but I was a bit too late for the 200 km FAI. After an amazing final glide together with Chris, I landed after 184 km with a big smile on my face. This awesome day was crowned by a local ski club, which had a meeting next to my landing place and invited me and one other pilot to have dinner together! =)
The outstanding Whitsun weekend
The weather forecast looked really promising for the whole weekend and Chris, Manuel and I decided to try to increase our German flights. The Friday didn't work well for all of us. Chris and Manuel started too early and had to land. I managed to get to Pinzgau valley, but I made a big mistake and had to land at the Gerlospass. This was followed by a long walk back to civilization-at least I had a lot of time to rethink the whole flight. =)
One day later, I probably had the best flying day in my whole career! Strong thermals, nice clouds, nearly no wind, and a good cloud base! All that made it really easy to fly a lot of kilometres. As I was really fast, I decided to enlarge the planned triangle to up to 240 km by using the Gasteiner valley. Unfortunately, I lost a lot of time during my attempt to go the Hochkönig as I took a really poorly chosen route out of the Gasteiner valley. Having arrived there, I was not able to find a really good thermal anymore although it was still quite early. I had to land after 198,8 km FAI in Saalfelden.
"No way! Only 1 km?! Aaargh!"
In the evening, we decided to change the location and went to the Osterfelder which, technically, should have been a really good decision!
The conditions where again epic and the most difficult part of the flight was to obey all the airspace rules. I was not so self-confident that day and my plan for the day was to just fly the 200 km. I was quite fast again and so I had a lot time to enjoy the last leg out of the Ötz valley with an outstanding cloud base of 4700 meters! Believe it or not, I finally reached my goal to fly 200 km FAI and landed very tired but happy after 216 km FAI! Even though I have had many more nice flights, these were the best of my season 2014!
 Nova Teammeeting 2014
I was really looking forward to getting to know everybody and I was also a bit nervous whether I would fit into the team family. As it turns out, this concern was absolutely unnecessary!
I met a lot of nice pilots there and had a really great time! On top of all that, Nova decided to honor Timon and myself with the Nova Newcomer award. This was quite awesome for me and the top of the best paragliding season in my life so far! Thank you so much, Nova!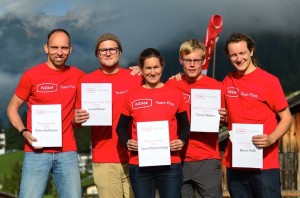 Special thanks go to the Nova Team for the support and to Chris who had a lot nice tips for me!
See you up in the air
Luca Bayer