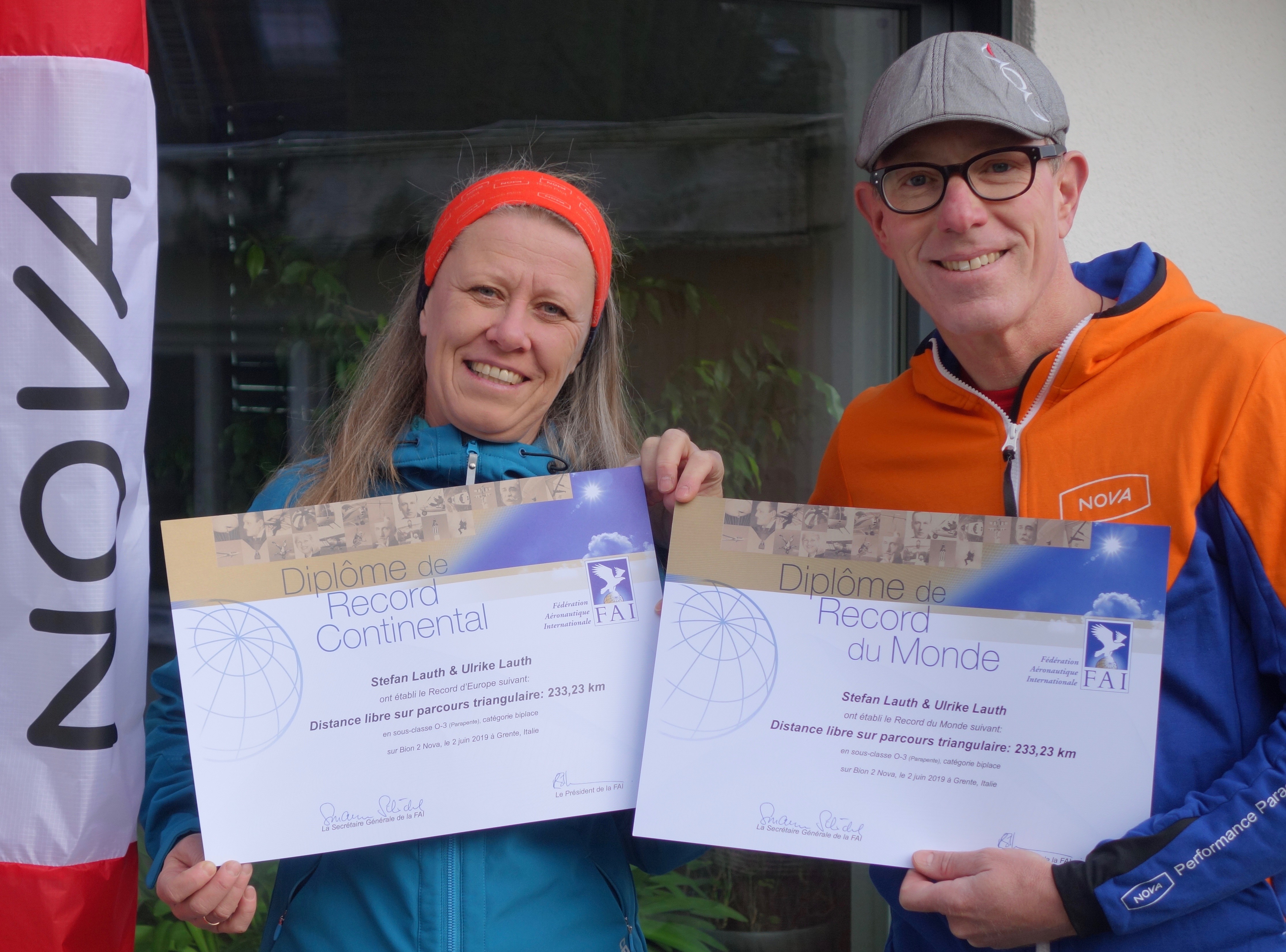 Next Post
Previous Post
Half a year after our record flight, we received official recognition documents by FAI.  Our flight from 2nd of June 2019 is now officially the current World and European Record with 233,23 km free distance around a triangle.
What was more difficult: the flight or the recognition by FAI? Compared to flight duration recognition took much longer and it was definitely tricky too. Many thanks to all supporters during this exercise! As well to all who support us in flying with gear and knowledge!
Mille gracie, Merci beaucoup, Herzlichen Dank und Servus Ulli & Stefan Lauth
Tandem Welt- und Europarekord durch FAI anerkannt
Gut ein halbes Jahr nach unserem Rekordflug halten wir nun die offizielle Anerkennung der FAI in unseren Händen. Unser Flug vom 2.Juni 2019 ist jetzt offiziell neuer Welt- und Europarekord mit 233,23 km freie Strecke um ein Dreieck.
Was war jetzt schwieriger – der Flug oder die Anerkennung durch die FAI zu bekommen? Verglichen mit der Dauer des Fluges war die Anerkenning zeitaufwändiger und deutlich kompliziert war sie auch. Ganz herzlichen Dank an alle, die uns dabei unterstützt haben und nicht zu vergessen all jene, die uns so einen Flug erst ermöglicht haben!
DANKE, DANKE und nachmals DANKE Euch allen! Ulli & Stefan Lauth
www.xcontest.org/2019/world/de/fluge/details/:stefan67/2.06.2019/07:35