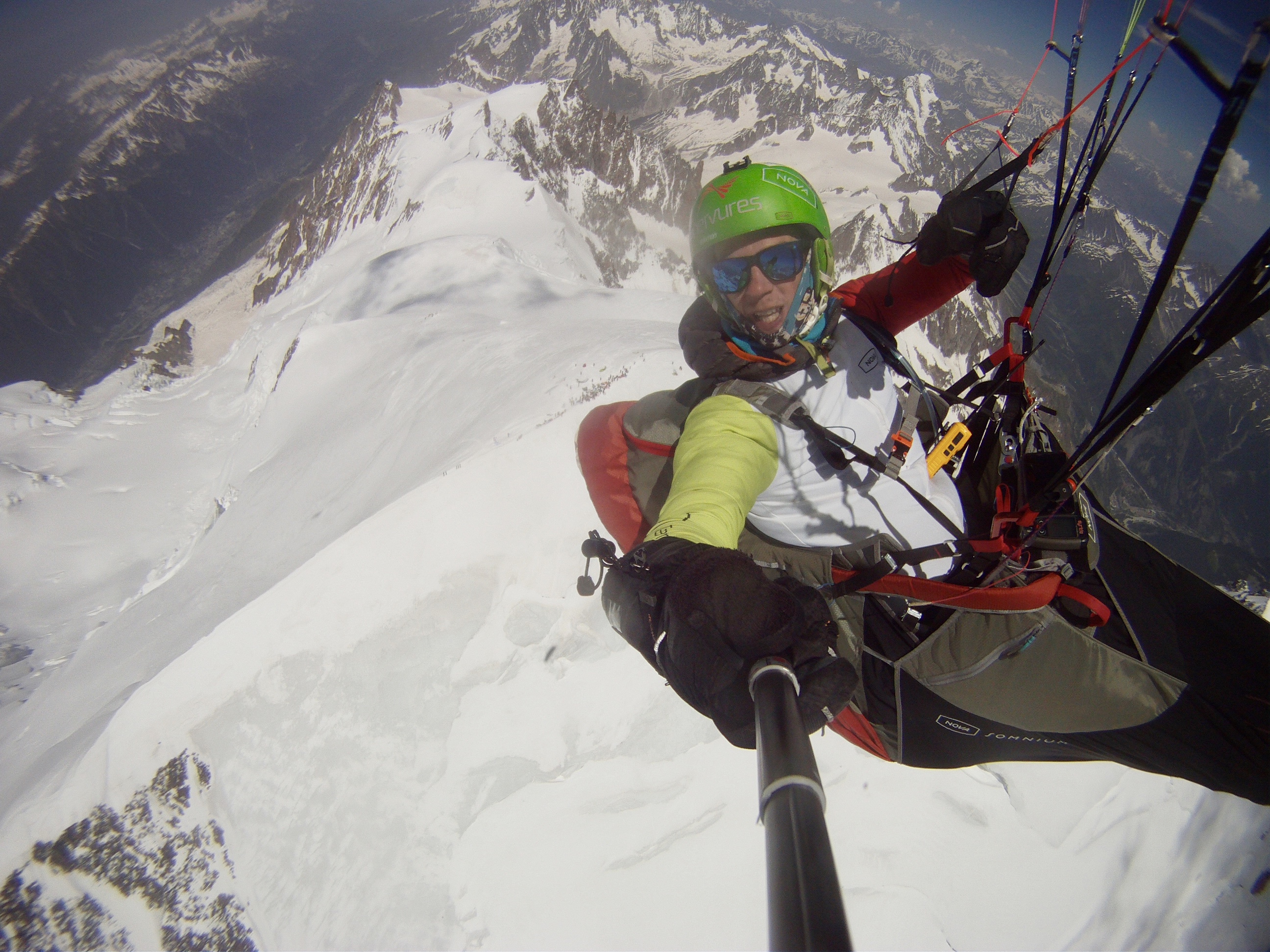 Next Post
Previous Post
Since my beginnings in paragliding, I always have been fascinated by some pilots of my club telling stories about landing on the summit of Mont Blanc in 2012. I was wondering what kind of experience it would be and if I would be up to the task one day.
Fast forward 7 years, to mid-June when I and some flying buddies were planning to go on a hike & fly this week. Seeing the forecast of a heatwave hitting France, we made the decision to go to Chamonix in order to search the high mountains because it would be too stable to do a hike and fly in Switzerland. We arrived in Chamonix on Monday and were looking at the forecast, Wednesday would be THE day. It was like the universe was shouting: FLY TO THE TOP OF EUROPE! The forecast for Wednesday was high thermals on both the French and Italian side of the Mont Blanc and almost no wind at 5000m (the perfect conditions)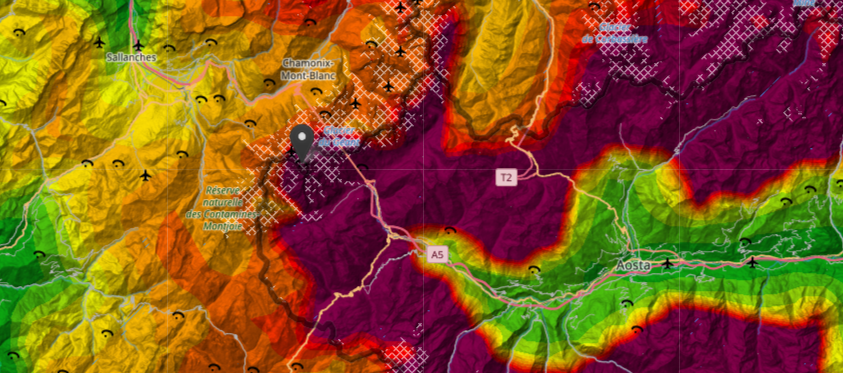 I knew that landing on the summit would be tough because there is no margin for errors. Therefore, my buddies and me prepared ourselves the day before by looking up how other pilots succeeded in 2012 and which route they took. We also equipped ourselves with alpine boots and crampons. Even when getting there by paraglider, once you're on the top, it is mountaineering and you better be well-prepared.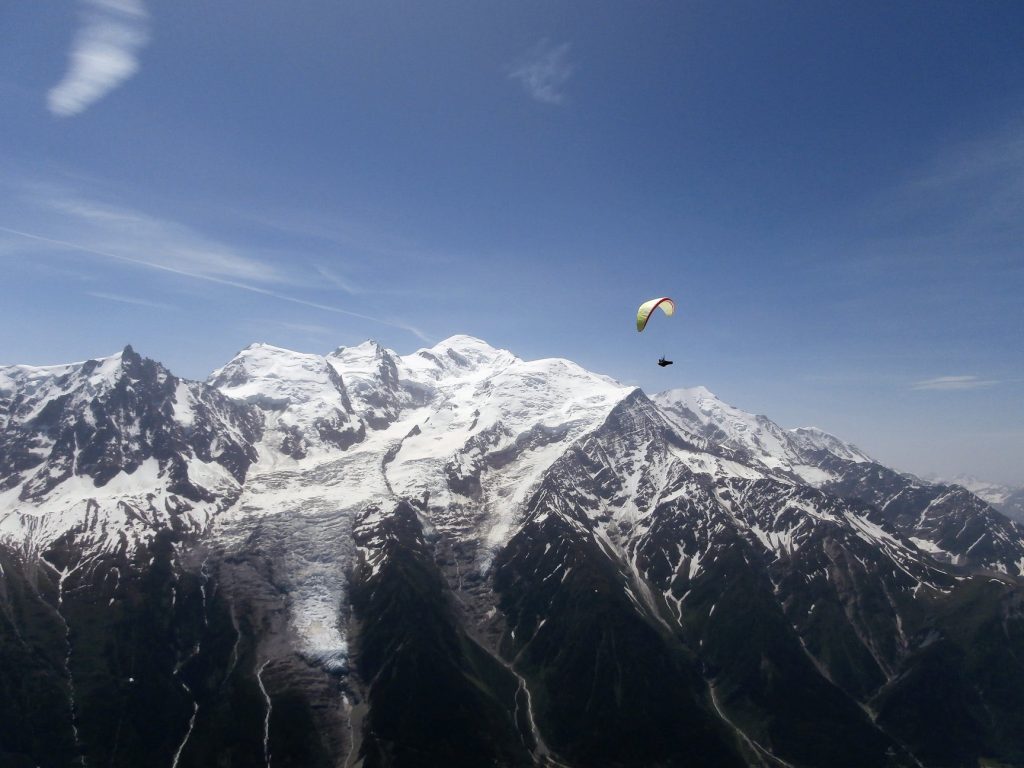 So there we were with almost 300 other pilots from all over Europe, waiting on the launch site of Plan Praz for the first thermals to show up and get us above Le Brevent. I launched at around 12h40 for the south take-off, after some back and forth on the mountainside, I managed to find a really nice thermal that took me up to 3600m and I was ready to begin my first transition to Mont Vorassay. Before arriving, I found another nice thermal that was marked by some other pilots who were already leaving for Aiguille de Bionnassay. At 3280m, I decided to continue to the ridge that goes up to Aiguille de Bionnassay, this is also the entry to cross over to the Italien side by flying over Col de Miage. At this moment, I was flying at around 3500-3600m and with some other gliders, we were a little hesitant to cross to the Italian side. I have to admit that the Italian side is really impressive and the scenery a lot more dramatic than in France. The mountains are shaped like spikes and you have beautiful glaciers coming down from the Mont Blanc.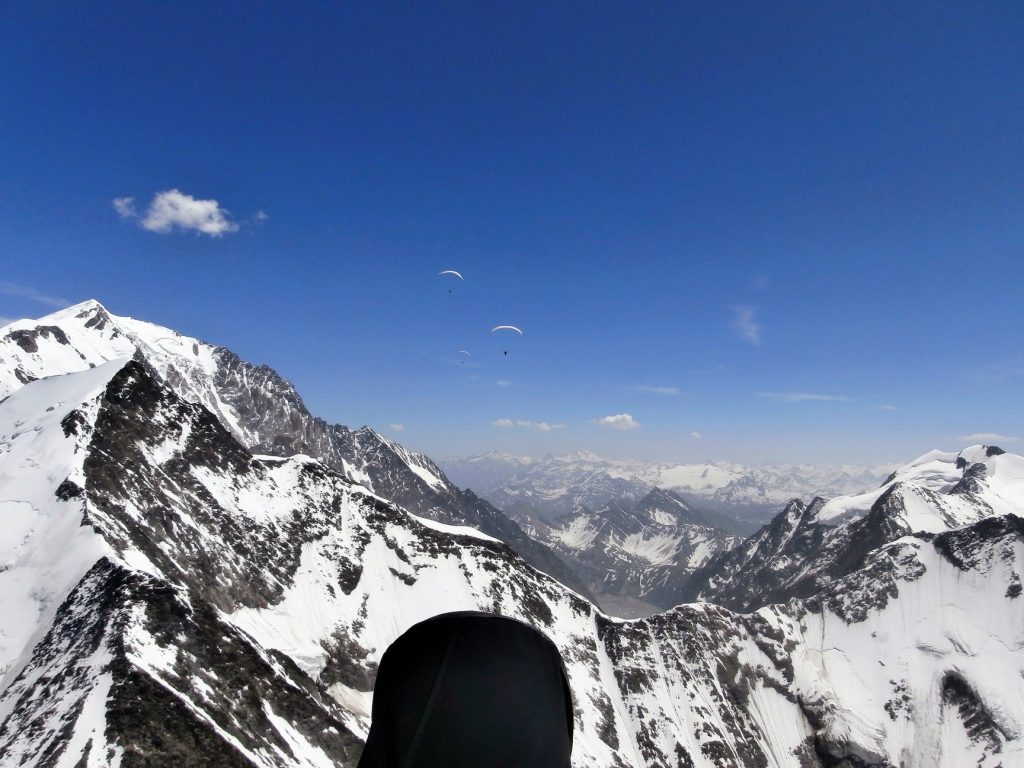 At 3850m, together with some other pilots, we decided that we gained enough altitude to cross the Col the Miage and there we were, flying next to these impressive spike-shaped mountains and above that magnificent glacier.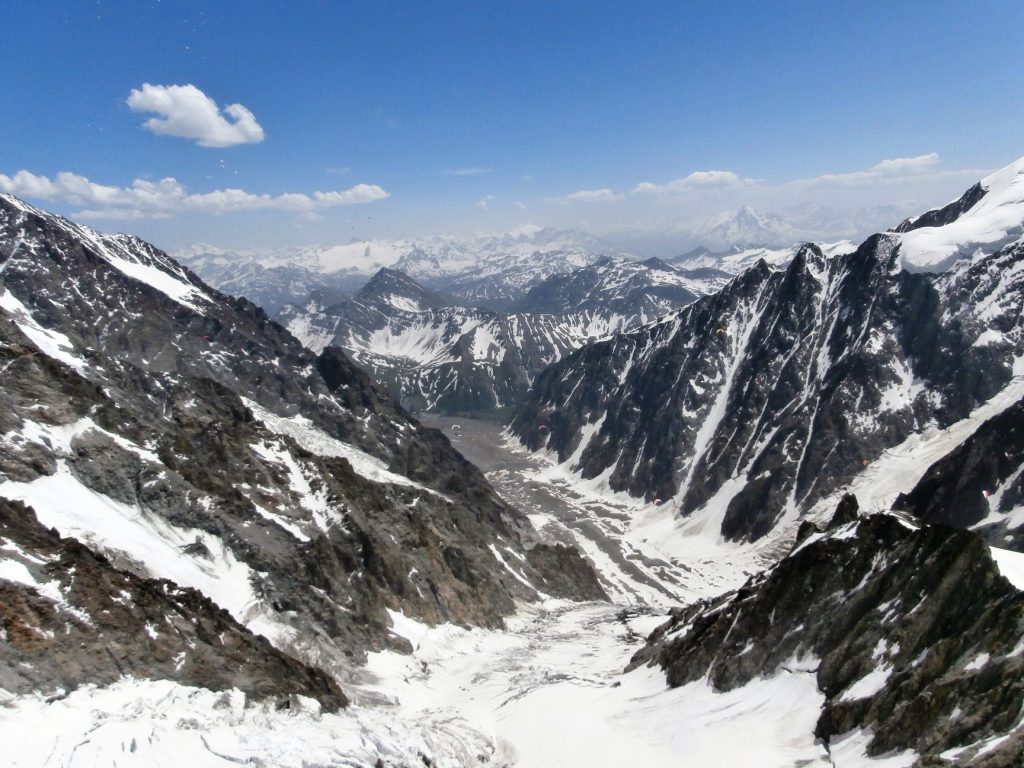 We continued to follow the glacier (unfortunately only what is left of it ) to a ridge under Monte Brouillard where we found some nice thermals to take us closer to our goal. At that moment I was only in the air for 1 hour and 35 minutes. The thermals were very good and smooth and at 4400m, I decided to transition closer to the peak of Mont Blanc. The thermal that allowed me to get to the top was just above Picco Luigi Amedeo. Entering the thermal at 4430m, I knew that this was the one that would make everything possible. I was gaining height at around 2m/s and every now and then I would look at the summit and back to my altimeter. 4500, 4600, 4700, 4800, 4810, I did it !! I was flying above the summit of Mont Blanc! It was a really emotional moment for me and some tears forced their way out.
At that moment there were already a lot of pilots on the summit so I decided to play it safe. Before the top landing, I would first do a test approach in order to see the conditions above the summit. The approach went fine, so I decided to head back to the thermal to gain enough altitude and execute the same approach but this time to land. 
I admit that the stress level was a bit higher than a normal landing. Lucky, we have a nice flying site not far from my home where we can practice top landings. And there I was, my feet in the snow on the summit! I pulled together my glider and put it down between the others next to the landing spot. The people on the summit were so happy and welcoming, everybody was high giving each other while congratulating everybody for the exceptional flight. What was even more impressive is that I bumped into some friends that I hadn't seen for years. WHAT A STUNNING EXPERIENCE!!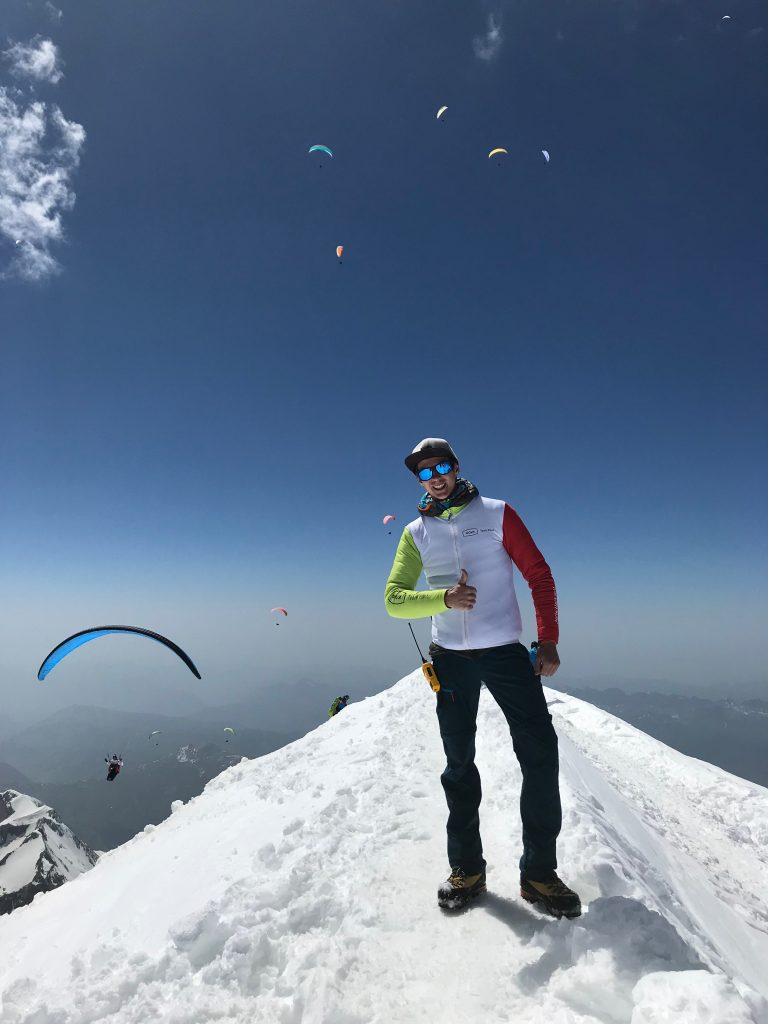 After one hour on the summit, it was time to go down. I waited in the line to take off and helped some guys preparing their gliders. After 10 minutes, it was my time. Another pilot prepared my wing for take-off and there I was, taking off. 
I was grateful how light and easy my MENTOR 5 light is to launch (even with some tailwind). The flight down was relaxing and really beautiful, I took the time to go to the Aiguille du Midi and lost the rest of my altitude flying above the Valley In this epic scenery.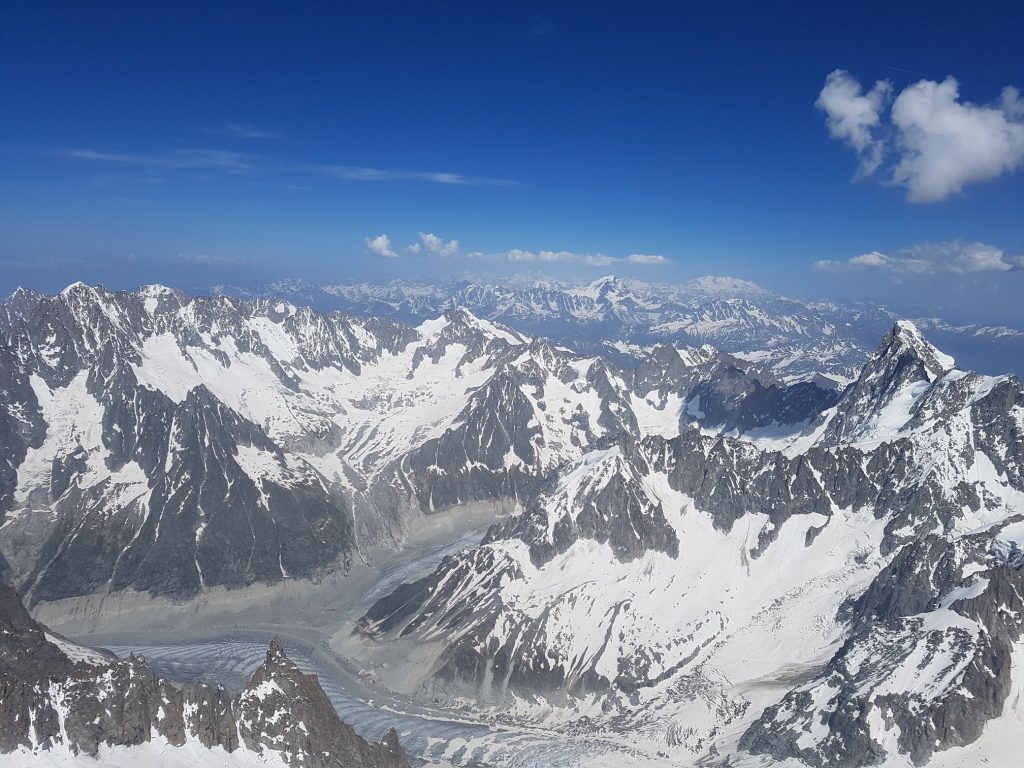 I am sure that I will dream a lot about this flight and already have the next adventure on my list. Next time I hope to fly around the Mont Blanc mountain chain.
Thank you to Marin and Julien for this amazing adventure and pictures ! 
Joris
Sad news p.s.: I had to learn that a fatal accident happened after I had launched on that very day. As a result, authorities have forbidden toplanding on Mont Blanc now.