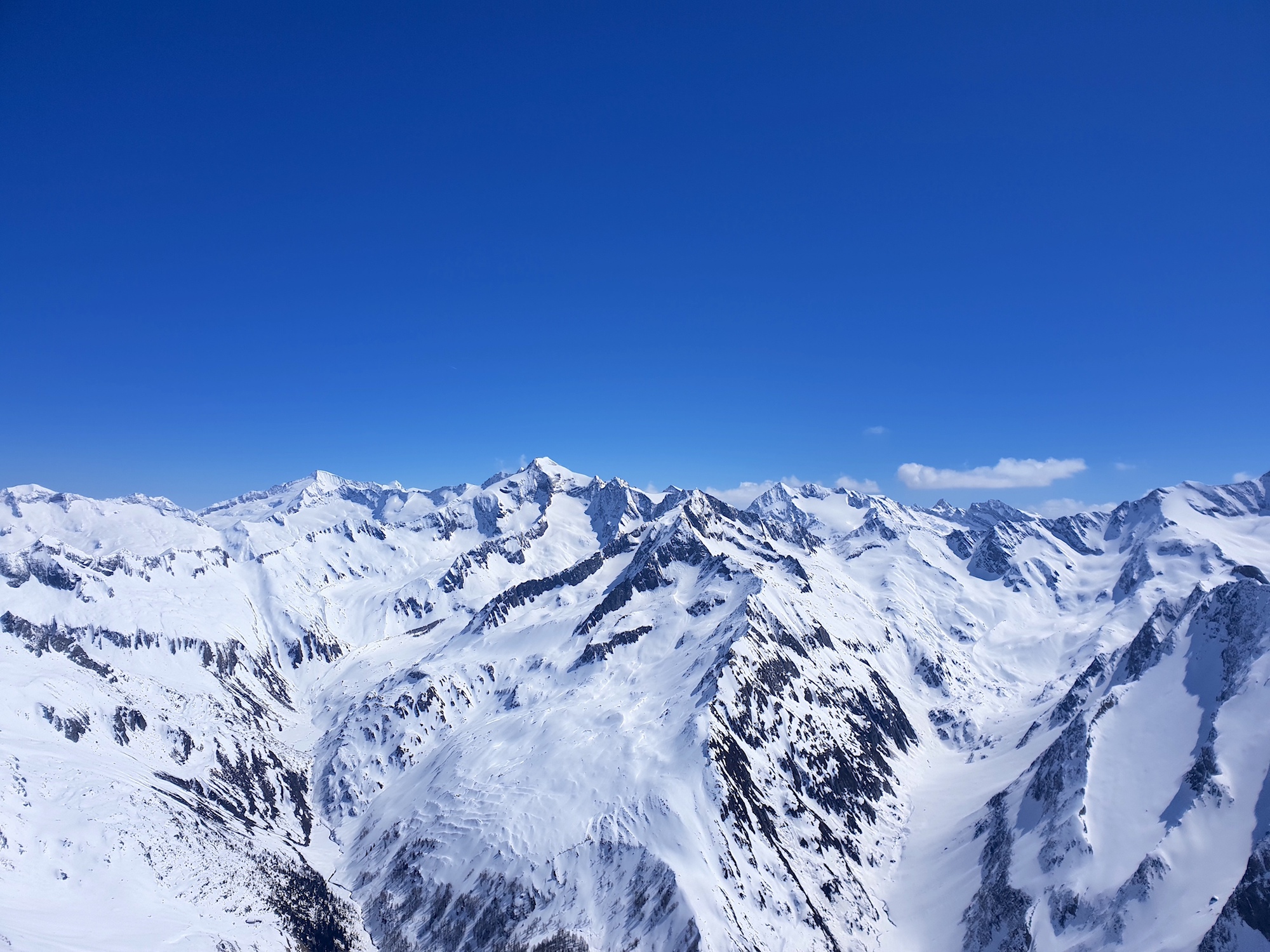 Next Post
Previous Post
(Scroll down for English)
NOVA Team Pilot Hubert Wegleiter flog am 16. April in Südtirol mit seinem ION 6 Light in knapp acht Stunden ein FAI-Dreieck von über 190 km Länge (https://www.xcontest.org/world/de/fluge/details/:Hubi1/16.04.2021/08:51). Dabei gelang ihm ein Schnitt von fast 25 km/h! Im Team-Blog erzählt Hubert von dem kältesten Flug seines Lebens, von Schneeansammlungen im Schirminneren und wie gut es ist, immer einen Plan B zu haben. Hier sein Bericht.
Was soll ich sagen, es war ein Hammertag – aber saukalt, teils stark bewölkt. Eigentlich hätte ich den Tag komplett versäumt, wenn mich nicht Manuel B., ein Fliegerfreund aus dem Pustertal, angerufen hätte. Das Pustertal ist schon fast meine zweite Heimat, einmal durch meine Arbeit bei den Seilbahnen, die netten Leute, die ich dort kenne, und natürlich die Gleitschirm-Hot Spots wie Speikboden, Antholz (Grente) usw. Mit dem Startplatz "Am Kofel bei Pfalzen" war ich mir dagegen etwas unsicher: er liegt relativ tief und morgens geht es meistens erst später los. Nicht so am 16. April 2021: da hätten wir auch eine halbe Stunde früher starten können…
Aber der Tag war anfangs super. Ein idealer Gradient auch von unten raus und leichte Wolken Kondensierungen als Wegweiser. Der Wetterbericht versprach bei mehreren Quellen super Thermik bei wenig Wind aus Nord und etwas Wolkenbildung am Nachmittag. Die Druckdifferenz war jedoch mit minus 3-4 Hektopascal relativ hoch prognostiziert. Ich hatte leichte Zweifel, ob der Nordwind nicht noch stärker würde, wie bereits an den Tagen zuvor.
Deswegen war mein Plan, als ersten Schenkel das Ahrntal zu fliegen (sonst nicht üblich). Ich setzte den Wendepunkt hinten im Ahrntal, nahe bei der Zwillingsspitze, dem nördlichsten Punkt Italiens. In Griffweite liegt die bekannte und markante Dreiherrnspitze, wo Südtirol, Osttirol und das Salzburger Land aneinandergrenzen.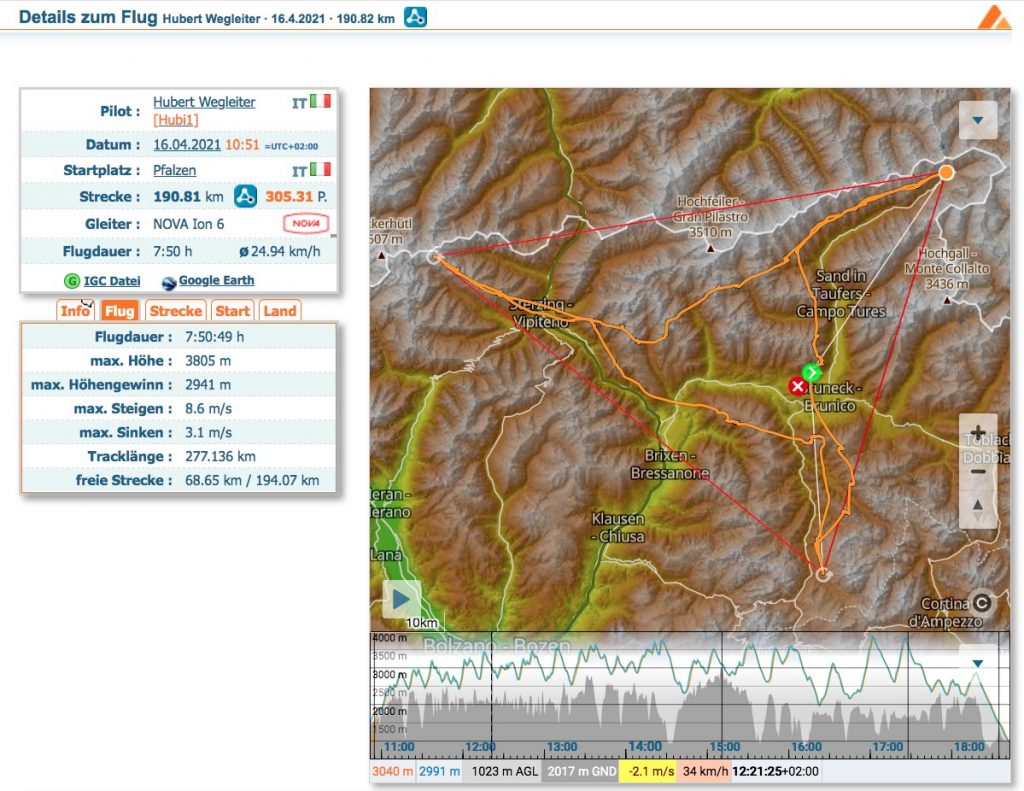 Die Flughöhe blieb ohne großes Zutun immer relativ hoch. Der Wind wehte leicht aus Nordwest. Aber die Kälte war fast unerträglich! Gut –15°C! Prompt fror mein Trink-Bag ein und das Handy verweigerte den Betrieb. Deswegen habe ich auch nicht mehr Fotos. Zum Glück hatte ich vorher schon reichlich getrunken und hatte noch etwas Wasser in der Flasche. Aber auch das verwandelte sich kurz darauf in einen Eisblock.
Aus dem Ahrntal raus ging es westwärts in fast in direkter Linie Richtung Sterzing. Es war sehr labil. Die Wolken erreichten bereits stattliche Größen und begannen Abschattungen zu werfen. Hier und da musste ich einen Schneeschauer umfliegen. Das Ridnaun-Tal erwartete mich fast wolkenfrei, wohl wegen des etwas stärker gewordenen, aber immer noch gut fliegbaren Westwinds. Ich gab dem ION 6 Light jedenfalls tüchtig die Sporen.
Aus dem Ridnaun Richtung Dolomiten breiteten sich die Abschattungen immer weiter aus. Die Wolken hatten schon begonnen stärker zu schneien. Über dem Jochtal bei Meransen wurde es dann heftiger. Mit Fullspeed und Bigears ging's für 10 Minuten unter der Wolkenbasis im Schnee Richtung Lüsen. An meine Schirm bemerkte ich irgendwann ungewohnte "Beulen": Schneeablagerungen im Inneren, die sich in der Mitte im Untersegel sammelten. Da er sich aber völlig normal flog, mache ich mir weiter keine Sorgen. Im Lüsen-Tal angekommen erwartete mich dann die Lösung des Problems: ich bekam eine "automatische Schnee-Entleerung"…😊
Wegen des Südwestwinds im Lüsen-Tal und der Abschattungen am Talende konnte ich nicht direkt in die Dolomiten fliegen. Plan B musste her: ich beschloss, über den Kronplatz auszuweichen. Nachdem mittlerweile der Nordwestwind in der Höhe 15-18 km/h zugenommen hatte und die Wolken immer wieder große Teile im Tal abschatteten, entschloss ich mich, nicht allzu weit Richtung Süden zu fliegen. Mir war wichtig wieder sicher zum Startplatz oder in die Nähe zu kommen. Und das gelang dann auch!
Diesen nicht einfachen, aber dennoch wunderbaren Tag hätte ich gerne mit anderen geteilt. Aber Manuel musste leider aufgeben, da er die Hände komplett erfroren hatte und sie nicht mehr spürte. Mir war es unterwegs trotz wärmster Bekleidung unterwegs auch immer wieder extrem kalt. Ich habe getreten, gerudert, gezappelt, geklopft, um die Hände und Füße einigermaßen warm zu halten. Es ging gerade so, aber es war an der Grenze dessen, was ich aushalten kann und mag.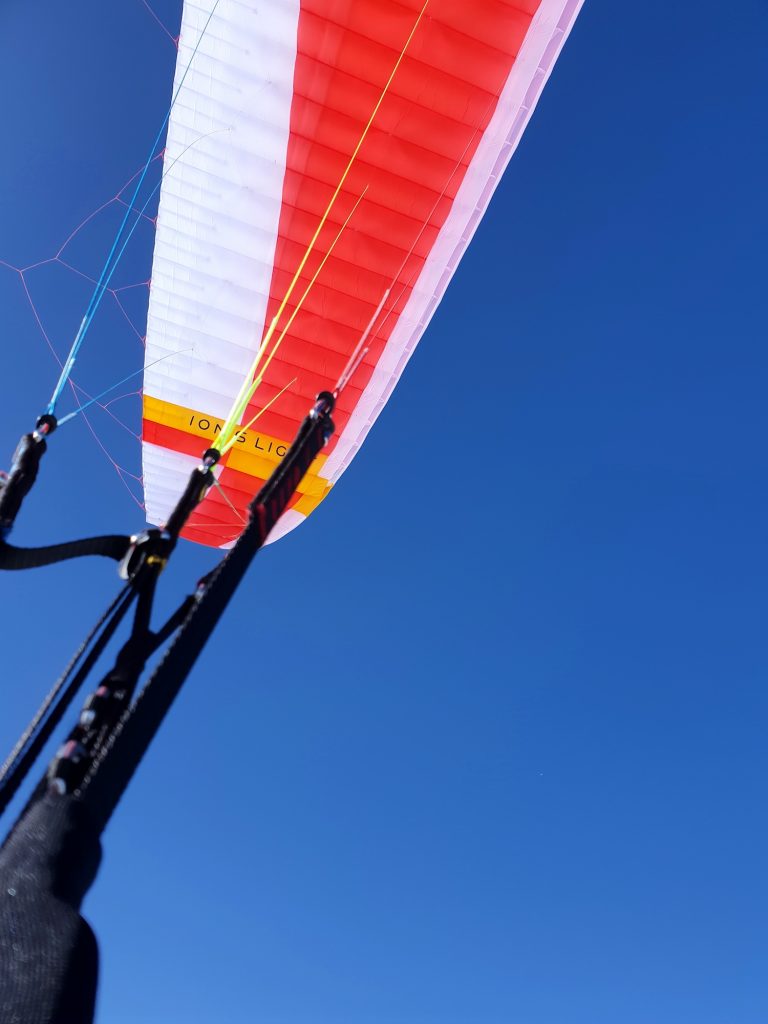 Kurz zum ION 6 Light: Er verwöhnte mich mit seinem super ausgeglichenen Flugverhalten in allen Situationen. Alles in Allem schätze ich die gute Leistung und die hohe passive Sicherheit sehr und akzeptiere die kleinen Abstriche in Punkto Geschwindigkeit. Andererseits sehe ich, dass ich an guten Tagen mit diesem Low B-Schirm eine gute Durchschnittsgeschwindigkeit erzielen kann – auch im Vergleich zu anderen Flügen an diesem Tag in dieser Gegend.
---
Of cold and of kilometres
On 16 April, NOVA Team pilot Hubert Wegleiter flew an FAI triangle of a good 190 km in South Tyrol in just under eight hours on his ION 6 Light (www.xcontest.org/world/de/fluge/details/:Hubi1/16.04.2021/08:51). He achieved an average speed of almost 25 km/h! In this blog post, Hubert talks about the coldest flight of his life, snow accumulation inside the glider and how good it is to always have a plan B. Here is his report:
What can I say, it was a great day – partly cloudy, good thermals, but freezing cold. Actually, I would have missed the day completely if Manuel B., a flying friend from the Pustertal, hadn't called me. The Pustertal has almost become my second home – because of my work when repairing cable cars, the nice people I know there, and of course the paragliding hot spots like Speikboden, Antholz (Grente) etc.. On the other hand, I was a bit unsure about the launch site "Am Kofel bei Pfalzen": it's relatively low and in the morning, thermals usually start later. Not so on 16 April 2021: we actually could have started half an hour earlier…
The day was great at the beginning. An ideal gradient even from lower altitudes and light cloud condensations to guide the route. The weather forecast promised super thermals from several sources with little wind from the north and some cloud formation in the afternoon. However, the pressure difference was forecast to be relatively high at minus 3-4 hectopascals. I had slight doubts whether the north wind would not become even stronger, as it had on the previous days.
Therefore, my plan was to fly to the end of the Ahrntal valley as the first leg (otherwise rather unusual). I set the turnpoint near the end of the Ahrntal, close to the Zwillingsspitze, the northernmost point of Italy and within reach of the well-known and prominent Dreiherrnspitze, where South Tyrol, East Tyrol and the Salzburg region border on each other.
The flight altitude always remained relatively high without much effort on my side. The wind blew lightly from the northwest, but the cold was almost unbearable! A good –15°C! My hydration system quickly froze and the mobile phone refused to work. That's why I don't have any more photos. Luckily, I had drunk plenty beforehand and still had some water in the bottle. But even that turned into a block of ice shortly afterwards.
From the eastern turnpoint in Ahrntal we headed westwards in almost a direct line towards Sterzing. It was pretty unstable. The clouds had already reached considerable sizes and began to cast shadows. Here and there I had to fly around a snow shower. The Ridnaun valley awaited me almost cloud-free, probably because of the somewhat stronger, but still well flyable westerly wind. In any case, I gave the ION 6 Light a good run for its money.
From Ridnaun in the direction of the Dolomites, the cloud shadows continued to spread wider and wider. It started to snow more heavily. Over the Jochtal valley near Meransen, snowfall became evenheavier. With full speed and bigears, I flew for 10 minutes under the base in the snow towards Lüsen. At some point I noticed unusual "bumps" on my glider: snow deposits inside, which collected in the middle of the lower sail. But since the trusty ION 6 felt absolutely normal, I didn't worry too much. Arriving in the Lüsen valley, the solution to the problem then awaited me: I was given an "automatic snow emptying"…😊
Because of the south-westerly wind in the Lüsen valley and the shadows at the end of the valley, I could not fly directly into the Dolomites. Plan B was necessary: I decided to traverse to Kronplatz and head south form there. In the meantime, the north-westerly wind had increased on higher altitude to 15-18 km/h and the clouds kept shading large parts of the valley. So, I decided not to head too far south. It was important to me to get safely back to the take-off site or close to it. And I succeeded!
I would have liked to share this not easy, but nevertheless wonderful day with others. But Manuel unfortunately had to give up because his hands were completely frozen and he could no longer feel them. I was also extremely cold again and again during my flight, despite wearing the warmest clothing I own. I kicked, rowed, wriggled and trembled to keep my hands and feet reasonably warm. It was just about okay, but it was at the limit of what I can and like to endure.
Briefly about the wing itself: The ION 6 Light spoils me with its super balanced flight behaviour in all situations. All in all, I really appreciate the good performance and the very high passive safety and accept the small sacrifices in terms of speed. On the other hand, I see that on good days I can achieve a good average speed with this low B glider – also compared to other flights on that day in this area.
(narrated by Hubert Wegleiter, uploaded by Till Gottbrath)