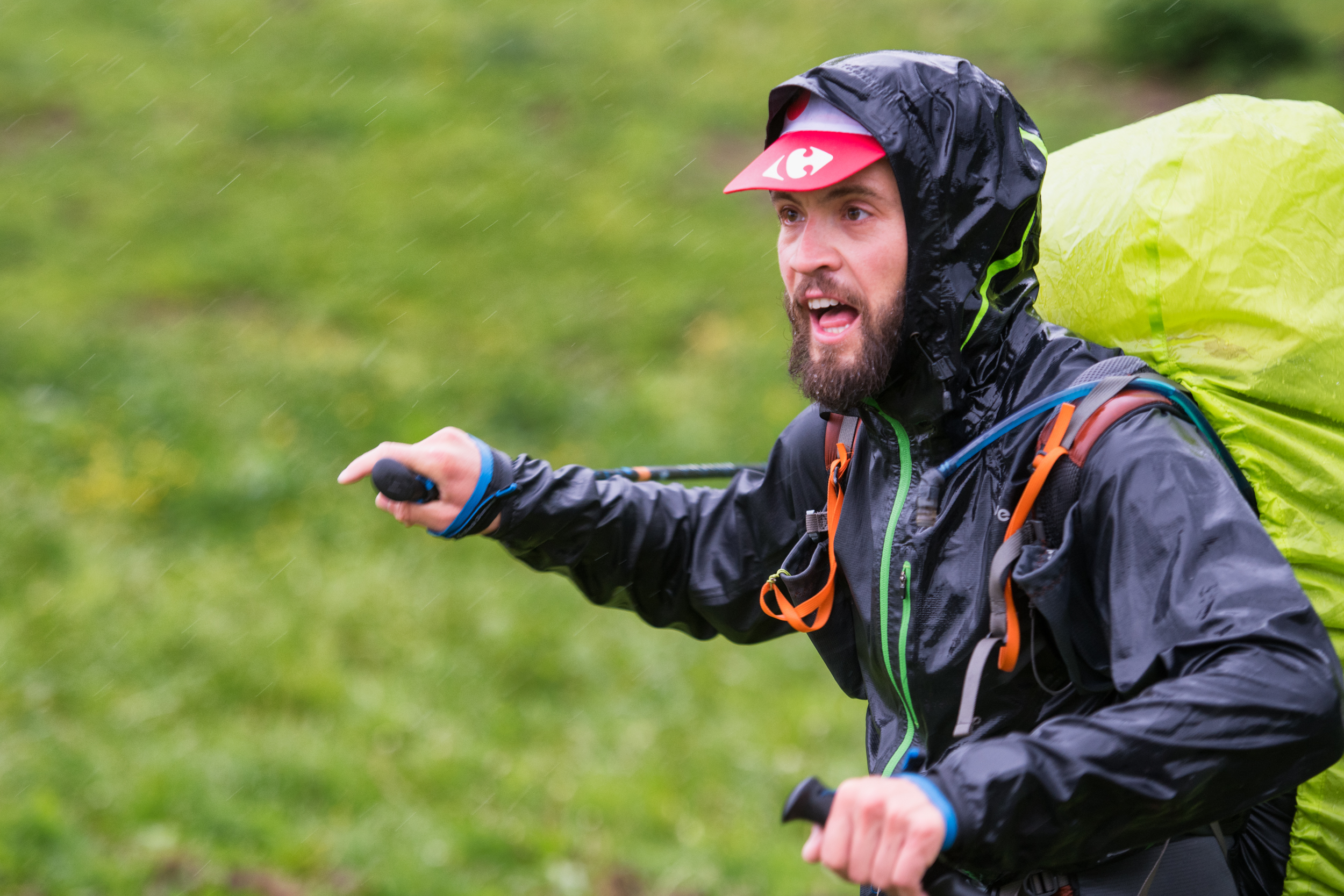 Next Post
Previous Post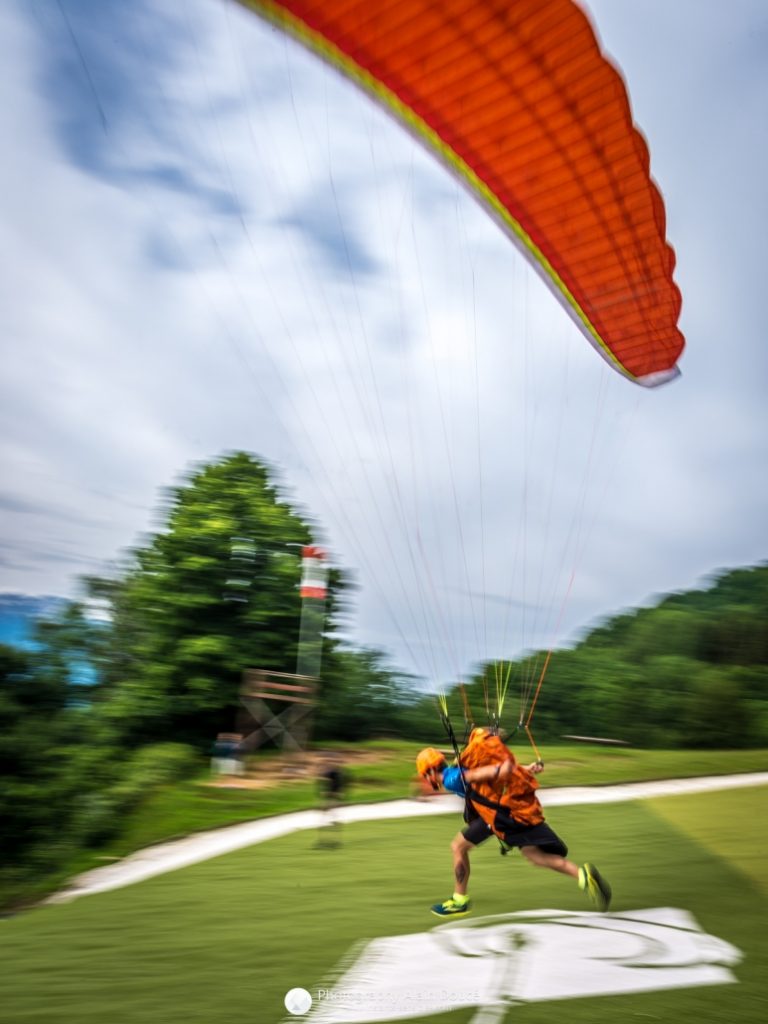 Day 1: St Hilaire – Valbonnais
2 flights 15 km – 56 km hike – 2852 m ascent

09:00h Race starts in Saint Hilaire (Coupe Icare's hometown) with a glide to Belledone mountain range. Most of us land at Villard-Bonnot in a building site surrounded by… gates! Wow, the adventure begins!! We pack and start running to turnpoint 1 "Croix de Chamrousse". Three of us share the lead: Tanguy, Bastien and me. A strong 30-35 km/h southerly welcomes us. Bastien decides to walk down, but Tanguy and I choose to fly to avoid the hike down to Séchilienne. A "Chrigel style" launch and we go south, heading into a fierce wind! My NOBA MENTOR 5 Light versus Sup'air Wild: in these conditions the EN-D goes further, which allows Tanguy to land next to Vizille, 2 km further than me. Then it's a long walk to Valbonnais. I choose a tiny country road, slightly longer but the view is much better. End of the day: 3rd position together with Théo de Blic.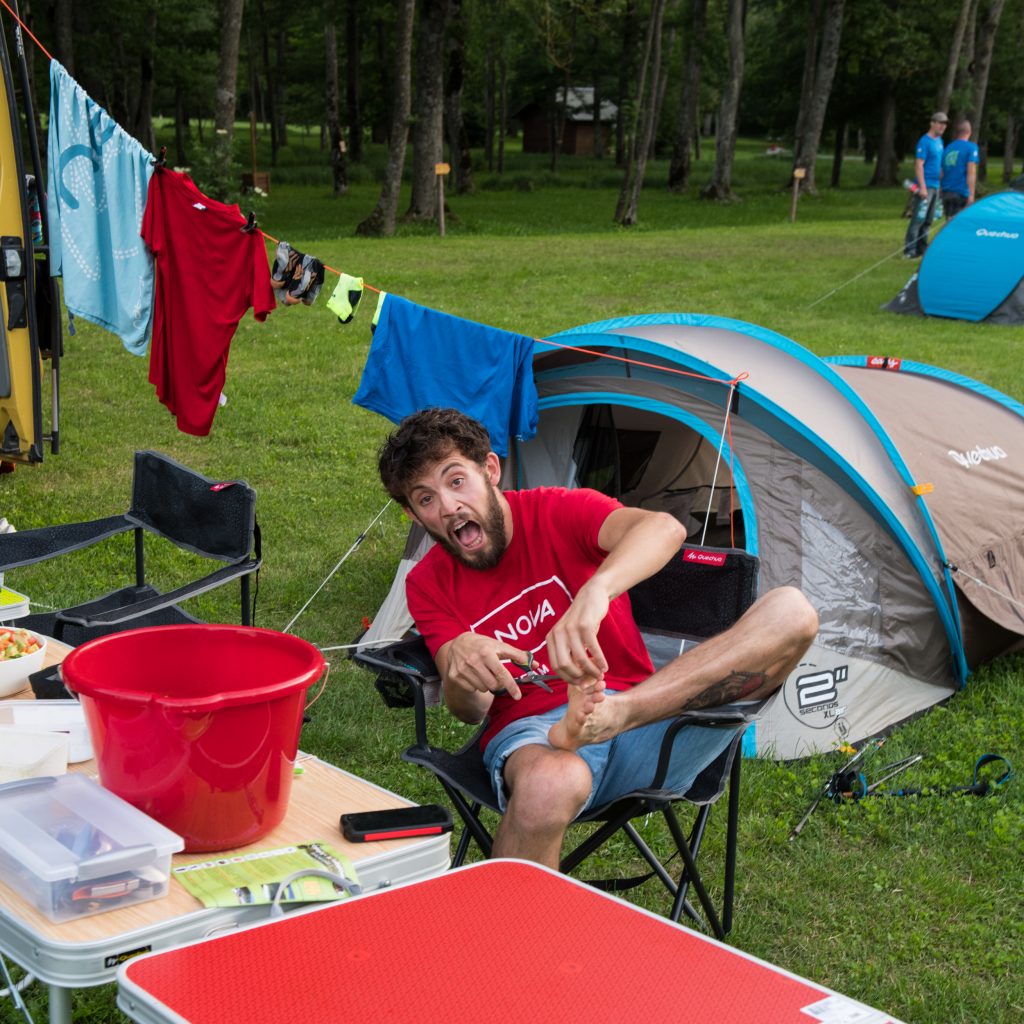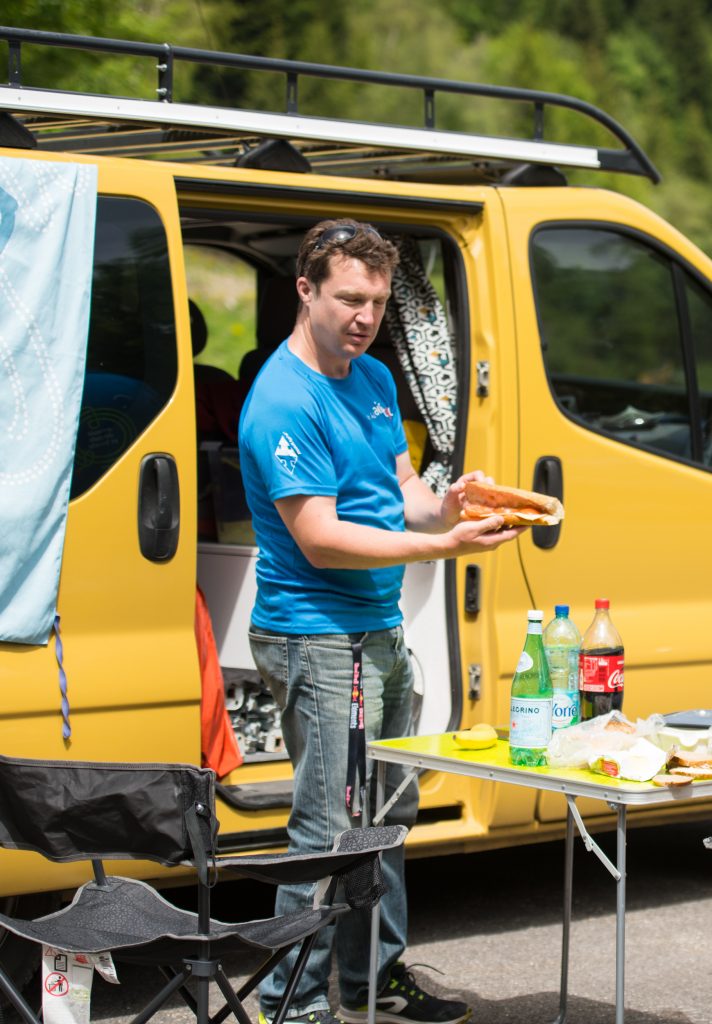 Day 2 : Valbonnais – Echirolles
1 flight 10 km – 68 km hike – 2756 m ascent

Rain rocked us through the night. I wake up with Théo, and find there's still some light rain and low cloud. Our next target is TP2 Le Colombier. Let's go for a hike to gain 1000 m. Half way up, the rain gets stronger. We're soaked to the bones! So we walk straight uphill… no fear! But the 60-70 km/h wind brings us back to reality!
We tag the turnpoint and head down in the direction of TP3 "Le Serpaton", passing Steph, Guillaume and Nico who are en route for TP2. The day becomes a long 7 hour walk across Trièves, until around 17:00. I'm the second to reach TP3. Tanguy takes off and glides to Vif. So go go go, unpacked, ready to take off, I'm lucky to optimise my glide, landed 10 km further in Saint Barthélémy. Behind me Steph & Théo who didn't fly that far.  Steph "The Machine" walks faster and catches me just before Grenoble. Feet start to burn. Day ends in 3rd position wearing nice comfy "Crocs"!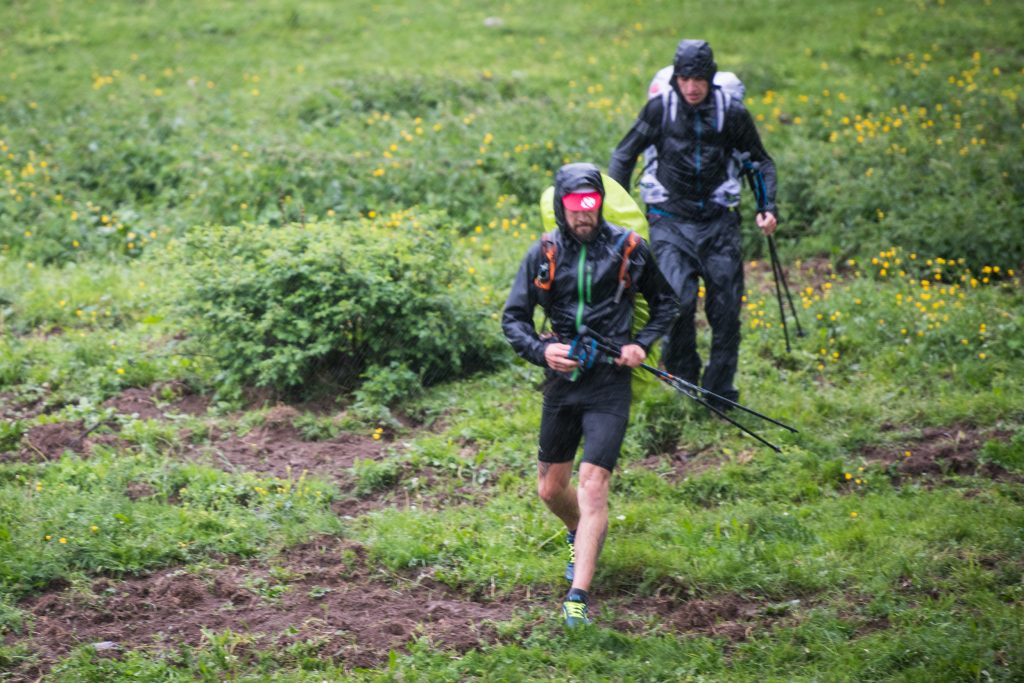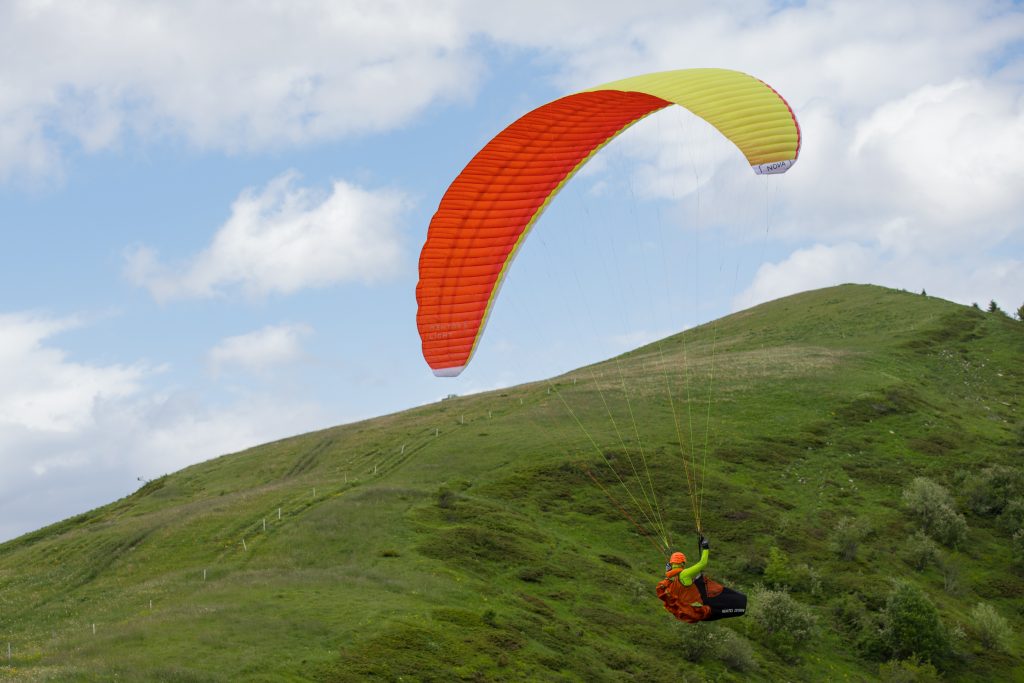 Day 3: Echirolles – Perquelin
1 flight 7 km – 54 km hike – 3000 m ascent

I start with a morning walk across Grenoble in Saint Hilaire direction. I'm welcomed at the base of the funicular by Captain Nico Berardini, NOVA French Pilot Team "captain".  He'll hike with me and keep me motivated all day.
We reach TP4 "St Hilaire Déco Sud" at midday and I sign the board  – X-Alps style –  in 3rd position. A good lunch break and we're off towards Col du Coq with Christian as a local guide and the faithful Captain Nico. A short rest at Col du Coq, I take some extra flying stuff but nothing for the rain, confident boy! Then I take the long, slippery, muddy path to Habert de Chamechaude! My supporter sends me an SMS "Thunderstorm on Grenoble". 10 minutes later it catches me: heavy rain, thunder, lightning… I put the raincover on my bag, for me I only have my rescue blanket to use as an emergency poncho!
I continue slowly to TP5 "Chamechaude" because I realise that conditions are clearing at Grenoble and hope to fly from the top. Arrived at the beacon: BINGO! The rain stops, the valley opens … go! It turns into the most enjoyable flight of the Airtour as I fly over Tanguy and Steph who had arrived at the top earlier, in the storm. I land on the village square of St Pierre de Chartreuse in 1st position!! Youpi !!
I pack my wing on a completely soaked square! I know it won't be possible to fly with it today, my bag is "just a bit" heavier… I nail TP6 "Grand Som" at running pace, falling 3 times on my way down! End of the day at Perquelin with Tanguy (who manages the Grand Som take off) and Steph who crossed the whole Chartreuse area on foot. A good evening at Vincent's place (Les Gens d'Air paragliding school) in St Pierre de Chartreuse with a fire to dry the wing, a few glasses of rum and local "Chartreuse" to warm up and think about the strategy of the next day!
At 21:00h I received an SMS: Start of racing tomorrow delayed until 13:00h! Suddenly, great! Cool, we can hang out a bit! A few more glasses of local elixir before bed !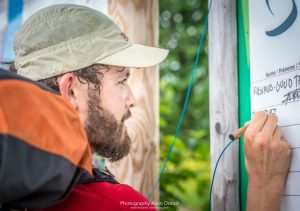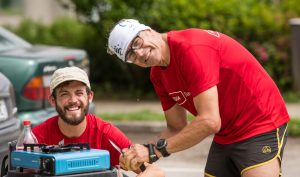 Day 4: Perquelin – Saint Jean de la Porte
1 flight 5 km – hike 45 km – 882 m ascent

A short day… I meet with Tanguy and Steph at 1 pm in Perquelin and start towards Col des Ayes where the windmeter tells us it's blowing a good 50 km/h! We arrive at St Hilaire with the idea of ​​going down by foot, but Steph says: "Let's have a look at the takeoff at TP7, it does not seem so strong." Yes, the take off is slightly below the wind but…. it's flyable!
We get ready and go, go, go! We get a little collapse as we take-off because of north wind (small rotor), and then we try to advance. But the wind pushes me down at the entrance of Le Touvet. Steph and Tanguy reach the exit of the village (the EN-D benefit!). The rest of the day is a long walk to St Jean de la Porte. Tonight we sleep at Didier's place (Dix Diots), where we realise that the radiator of the truck is pierced!! My excellent supporter and Didier launch themselves into dismantling the front of the truck to find the leak! Damn radiator! Dix Diots took charge of finding a replacement radiator, and he generously lent us his truck for the rest of the Airtour… Really good, great to have such friends !!!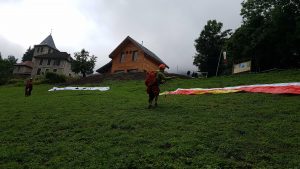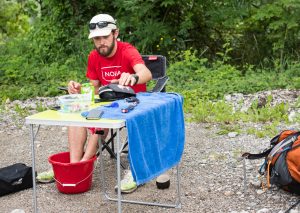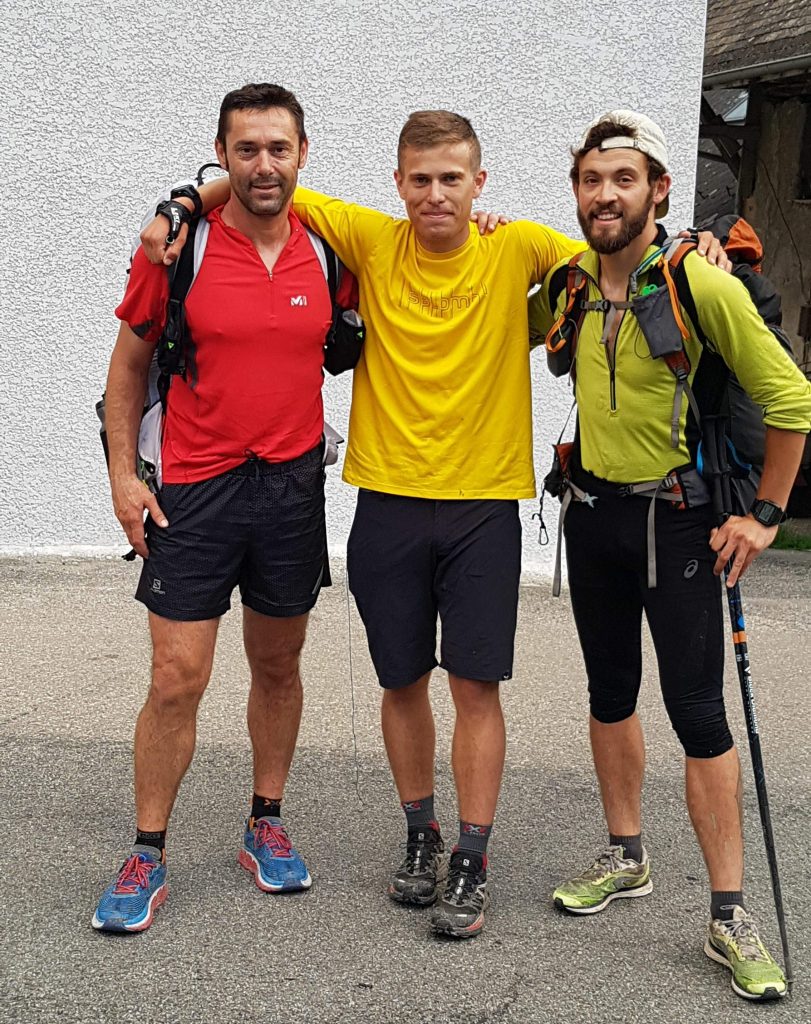 Day 5: It's finally flyable! St Jean de la Porte – Beaufort
4 flights 42 km – hike 33 km – 2924 m ascent
7 am, We hike up the 1000 m to the East face of Dent d'Arclusaz. We arrived there painfully with Tanguy (his wind-dummies and assistants), Steph (his assistants) and me (all alone!!). We wait until almost 10.30 before taking off.
START! We fly to the East, quite low (1000 to 1300 m). I arrived at Col Tamié after the guys and see the them well below the col. I tell myself that the Northerly must be  flushing through the pass, so I put myself into a "Bourgogne mode" (home area) and decide to try the flatland! Obviously not the best option!
I have to land in Mercury, slightly angry with myself me because of my flight's impatience ! I can still fix my mistake by walking up to the takeoff at Col de Tamié (never perfect with the Northerly). Arriving tired at the takeoff, Steph, my assistant, is waiting for me with a good sandwich and coke. He prepares my wing while I recover my spirits. I'm trying to put myself in "FLY" configuration. Let's go ! I see Théo coming from Montlambert, flying 150m below me.
I take off, the flying is good with the best lift so far. I reach Dent de Cons at 1600m  cloudbase and go across to Col de la Forclaz with the aim of tagging TP8 Bisanne in flight. Getting back to 1500m above Ugine, I  decide to go on the South faces over Queige as there isn't any landing option on the West face of Bisanne. Flying is a bit tricky under the Northerly wind and I can't exceed 1500m. So I land at Bisanne 1500 and waök to the turnpoint where I find Tanguy, Steph and Theo. Phew… I caught up after Tamié's mistake.
A strong 25-30 km/h Northerly stops us from taking off. So we head towards Mont Blanc on foot. Before Col de Véry, we decide to fly to the plateau under the Col du Joly. Take-off facing North, then we throw ourselves behind the ridge under the wind! I experience a good collapse in front of Theo! Then we crash land on a road, we pack, and keep on hiking to to tag TP9 Mont Blanc. On the col, a 10-15 km/h tailwind awaits us. But no way! We won't go down on foot! So we burn out the thighs and run at full speed! It flies! The MENTOR really takes off even with this strong tailwind! I reach Hauteluce and finish the day cooling my feet in a basin at the gates of Beaufort. A good night's rest in a hotel in Beaufort. Merci Captain Nico!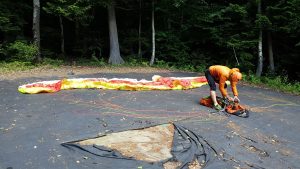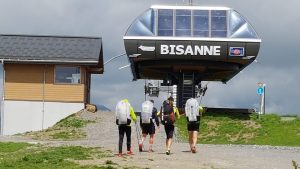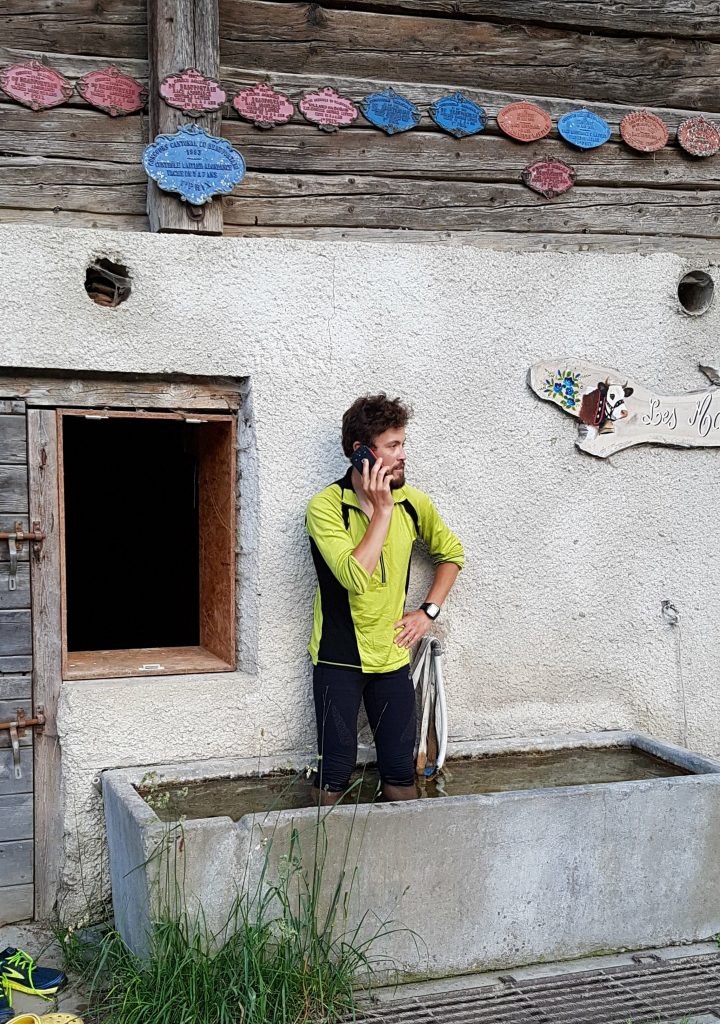 Day 6: It seems to be flyable! Beaufort – Aime
2 flights 25 km – hike 35 km – 2071 m ascent

Wake up! 7.05 am, start from a meadow for a 3 minutes glide down to Beaufort. I love these awakenings!
Then a nice hike towards Beaufortain up to Cormet d'Arêches where the idea is to take off, join the East face, then nail TP10 Aiguille Grive, in the air if possible! Arrived at the Cormet, I find Theo and Steph waiting with their wings bunched-up. The wind is fully from the back, they are waiting for a lucky break. I think it's really rotten, so I walk 2 km further face to the wind for a safer takeoff.
I'm the first to fly but cirrus cuts the convection so I land on the East side to wait. My plan is to start again later, crossing to the West faces and transiting to Le Quermoz. Once again impatient, I take off at 14:30 on East face. I don't take the time to top-up before crossing to the west, arriving at 1000 m. I then climb as high as I can get to 1600 m. I decide to land at 1500 m (in a bog) and hike up to the turnpoint. Go, go… another one tagged!
I see Tanguy above, at 3000 m, followed by Guillaume, Théo, Henri and Steph! Hurry quickly, I have to take off  I find a beautiful red ski slope and go, 2600m transition towards La Plagne… with a 3:1 glide ratio, OMG!!! I watch Steph actually falling from the sky! It seems hopeless. I'm on speedbar at 10 km/h and -4 m/s ! On the ground, it's really blowing! Safety first, I land at Landry, disappointed not to go further ! But then – surprise, surprise – people come out of the house next to me, the organizers of the Tarent'air Tour! Very good! Suddenly a little break in their house, I'm smiling again 😊! I continue with a nice evening walk on the pathway to Aime. Pizza, pint of beer, hotel! Tomorrow it's departure from the east face of Montgirod! Good night !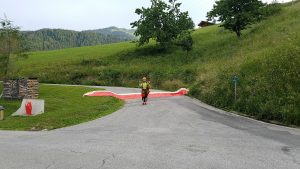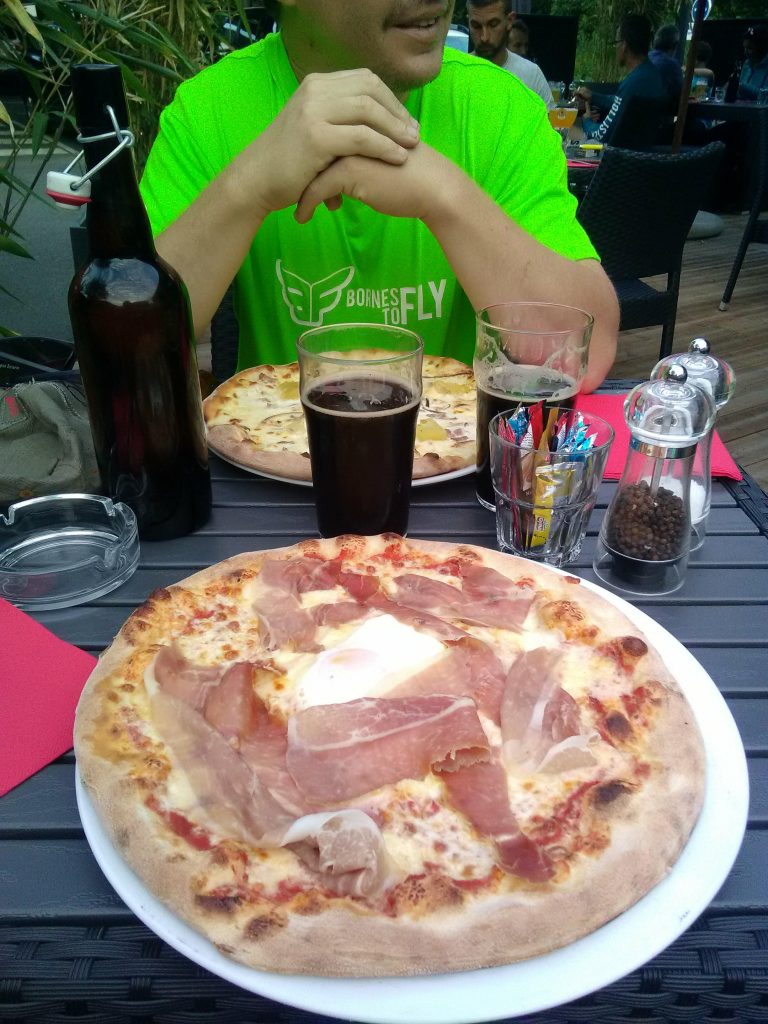 Day 7 : Potentially a 3rd flyable day… don't waste it Max!!! Aime – Aiguebelle
2 flights 25 km – hike 32 km – 2400 m ascent
I go with Charles Costel, another French NOVA Team Pilot, to Le Quermoz. It looks good at th eteake-off: well-fed little cumulus clouds are forming! Action!!!
Charles takes off and doesn't climb. I do the same but again I get impatient flying without any lift. If you add the fear of sinking-out, it makes me throw myself towards Valmorel! Grrr ! During the transition, I turn my head around and see Charles climbing out at 2300 ☹! I land above Doucy at 900 m, completely deflated!
It will be a loooong walk to TP11 Col de la Madeleine. My supporter Steph is waiting for me at the col, where I'm mentally and physically exhausted! Charles managed to fly to Col de la Madeleine in 2 hours, much more effective than my 5 hours walk at 3 km/h! Pasta, sardines, sweets, Nutella, everything is needed to 'put the postman back on his bike'!
Cloudbase is now at about 2100 m… If I take off from the col, I would have to go low around Lauzière mountain range to reach the western faces of Maurienne valley. I dismiss that option and decide to hike directly to the west face by the Montjoie pass. There is still a lot of snow, which makes me progressing slowly! Arrival at the col in  thick fog, damn. I go down to 2000 m to launch at 7.30 pm. I manage to advance quite well along the western faces of Maurienne, landing around 8.15pm at the exit of the valley. 
I completely wrecked! I don't even even have the power to pack my wing! Thanks to my super supporter Steph 😊.
I'm now behind Tom Rémi who flew better than me and stood on the race line "Col de la Madeleine – Dents de Crolles". A good night at Didier's place, where we find our truck with a nice new radiator ! Very good ! Many guests are at Didier's place… It turns into a good Saturday night! So we let go, 1, 2, 3, 4 beers.  The hot-water luxury of a "doggie" spa bath helps soothe my feet… unbelievable! Wine to celebrate this hard day and in bed at 2 am, tired from my week and also the evening 😊! But it was great !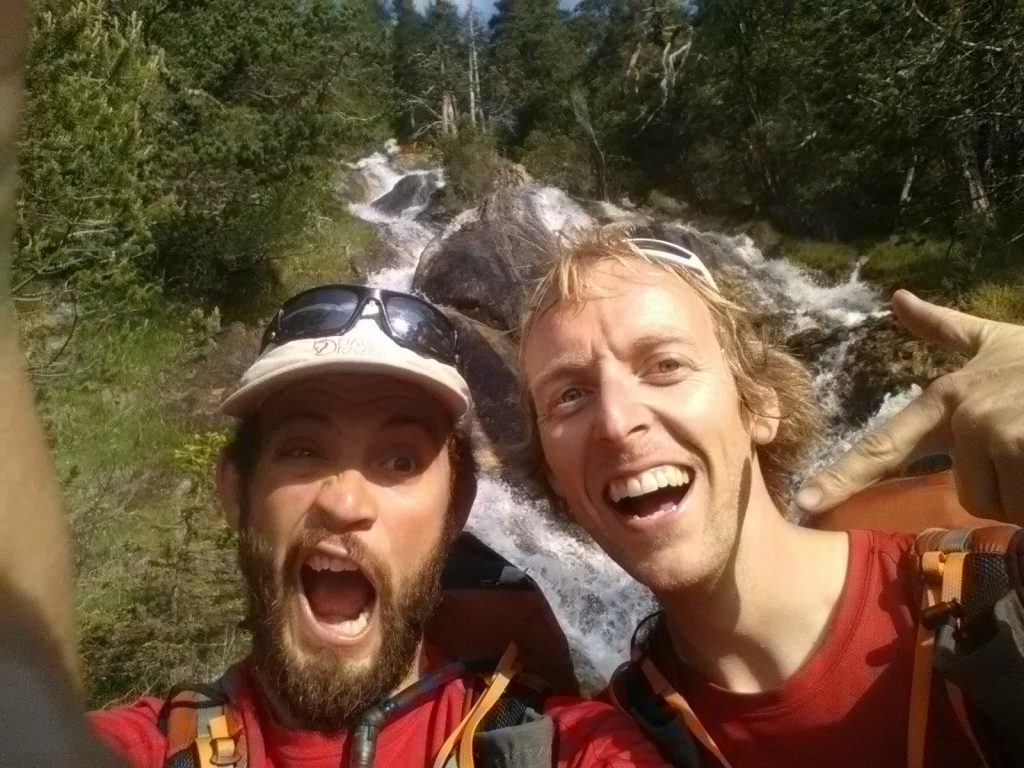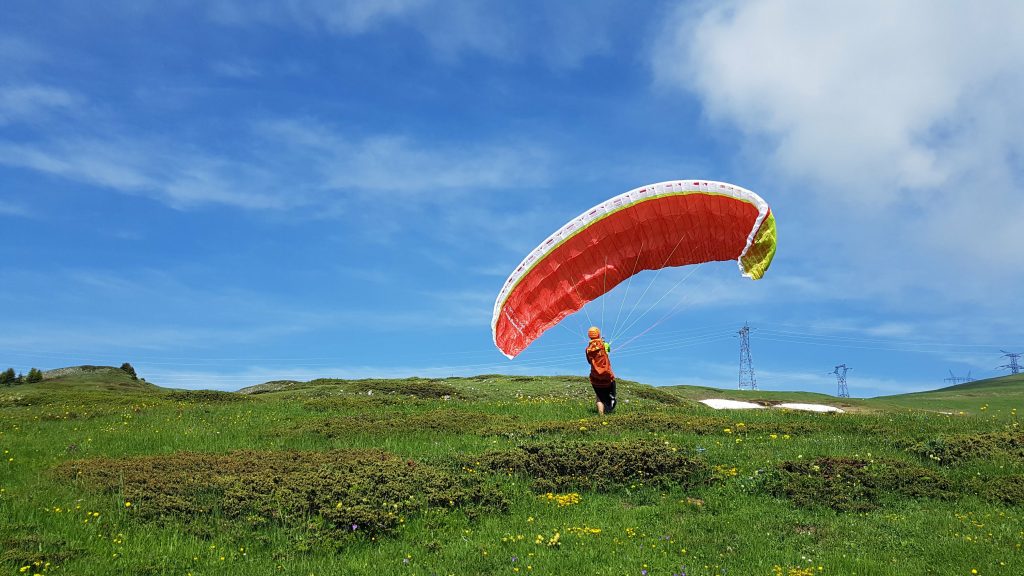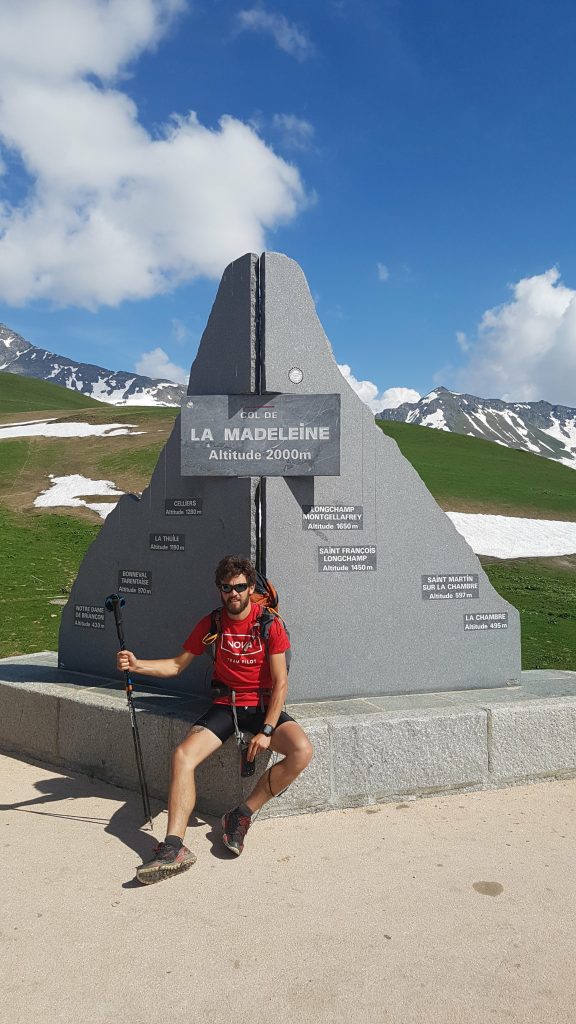 Day 8: The end!!! Aiguebelle – Villard – Léger
1 flight 6 km – hike 10 km – 1000 m ascent

Just for fun! I decide to climb to Chamoux for a beautiful straight-line glide over La Rochette, the famous one 😊! The Southerly is already there so I don't get far. It's ok, this the final.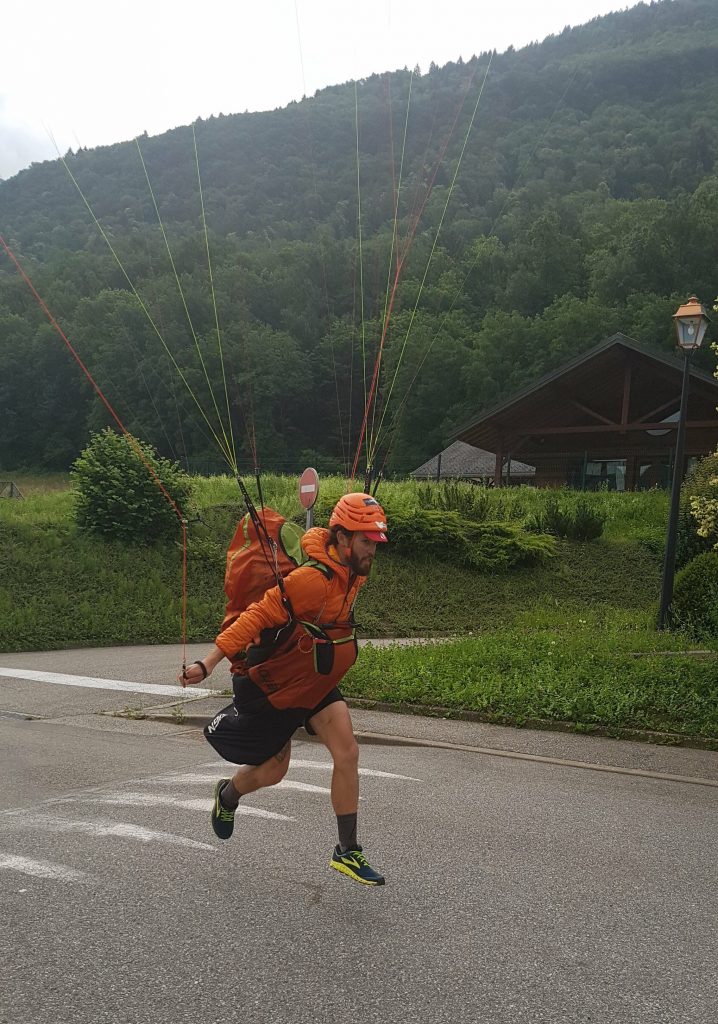 The end result: 8th place, just at 32 km from the goal. A total of 332 km travelled, with 17.880 m elevation gain, and only 135 km flying.
http://www.airtour.fr/resultats-du-comite-de-course/
My small victory is to be the first and only pilot flying an EN-B 😊. I was happy to have it in some of the "unpoleasant situations".
I made some stupid mistakes (Ultra-trails, GTJ200, GR20 …) but the Airtour is really out of the ordinary! A sacred adventure. A big thank you to
Stéphane, my trusty suppoter all week long
Sylvain from Nova who helped Steph for much of the journey
Niko, Charles, Laetitia thanks to you for the support and the company during the climbs 😊.
Special mention to Didier "Dix Diots" who made sure to replace the radiator of the truck! Thanks also to Julien Serré for all his advice.
A special mention to the Bourguignons of my club "Vz dynamic" who supported me all week! "La bourgogne ça vous cogne!!!" Our local motto!
Finally, thanks to NOVA for this beautiful Mentor 5 Light. It may struggle to keep up with the EN-D's, but it is outstanding in its category. Its great tolerance of low speeds allowed me to land on handkerchiefs. And the ease of take-off is also very significant for hike & fly. The moral of the story is that we don't necessarily need to fly a competition wing to have fun with hike'n'fly.
Now I recover for the next Airtour in 2020 …
The videos that summarise each day here: http://www.airtour.fr/suivre-la-course/en-videos/
The photos here: http://www.airtour.fr/suivre-la-course/en-images-2018/