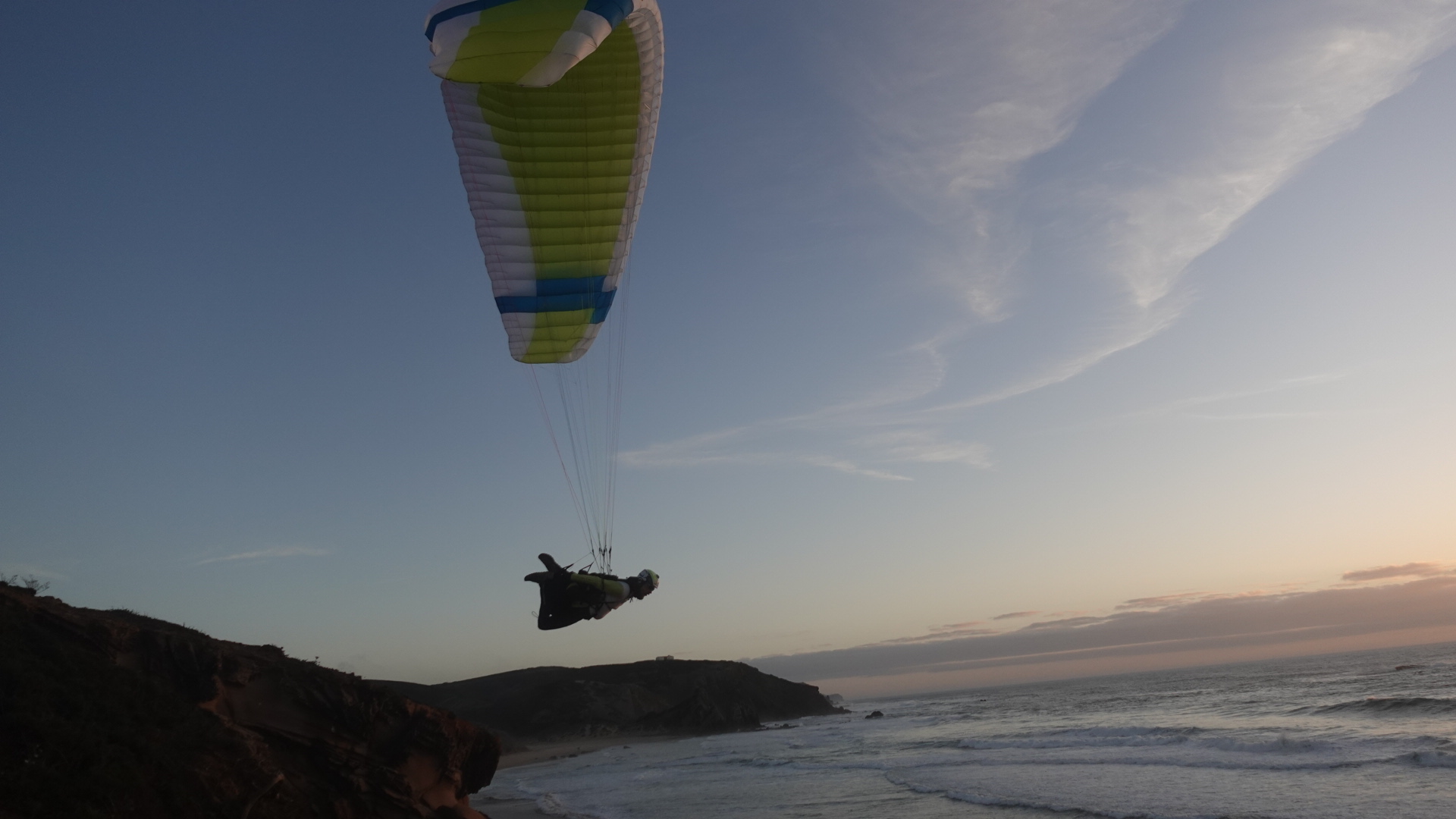 Next Post
Previous Post
Note: This post is in English, but the 10 video clips and loads of stunning photos speak for themselves. Just scroll down and enjoy!
Um uns den Winter zu verkürzen und ein bisschen Sonne zu tanken, haben Ulli und ich schon Ende 2019 über mögliche Ziele für unsere Reise im Winter nachgedacht. Welche Faktoren waren uns wichtig?
möglichst viele Sonnenstunden bei frühlingshaften Temperaturen
lange Soaringküsten
für windschwache Tage Thermikfluggebiete im Landesinneren
spektakuläre Steilklippen
schöne Strände und Badebuchten wenn möglich mit Startplatz direkt darüber
und wenn möglich ohne eine lange Anreise ganz entspannt von Graz aus
Neben Marokko, Sizilien, Spanien, Zypern (das ist durch Werner und Till neu ins Spiel gekommen > danke für die Inspiration) und einigen anderen Spots, stand auch heuer wieder Portugal mit auf der Liste.
Da Ulli und ich flexibel sind und teilweise mit Zelt und Schlafsack, im hike & fly-Style unterwegs sein wollten, mussten wir außer dem Flug nur ein Mietauto buchen. Wohin uns unser Abenteuer führen sollte, wollten wir aufgrund der aktuellen Wetterbedingungen erst zwei bis drei Tage vor der Abreise entscheiden.
Schlussendlich fiel die Wahl, auch weil Freunde aus Hamburg (Klaus und Barnie) dort waren, wieder auf Portugal.
Die wunderschöne Küstenlandschaft, faszinierende Fauna und historischen Altstädte machen die Westküste bis zur Algarve zu einem perfekten Winterflug-Eldorado. Das milde Klima ermöglicht auch im Winter perfekte Soaring-Bedingungen. Die Westküste bietet dem Anfänger bis hin zum Profi gigantisch schöne Dünen und Kanten für Flüge vom Sonnenaufgang bis zum Sonnenuntergang. Die einsamen Strände und die eindrucksvollen Felsformationen machen jeden Flug zu einem besonderen Erlebnis.
Wenn man dann wie wir vom SECTOR über den DOUBLESKIN auch den BANTAM im Gepäck hat, gibt es bei jeder Windstärke die Möglichkeit zu fliegen.
Mit der Flugbilanz waren wir auch heuer sehr zufrieden, denn wir konnten viele neue Fluggebiete entdecken und etliche Stunden in der Luft genießen.
Damit Ihr einen Eindruck bekommt unten einige Videos zu den jeweiligen Fluggebieten (GoPro Hero7, Chasecam…) und Bilder (Sony RX) aus Portugal.
Mein Fazit: Portugal ist fliegerisch wie auch landschaftlich – mehr als – eine Reise wert! Es bietet Traumstrände- und buchten mit vielen optischen Kontrasten, die nur darauf warten, aus der Vogelperspektive entdeckt zu werden. Die unterschiedlichen Fluggebiete bieten auch im Winter Thermikspaß und Soaring-Vergnügen. Die Algarve ganz im Süden Portugals beherbergt meiner Meinung nach die schönsten Strände Europas.
Alles Liebe und bleibt gesund!
Tomy Hofbauer (NOVA Team Pilot)
Videos Portugal 2020
MONTE CLERIGO
CORDOAMA
ARRIFANA
CORRDOAMA – MURRACO
PRAIA DO BOOM
TOWN OF OBIDOS
PRAIA DO ARMADO
BEACHPROJECT
THE CAVES FROM BENAGIL
ULLIS SUNWOWNER
Bilder Portugal 2020