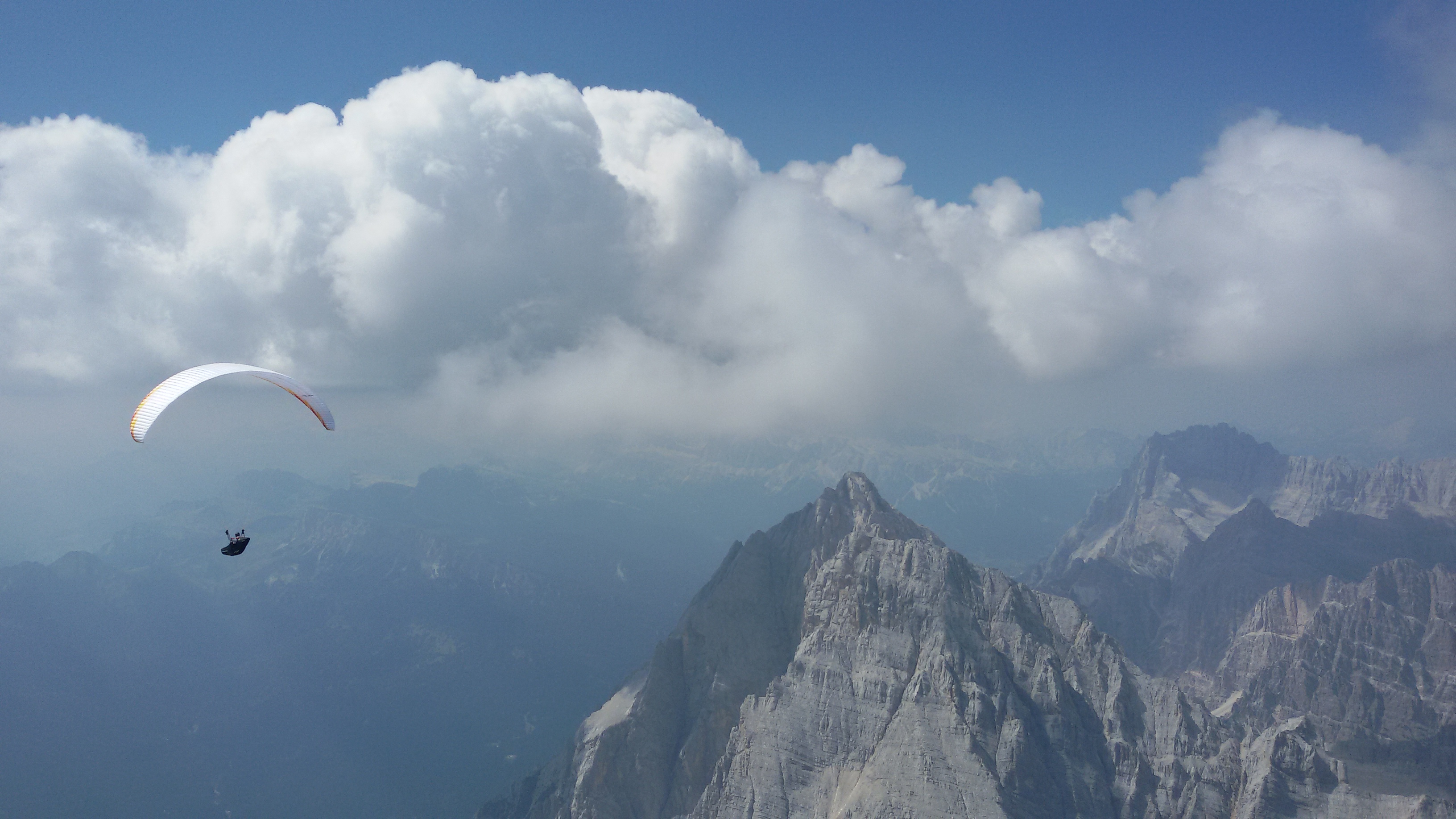 Next Post
Previous Post
It's Monday evening and I notice Raul is calling me on my phone: ' So, what are the plans for tomorrow???"
I had already flown on Friday for the first time over Sauris from Meduno (my local take off) and on Sunday over beautiful Mt. Kanin and Mt. Montasio so I was very motivated to continue trying nice flights. I was sure that Raul was the perfect mate to try an idea that was going through my head and I explained to him my plan to take off from Forni and go toward  Auronzo, Cortina, Longarone and back – flying close to some of the most beautiful Dolimites.
Tuesday morning, we are going up to Forni a little afraid for the weather forecast changes; much more north-east wind than expected but we will try.
Up with the cable car we are quickly ready to take off and Raul is the first. He realizes the day is strong and turbulent but there are great cloud bases and he starts to go east waiting for me. When I'm at cloud base I contact him by radio and I start going to Auronzo, but as soon as I'm there, something like 20 km/h of northeast wind generates really strong turbulence and I feel really happy to be under a MENTOR 4 and not a higher level wing!
Raul is a little perplexed when by radio he hears: "Here it's hell!!!" And, after taking some pictures with my phone (both of us had forgotten our cameras!) of the beautiful valley that brings you to the spectacular Tre cime di Lavaredo, we decided to change the plan. I was almost thinking to land when Raul says he is going forward to Mt. Antelao over more open valleys where the wind could have less influential on the flight.
His experience pays off and we are quickly flying together close to each other over that beautiful mountain and I try to get some nice shots of him.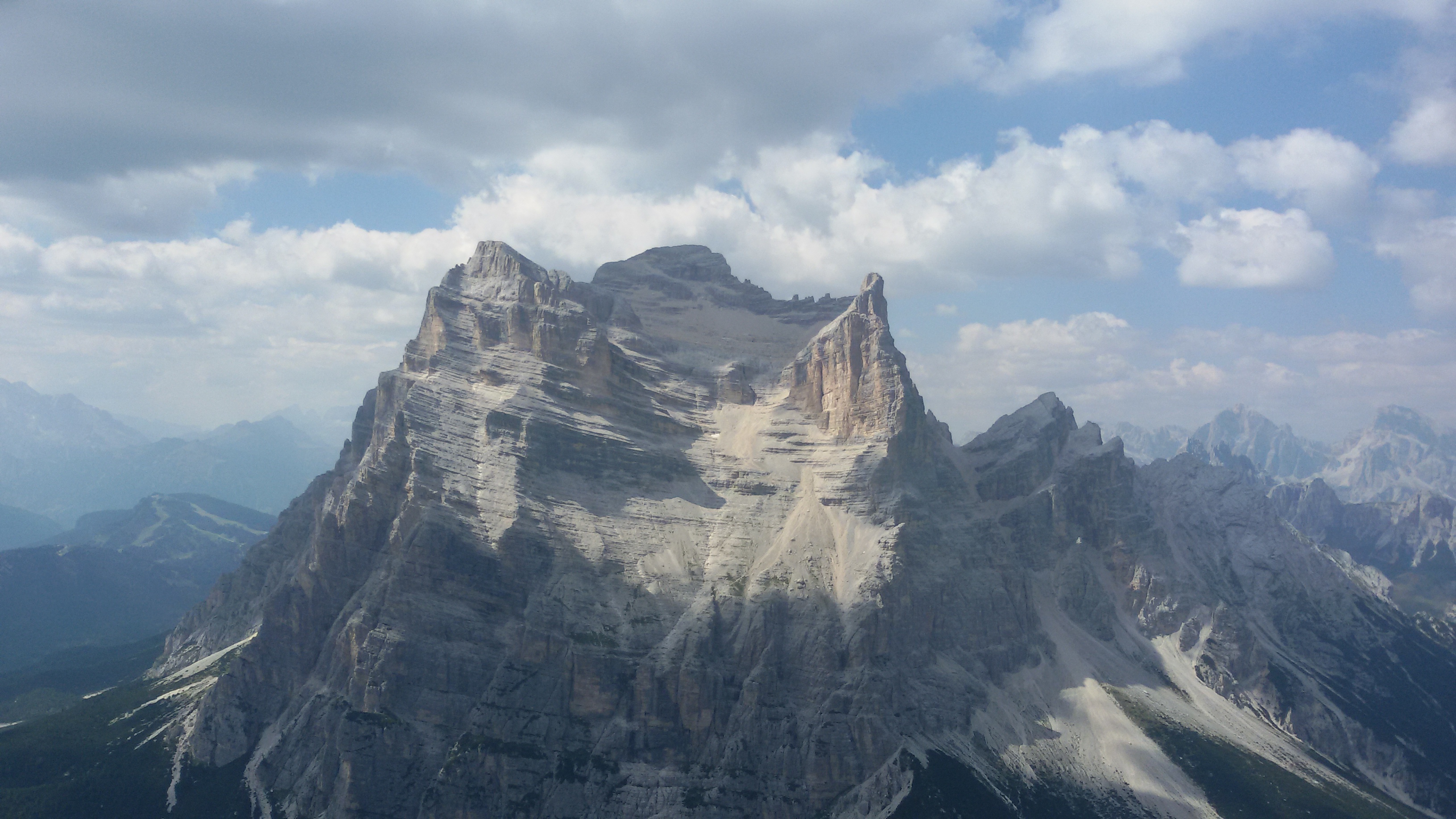 Direction mt. Pelmo and then mt. Civetta, I'm amazed at the view and we start to think about how to head back home.
Over Longarone we make the final decision: Raul wanted to go up in  Settimana valley but I don't like the idea because I think it's too late. We will try a new way (I'm not sure if other pilots have done this before) and we climb up the Piave valley, on the east side with wind coming from behind the mountains, it works!
With some difficulty to rise in some places I'm able to pass a beautiful fork mountain that sends us directly to the landing on Forni valley. A scream of happiness is instinctive and happy to close the flight I'm going to the landing field!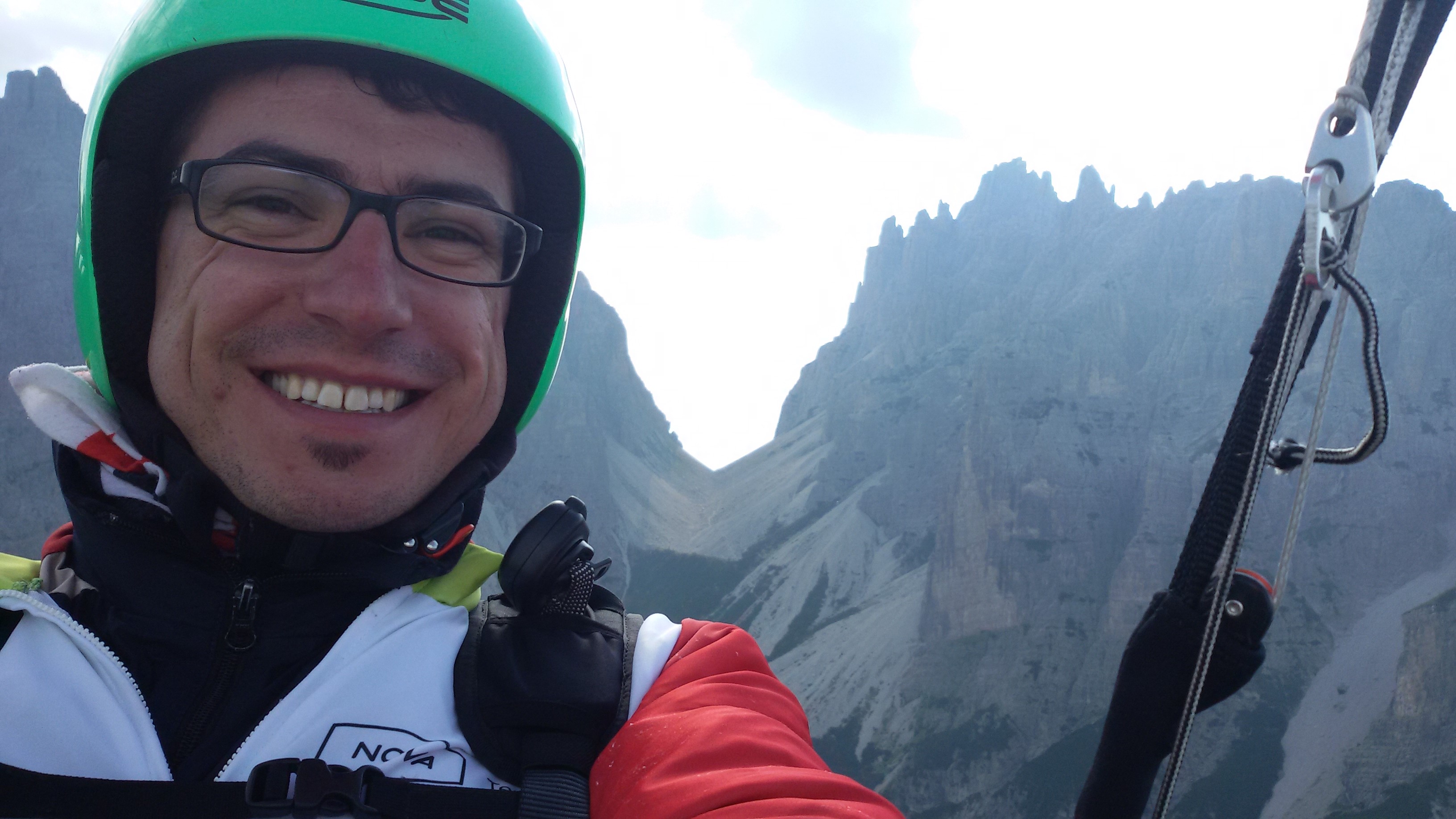 Raul has some problems to get altitude but after 20 min. I here him screaming on the radio when he his passing that amazing fork: "This is beautiful!"
We have a beer together and we start planning for the day after. I'm not really sure about Raul's decision but we will take off from Piancavallo.
The flight plan is very ambicious but the forecast of the morning is getting worse, putting some rain in the middle of our track. Raul's experience plays a great part and he doesn't believe this could be possible, so we go for it.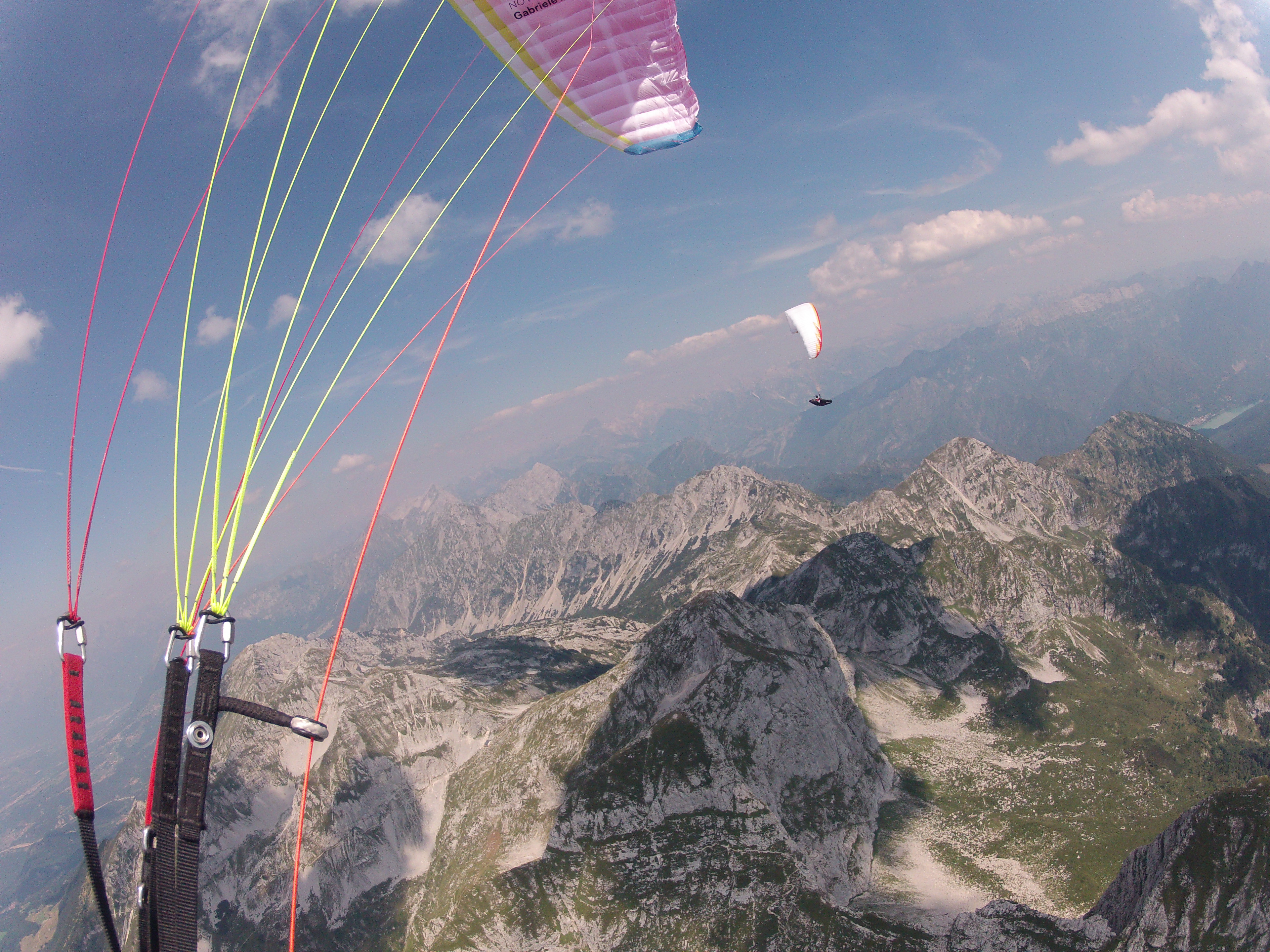 Strong east  wind won't let as take off so early but at 12 o' clock we go forward with the plan. Very quickly Raul gets very low but patiently rises up again and we go towards Belluno.
Beyond Belluno at San Gregorio, the idea is to cross the mountain and go to the valley behind; Raul, just behind me, tells me the place to pass and I try.
We are not sure if this has been done before so it is very exciting. We continue pointing towards Cortina and I'm able to reach my personal altitude record (4000 m) passing close to the west part of Mt. Civetta. A strong descent takes me very low and I have to use lots of patience to climb up while Raul passes in front of me going strait to Cortina…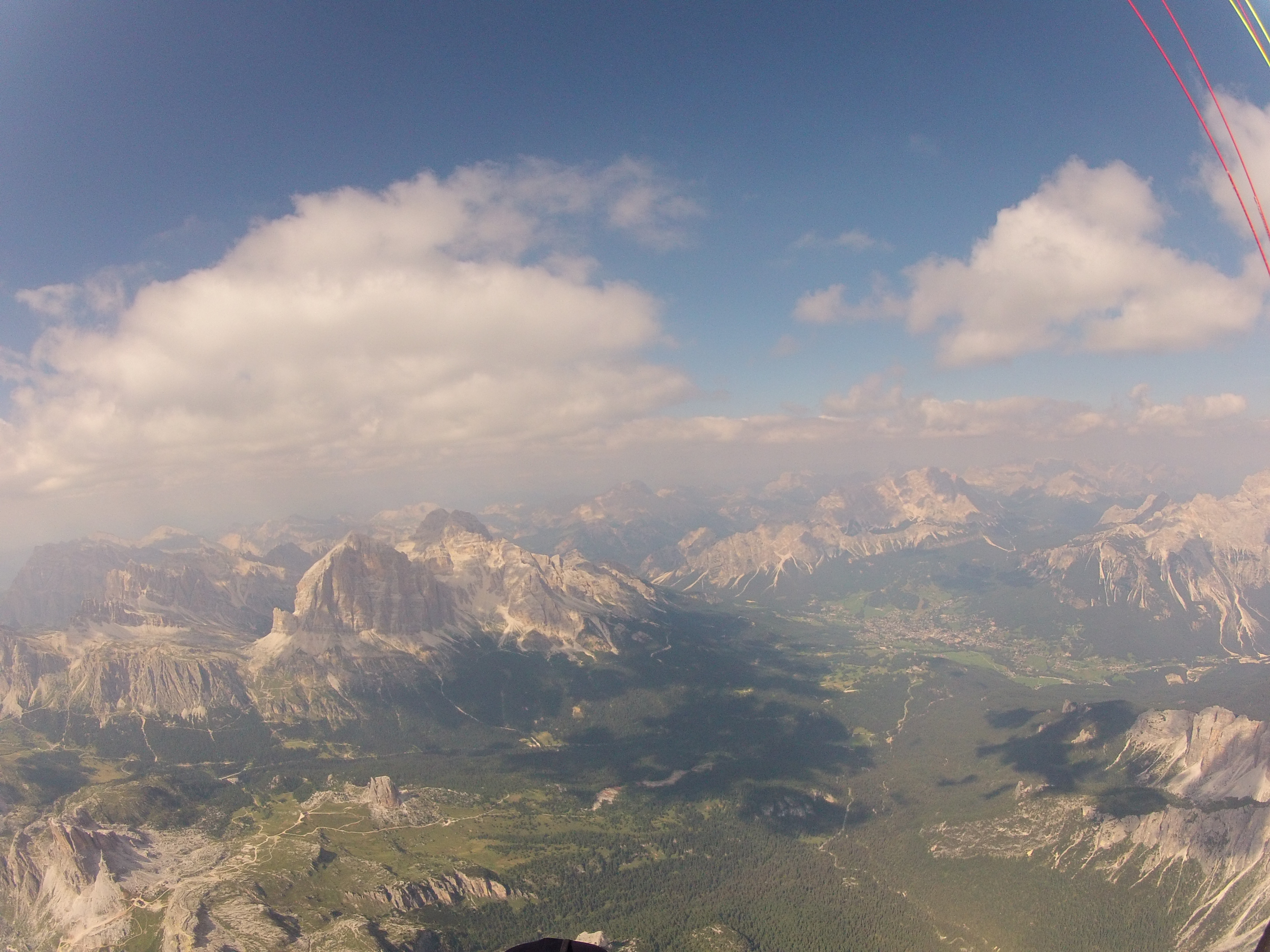 I'm very low again under the beautiful Tofane and it's really amazing to be able to fly under these fascinating mountains and climb up close to them!
On the way back Raul tells me he is landing on Zoldana valley after a big descent. I'm able to pass Mt. Pelmo and go to Longarone with some weak thermals. The last part of the flight is quite relaxing and  turning around the Alpago mountains I'm able to pass a fork that brings me to Piancavallo…
I'm home! and I couldn't be any happier! 147 km, it's the longest FAI triangle from Piancavallo but most of all, a nice technical flight with incredible views!
Raul was lucky hitch-hiking and we ate a good pizza together up in Piancavallo in the evening…
The day after weather conditions are still good, we decide for Meduno but is not a really good idea. Strong east winds make us suffer at  take off  and I was very lucky to not get hurt after being pull in flight from a dust devil.
I'm tired so I decide to do a 75 km softer flight over places I've already flown but Raul doesn't give up! He goes all through the mountains north-west Meduno, passing the beautiful Campanile di val Montanaia and going to the Dolomites once again! He went there and completed the last part of the flight that he didn't do the day before and back to Meduno!
These were some the most beautiful flights I've ever done in my whole life, not focusing on the best way to do kilometers but just wanting to go to the nicest places, over new ways and possibly from our take-offs.
This idea keeps us at our local take-offs when nice days arrive instead of going to great places for XC, trying to demonstrate the possibilities we have here, to stimulate locals pilots to do better flights and to explore our mountains…
Big congratulations goes to all those pilots that have done great flights from Grente and Speikboden during these three days keeping Nova always on the top of xc flights!!!
Links to our flights:
http://www.xcontest.org/italia/voli/dettaglio:Gago/11.8.2015/10:21
http://www.xcontest.org/italia/voli/dettaglio:Asterion/11.8.2015/10:13
http://www.xcontest.org/italia/voli/dettaglio:Gago/12.8.2015/09:39
http://www.xcontest.org/italia/voli/dettaglio:Asterion/13.8.2015/10:28
Gabriele Pittaro Truant