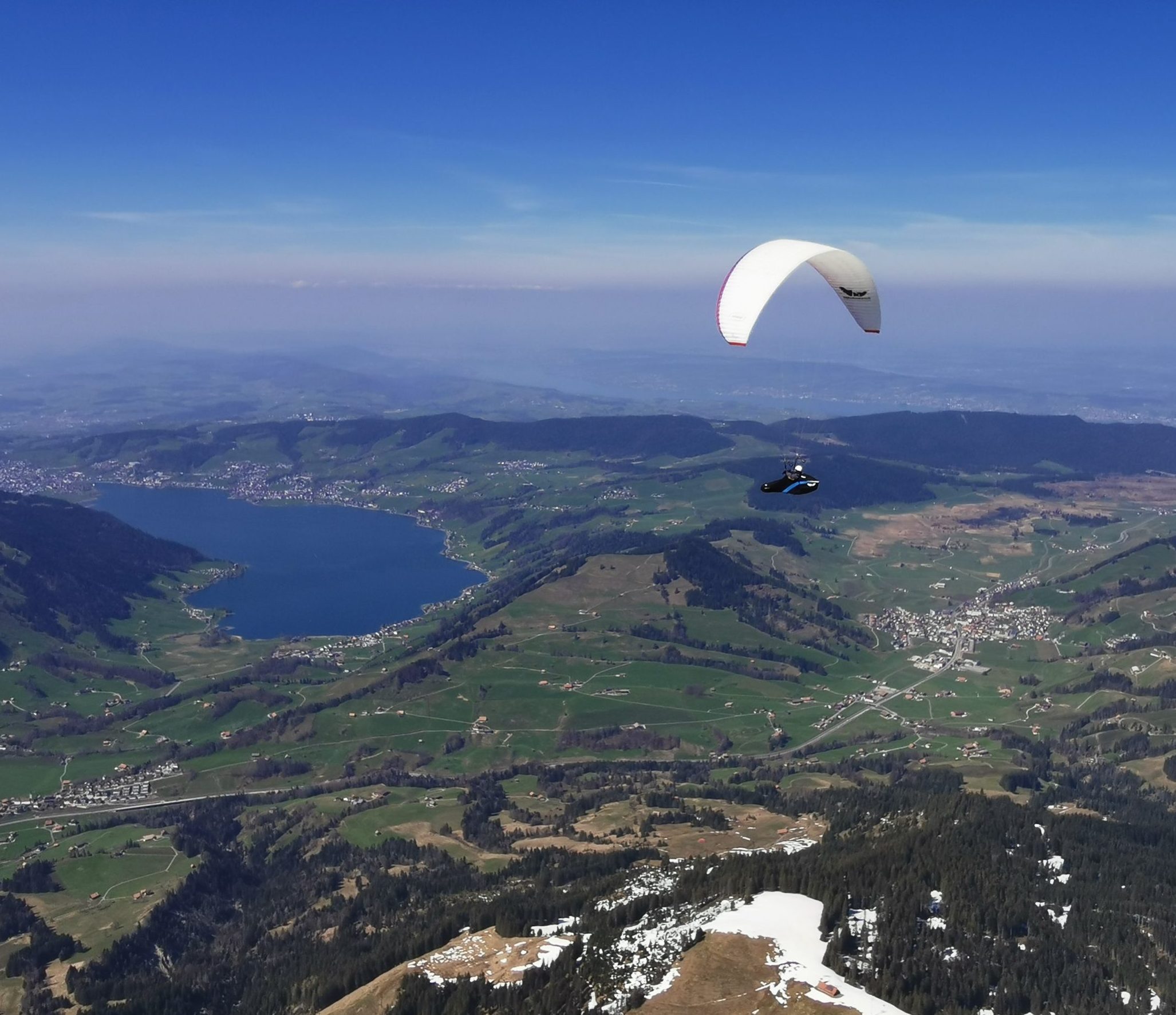 Next Post
Previous Post
Swiss Lakes Tour – one of the most beautiful flights in 33 paragliding years.
Roli (Mäder) hat nach Brienz zu «seinem» Startplatz eingeladen. Beni (Friedli) und ich haben die Einladung gerne angenommen, so haben wir uns am 24. April getroffen.
Roli (Mäder) invited us to Brienz to "his" launch site. Beni (Friedli) and I gladly accepted the invitation, so we met on 24 April.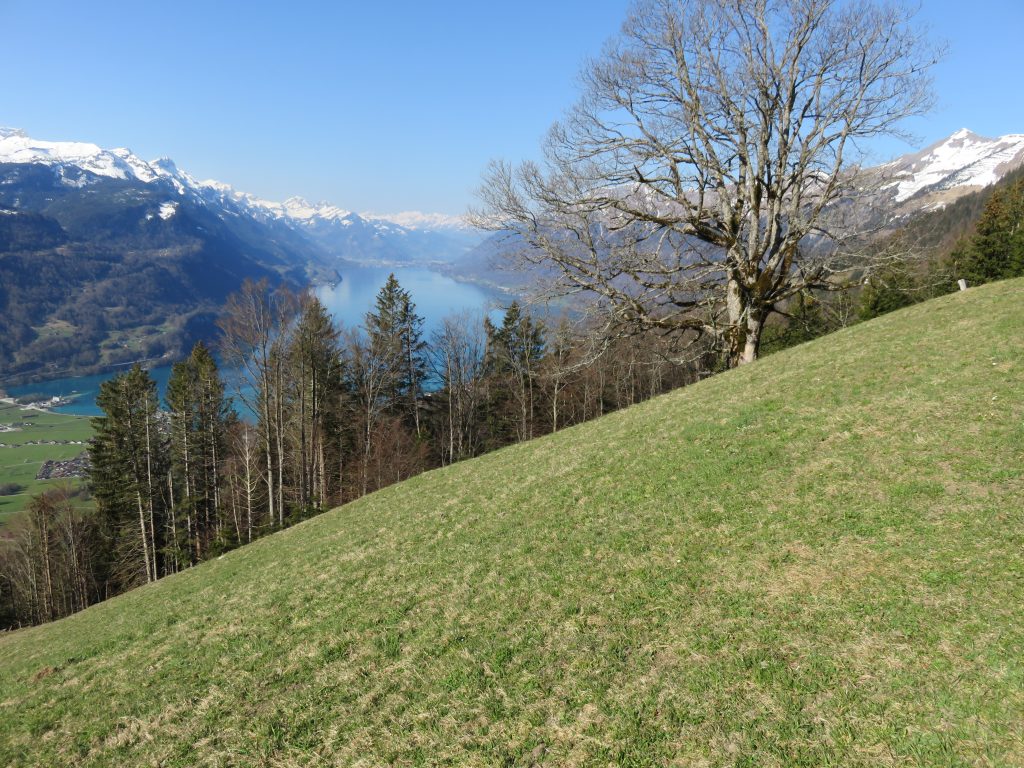 Eine kurze Auffahrt, einige Minuten zu Fuss – und ein wunderbarer Startplatz hat uns empfangen.
A short drive up, a few minutes on foot – and a wonderful launch site welcomed us.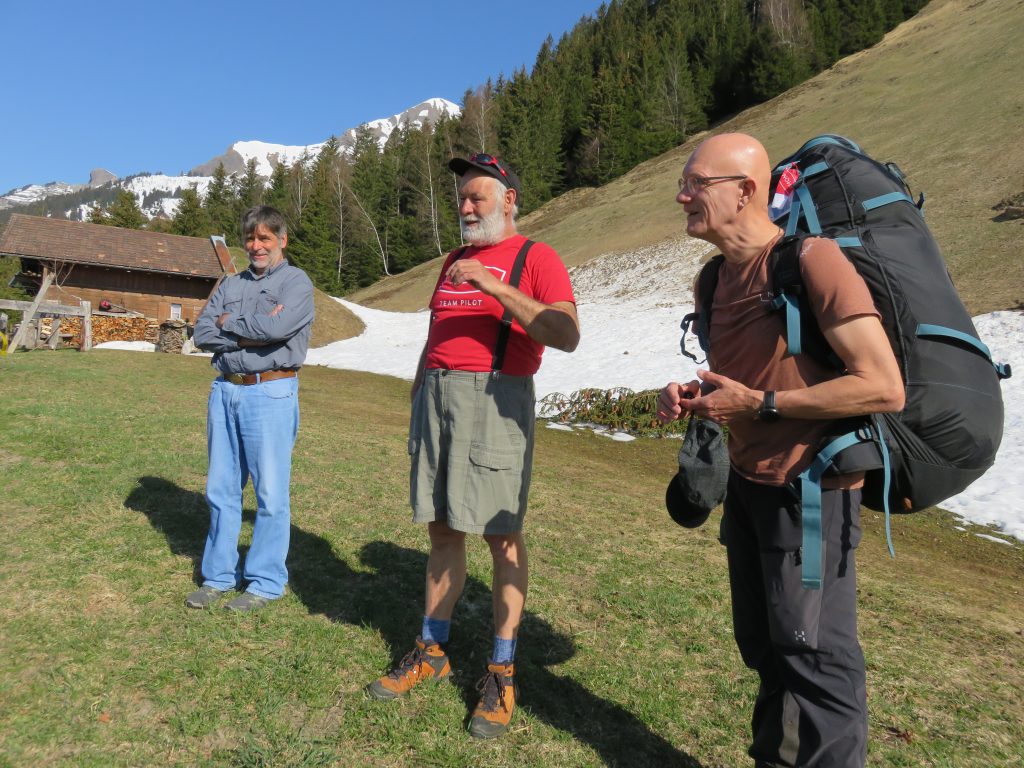 Rolis Idee: erst gegen Westen, dann via Grindelwald zurück und eventuell nach Osten verlängern. Ich war angesichts des Westwindes nicht sonderlich begeistert von diesem Plan. Mir schwebte eher one way gegen Osten vor.
Roli's idea: first towards the west, then back via Grindelwald and possibly extend the flight to the east. I was not very enthusiastic about this plan in regards of the westerly wind. I rather had one way towards the east in mind.
Roli stellte sich als Dummy zur Verfügung – und musste bald die Segel streichen. Beni und ich warteten noch eine Weile, mussten dann aber im Startschlauch kämpfen, um Grathöhe zu erreichen. Trotzdem versuchten wir es gegen Westen. Ordentlich Gegenwind und verblasene Thermik , der Spass hielt sich in Grenzen.
Am Augstmatthorn überzeugte ich Beni, dass unser Glück Richtung Osten liegt. Und so begann unsere Seen-Tour.
Roli volunteered as a dummy – and bombed out soon. Beni and me waited a while, and then had to fight in the launch site thermal to reach ridge height. Nevertheless, we tried it against the west. There was a good headwind and fading thermals, so the fun was limited.
At Augstmatthorn, I convinced Beni that our luck will lay to the east. And so began our lake tour.
Entlang dem Brienzersee zurück, über den Lungernsee und weiter nach Engelberg.
Along Lake Brienz back, over Lake Lungern and on to Engelberg.
Kurze Baustelle für mich…  Short "construction site" for me…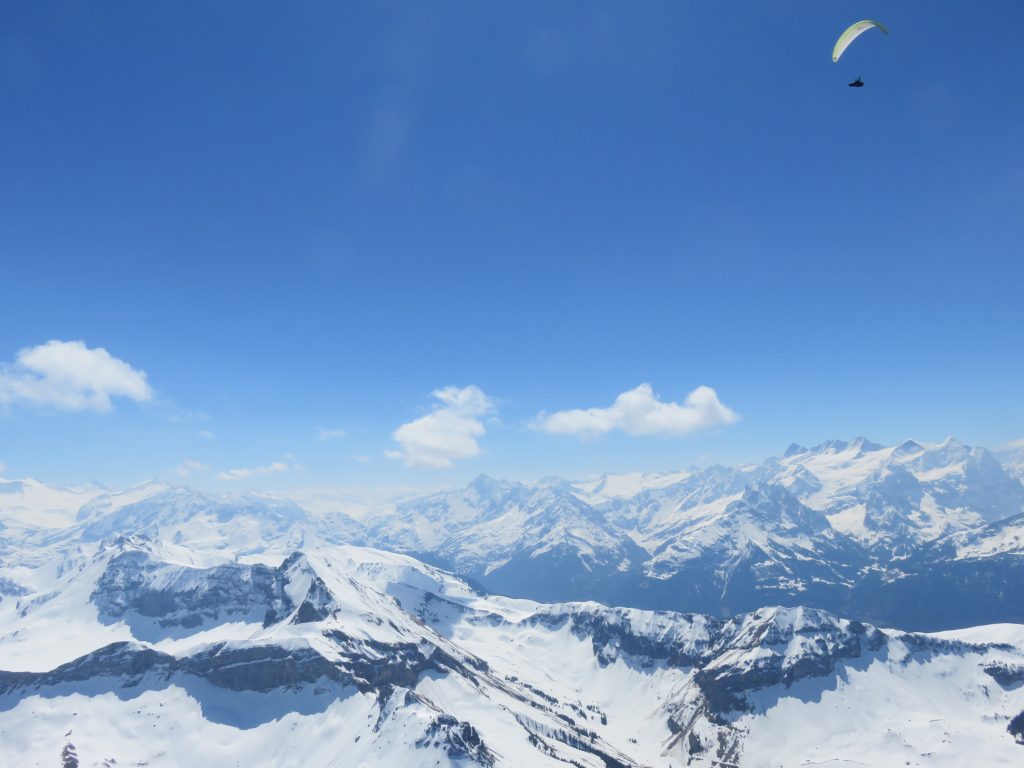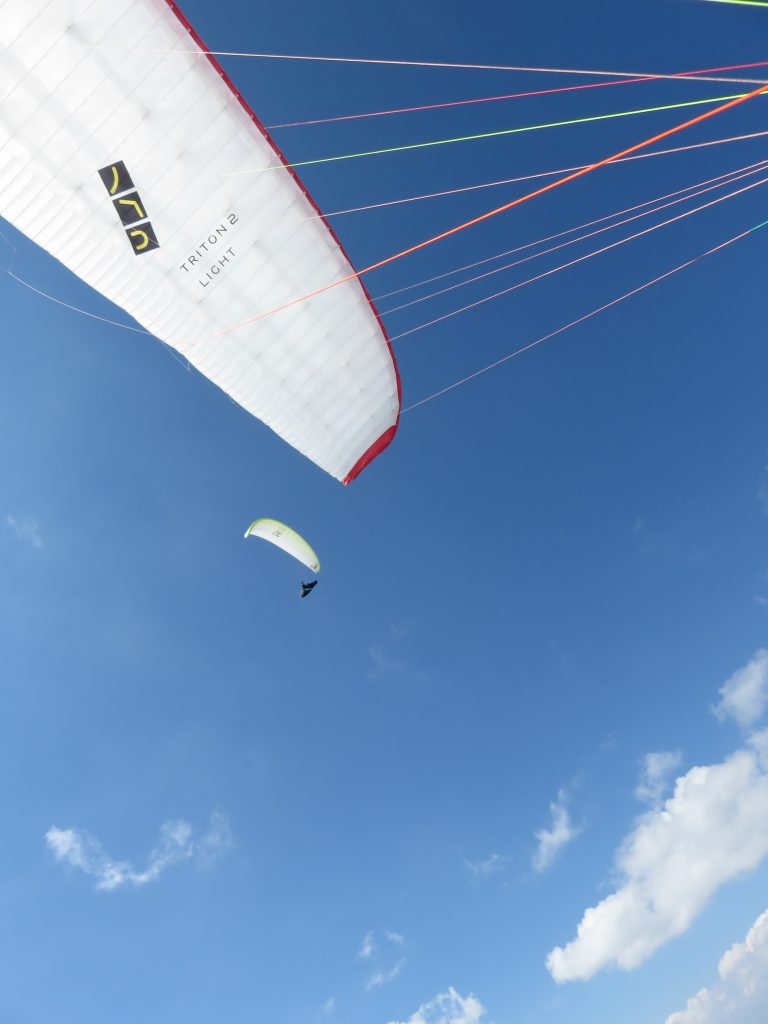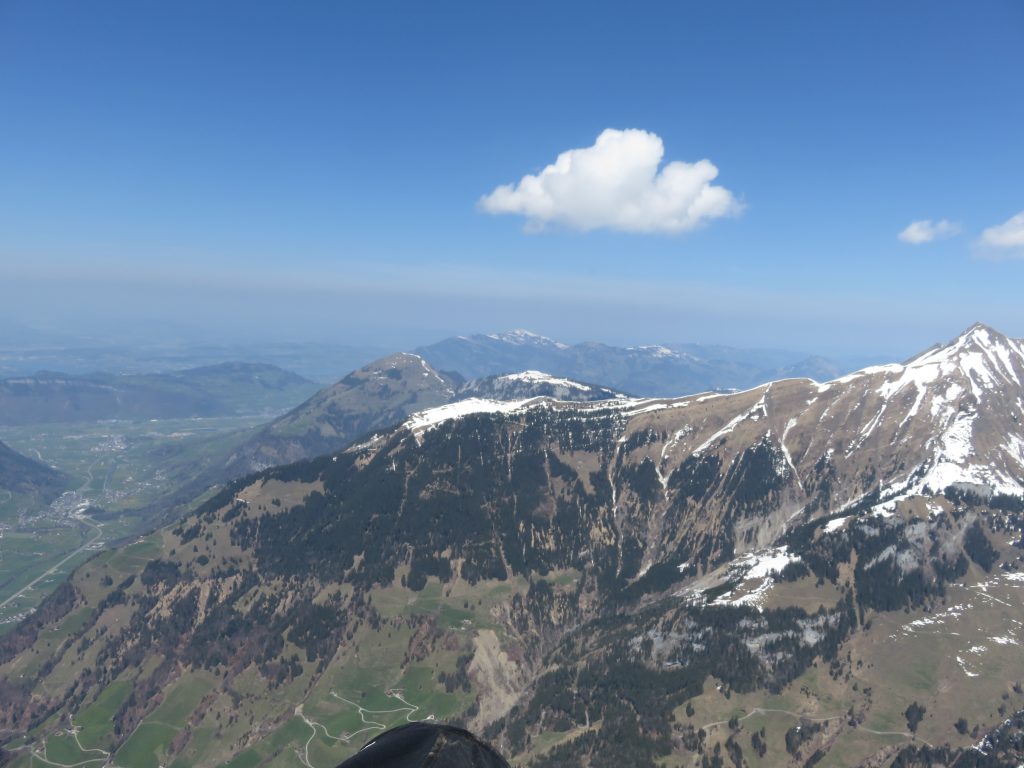 …und weiter via Haldigrat über den Urnersee (oberes Ende des Verwaldstättersees) zum Rophaien.
…and on via Haldigrat over the Urner Lake (upper end of the Vierwaldstätter Lake) to Rophaien.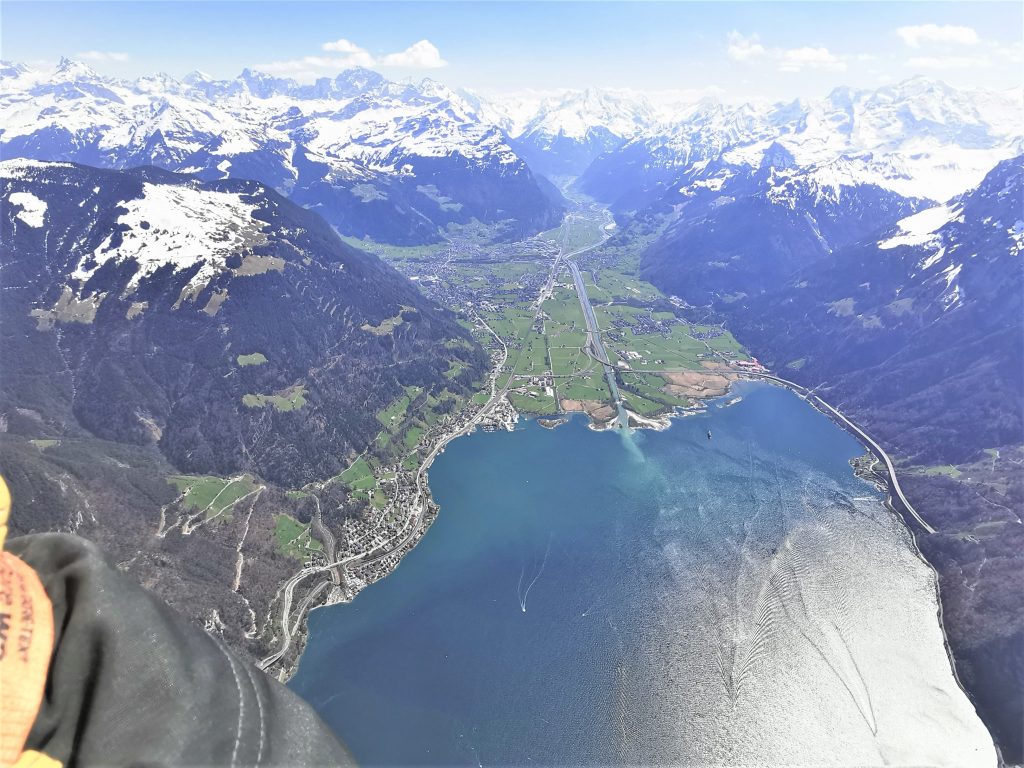 Hier die Entscheidung, weiter über den Klausenpass (mit langer Heimreise) oder den Versuch starten, via Mythen eventuell ein Stück zurück zu fliegen. Mit 2800 MüM Ausgangshöhe starteten wir die lange Querung an die Mythen.
Here we to decide: continue over the Klausenpass (with a long journey home) or try to fly back a bit via Mythen. At 2800 m above sea level we started the long traverse to the Mythen.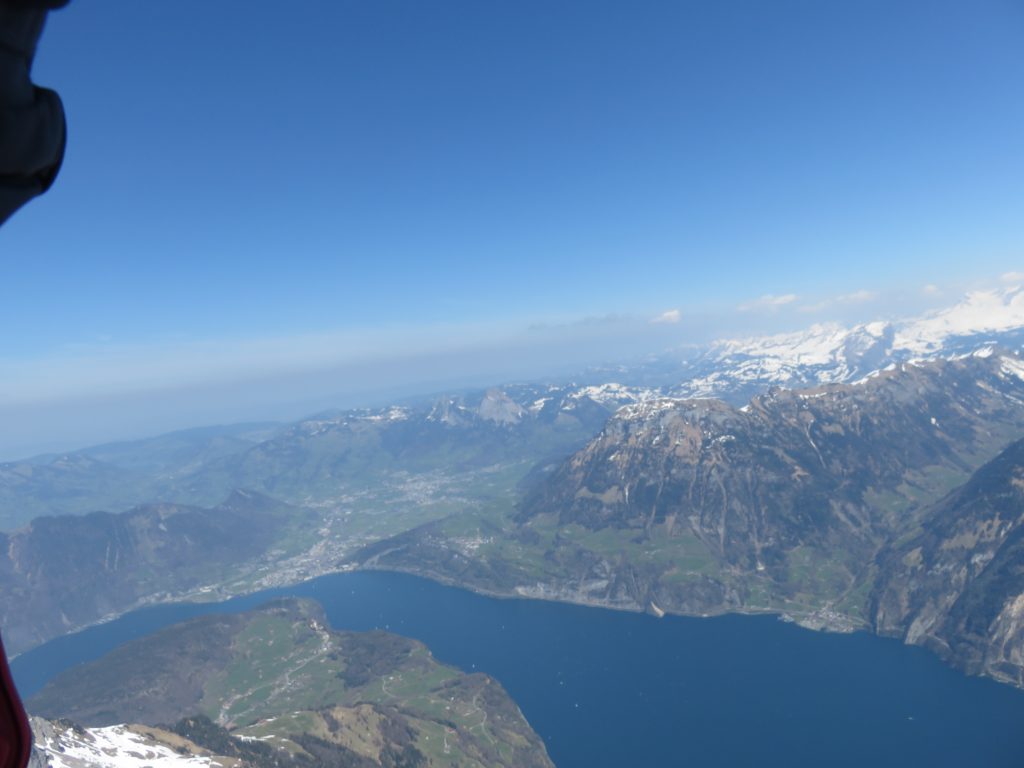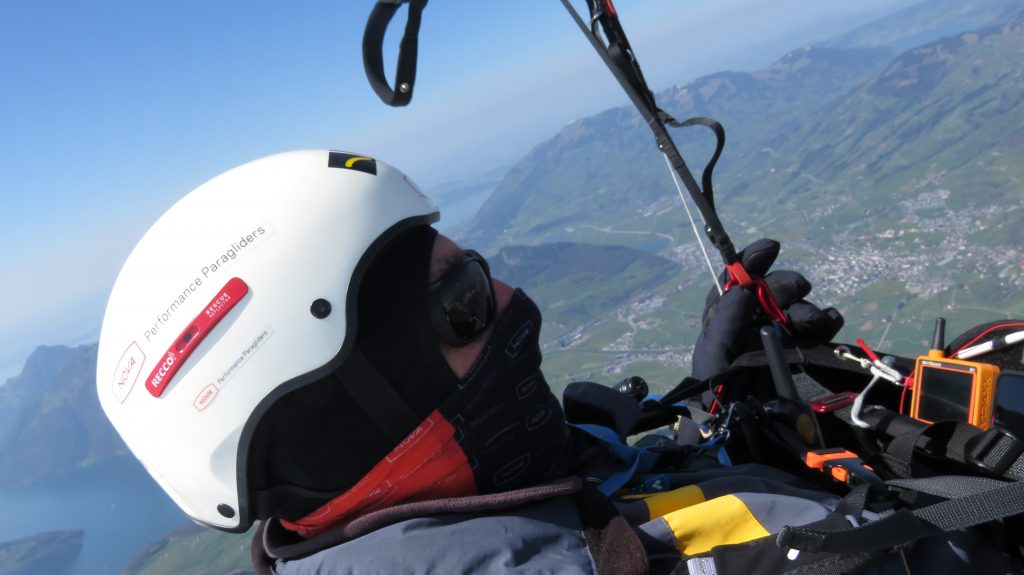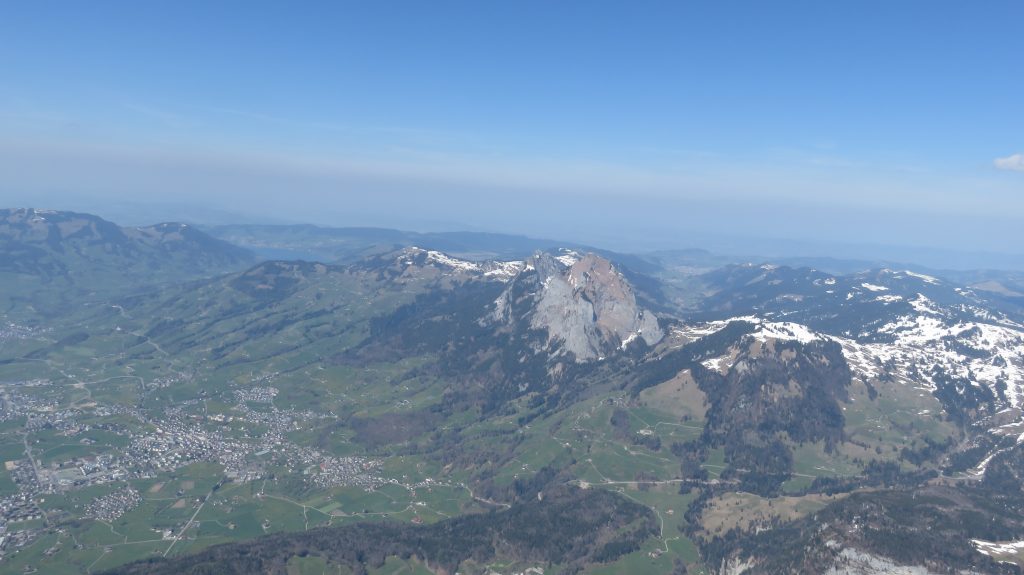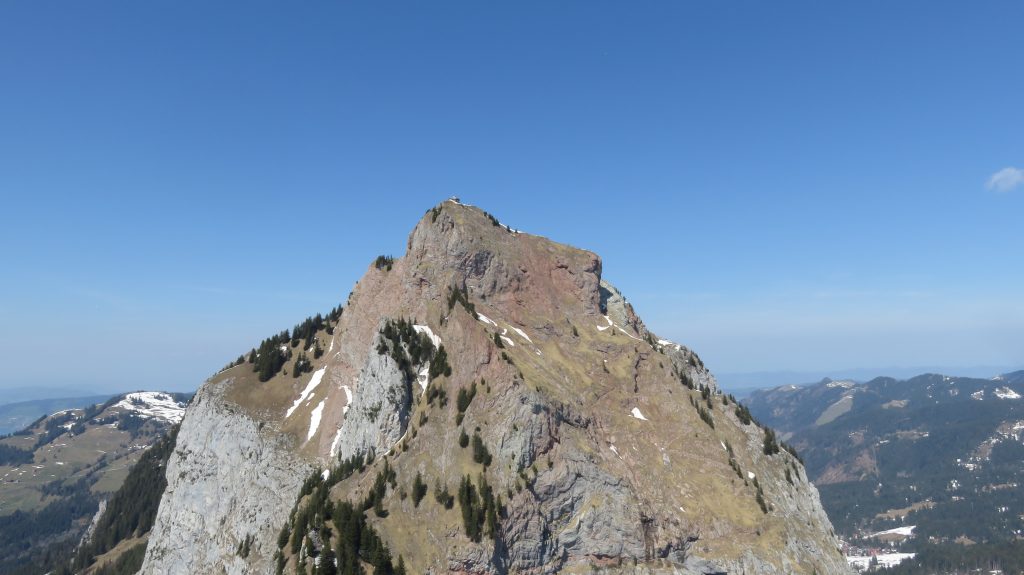 An der Rothenfluh konnten sich die Piloten nicht halten, also weiter. Der grosse Mythen zeigt uns auch die abweisende Schulter, dafür zeigten uns über dem kleine Mythen ein Pulk Gleitschirme, wo Anschluss zu finden war.
At Rothenfluh the pilots failed to keep their altitude, so we continued. The big Mythen also showed us its forbidding shoulder, but above the small Mythen a group of paragliders showed us where to find a connection.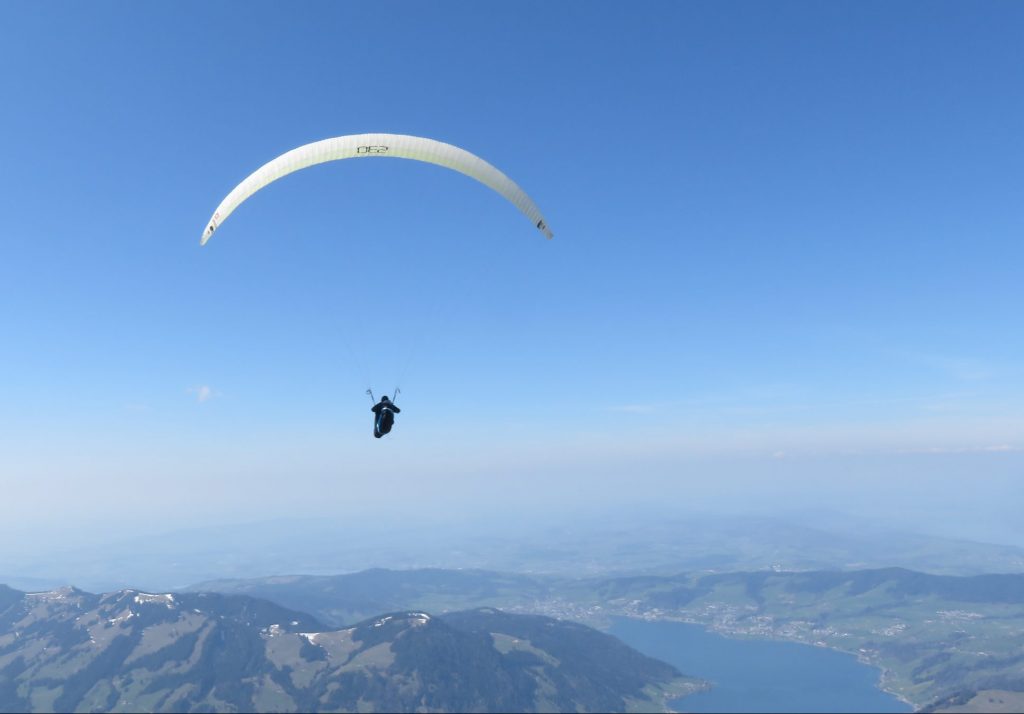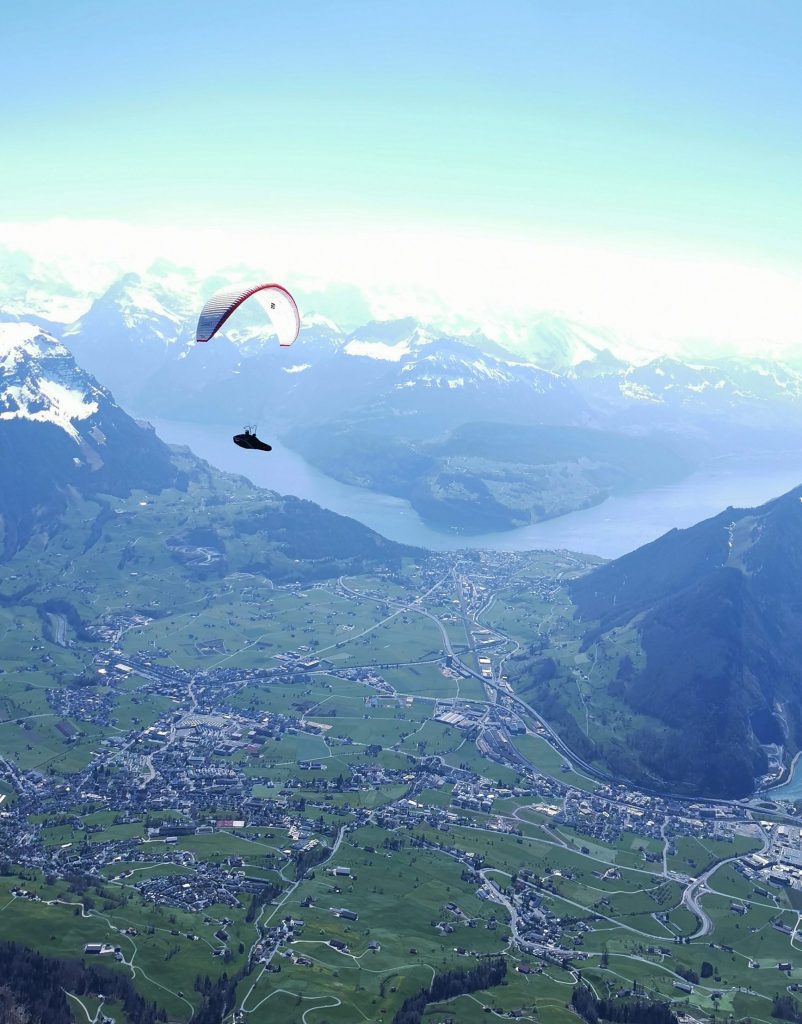 Weiter zum Rossberg, am Lauerzersee vorbei, Ägeri– und Sihlsee in Sichtweite, überall super schnell Anschluss gefunden. Thermik stand da wo erwartet. Dann Endanflug Richtung Küssnacht, über Zugersee und nochmals Vierwaldstättersee, und mit genügend Höhe noch weiter. Kurz darauf unter 100 nochmals ausgegraben und einen super Landeplatz gefunden.
On to the Rossberg, past the Lake Lauerzer, Lake Ägeri and Lake Sihl in sight, we could the next thermals very quickly. Thermals were found where expected. Then final approach towards Küssnacht, over Lake Zug and Lake Lucerne again, and with enough altitude even further. Shortly afterwards we dug out again below 100 meters and found a great landing site.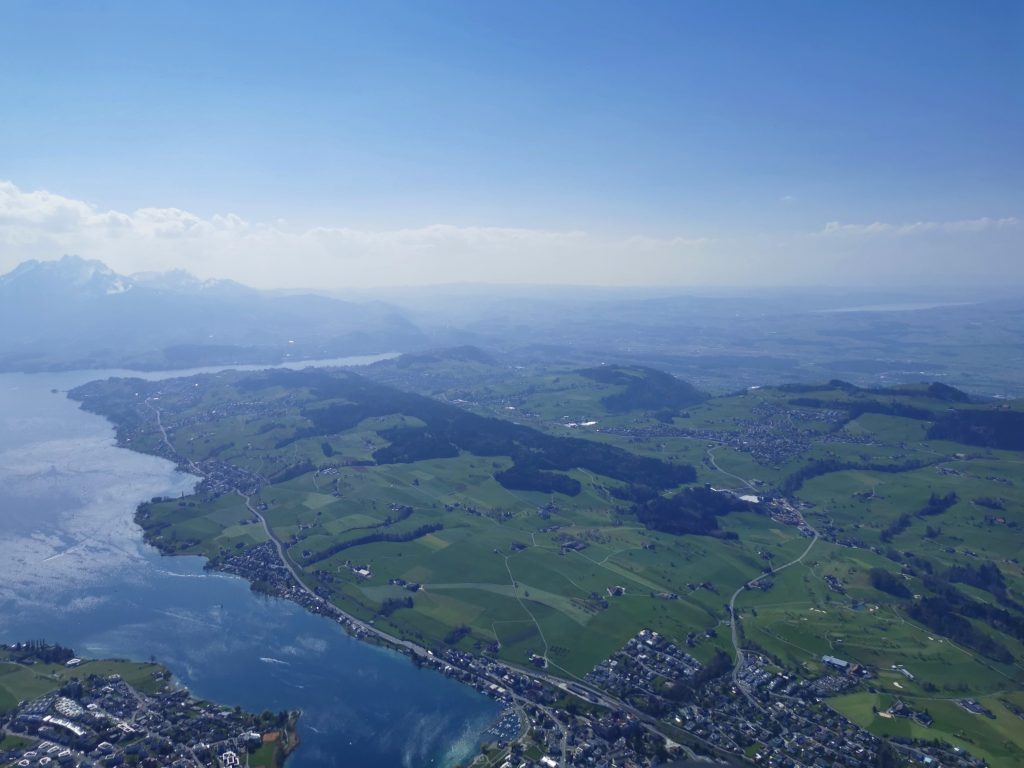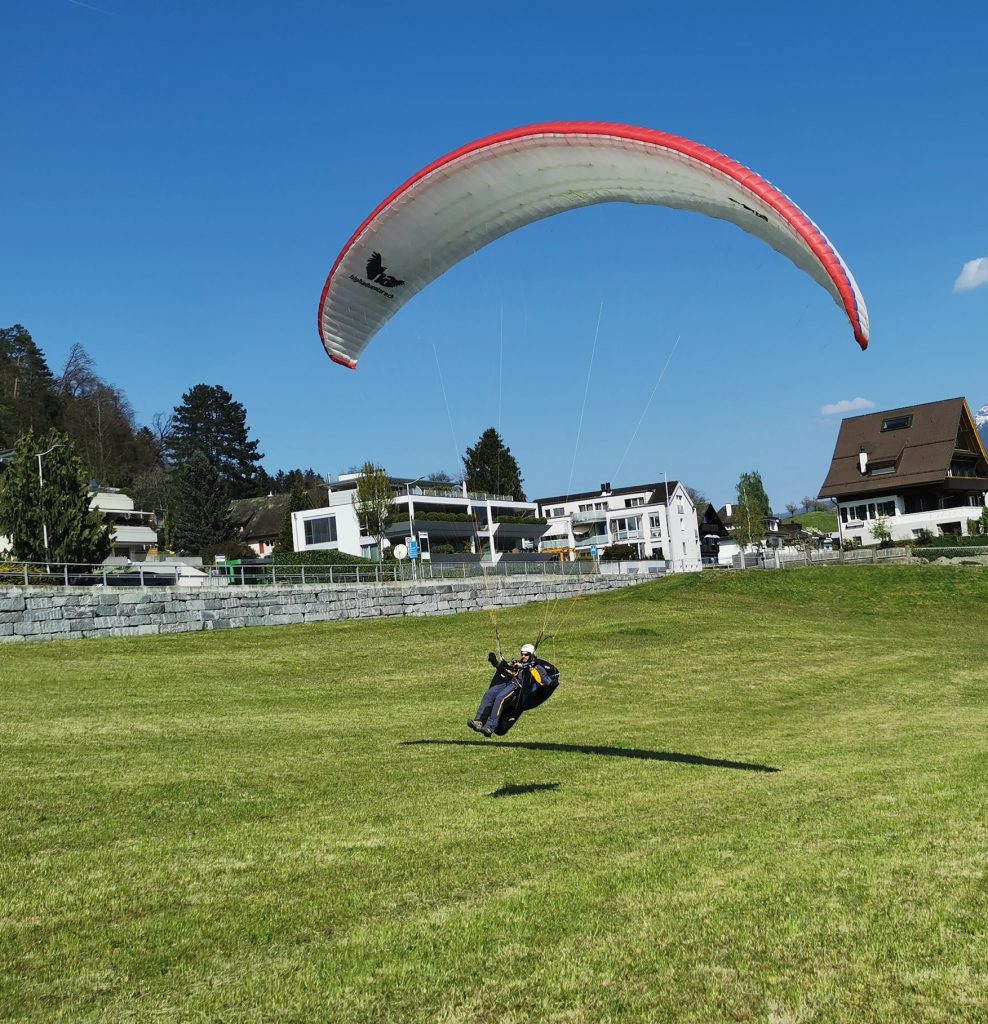 Noch etwas spannend, am Landeplatz null Wind – und 50 Meter weiter stehen die Fahnen im strammen Wind. Mit Bus und Zug nach Stans, und Corona-konform mit genügend Abstand das Landebier genossen. Roli hat seinen Flug wie vorgenommen im zweiten Anlauf geschafft, top gelandet, und uns in Stans abgeholt, merci!
Strange: zero wind at the landing – and 50 metres further away the flags are moving heavily in the strong wind. By bus and train to Stans, and Corona-compliant with enough distance enjoyed the landing beer. Roli made his flight as planned in the second attempt, landed perfectly, and picked us up in Stans, merci!
Der Flug, nicht sehr weit, über so viele Seen, lange Gleitpassagen, z. T. zerrissene Thermik, wahnsinnige Eindrücke. Einer der besten Flüge der vergangenen 33 Flugjahre.
This flight, not very far, over so many lakes, with long traverse, partly destroyed thermals – unique impressions! One of my best flights of 33 years of paragliding!
Link zum Flug: www.xcontest.org/switzerland/de/fluge/details:HUJA/24.4.2021/09:04#fd=comment Ach ja, auch die HX-Lufträume waren heute auf unserer Seite: keiner war aktiv. The HX airspaces were also on our side this day: none were active.
Gruss aus der Schweiz / Cheers from Switzerland
Hansueli