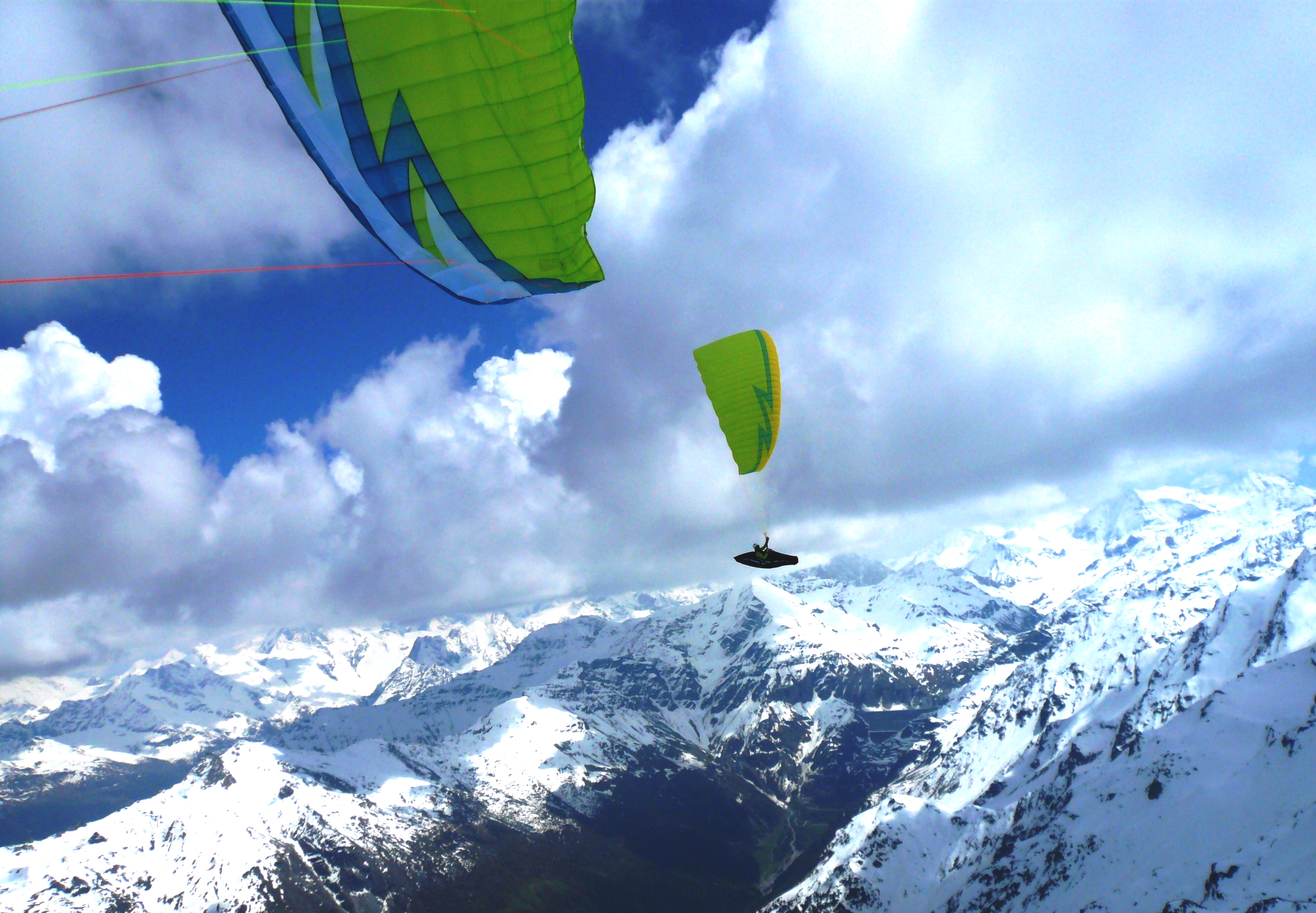 Next Post
Previous Post
Watch this picture: We see the team glider Mentor 3 of Kurt Fischer while he pushed the trigger of his camera, thermaling with Rolf von Arx also riding the Mentor 3 in his very spezial design. In the background we see – very small – the tallest gravity dam of the world in the Val d'Hérens. Me myself, I am somewhere on the left in the picture, squeezed bedween cloudbase arround 3500m and glaciers. This very moment in the valleys south of the main "Valais" or "Wallis" was one of the most exciting we ever had here on the most exciting swiss perfect triangle – the big one, the 200 km triangle. It looks like winter – but its justs a few days ago, friday, 7th of june.
Thermaling was like riding a bull a whole day long, gliding was freezy, but we just couldn't stopp! The first 120 km I tracked down with a 35km/h average speed. The first two waypoints were way too short, but you know the problems of our playground. And one more thing: the clouds could overload enytime this day, so pushing the bar was a good idea. What a day!
Some ten, twenty pals just came down to the valais this morning. I will never understand why everybody else didn't just lie to the boss and joined us. Well, the forcast was sceary: thunderstorm early in the afternoon. Some didn't believe it – we some:-) You see in the daily score xcontest what happend: the Mentor 3 showed his outrageous performance and resistence in bumpy air.
Why is the valley that small?! I touched down closing the triangle after 7 and a half hours. Well, we are thankful. Nowhere else that day (especially not in antholz;-) in the alps conditions alloweded that kind of flying. See morre pictures and german story on my blog. Reed more about team-mates Kurt and Pascal, doing so good, about our swiss NOVA boss Urs Haari, doing crazy things. Also on this page one post earlier I wrote about the magic of the perfect triangle pointing on the valais. Congratulations ones more however to our friends in antholz. What a feeling it must be riding our new wings in this perfect mountains. All of you I wish happy landings and see you soon, Roland