Next Post
Previous Post
Hi to all readers,
At the moment we are in Chabre, for the Chabre open. Some statements:
Atmosphere: fantastic
Flying conditions: great (so far)
Competitors: 124
Drink and food…hmmm depending on ourselves but the BBQ works well
Tasks: challenging
My status: hmmm
Wings used: mainly NOVA wings and Ozone Wings, some U-turns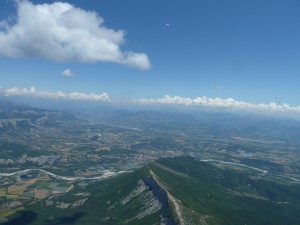 The first task was about 38 km and it should be really easy and for 3/4 i was in the leading gaggle so all going well. then more or less on the final leg we had the decision to make over the flats or mountain and there at the mountain there were cu's so easy …wrong choice i had to struggle a lot and ending up landing 1 km before goal :-( bugger…… result 30e.
Second task…even better weather bit stronger winds and a 50k task. All going well cu at 2700 and away with the leading gaggle and speeding the Triton up to the max which still is a great feeling. No problem's at all during flight except one huge collapse as i was approaching the hill on full bar but the triton recovered easy so i am fine and came in as number 10. a good day :-)
Lets see what the rest of the week brings…I ll keep you posted. And detailled information you ca find on the chabre facebook page.
Best regards
Hans ter Maat