Next Post
Previous Post
Early 2012 we announced on our website, Facebook, the NOVA-Newsletter, and in press releases that we have slots for three new Junior Pilots in our team, as some of our current "Juniors" will turn "Seniors" rather soon. (We consider young folks up to 25 years a "Junior", as this is the age when the majority of people has finished their education and starts to have their own income).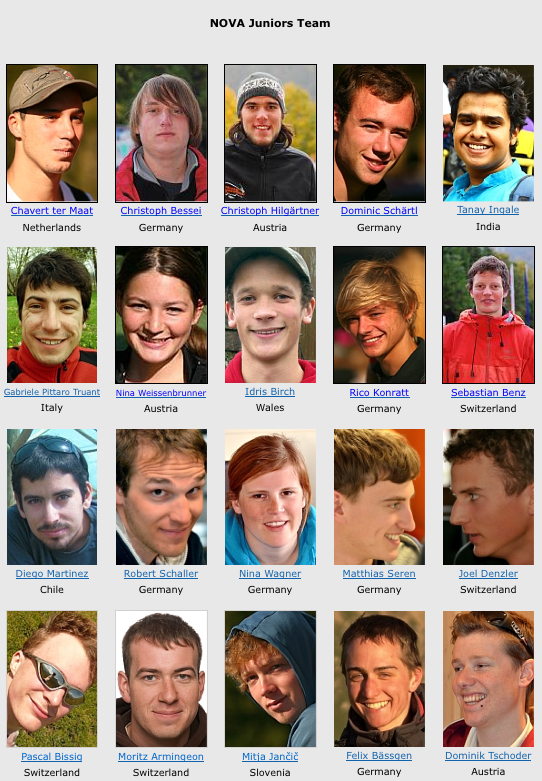 When the application deadline was over in March, we had received over 50 applications from more than 20 countries – many of them were amazingly good, both in terms of personality and pilots skills / experience (too bad that Paragliding didn't exist at all when I was in that age…). About half of the applicants came from German speaking countries, the other from all over the world.
So what was there to do? We invited 13 German-speaking applicants for a selection meeting at the NOVA headquarters in Terfens, meeting with Mik (International Sales & Marketing), Wolfi (CEO) and me. We gave them a little presentation about NOVA and about the vision with the Juniors Team, we listened to their vision about paragliding, and then they did some teamwork. Unfortunately, the weather was too bad for flying.
At lunch break Wolfi took me to aside: "Till, you mustn't do something like this again. Whom shall we not accept? They are all very nice, good and they would all deserve it!" Actually, Wolfi was right! We were in a rather unpleasant situation.
Originally we intended to only take three new Juniors on board. But then Wolfi changed his mind and we selected six new German speaking plus three new international candidates:
Felix Bässgen, 20, student from Black Forest in Germany.
Joel Denzler, 18, student (also helping in the paragliding school Robair), from Switzerland.  Being a gifted acro-pilot (Infinity Tumbling, Esfera, multi-connection with Cowboy, Booster, Corkscrew and Joker) Joel is already team pilot at Raul Rodriguez Acrowings, but he seems to be as talented as an XC pilot.
Robert Schaller, 20, student from Munich (Germany) who loves Hike & Fly.
Matze Seren, 21, Mechatronics Technician, living in Franconia (northern Bavaria,  Germany) and coming from a flying crazy family.
Dominik Tschoder, 19, student from Mathon (Paznaun Valley, Austria) with a father who is paragliding instructor.
Nina Wagner, 23, student from Munich, Germany, with a father who is pilot, at least…
The new international Juniors had to be selected without a special meeting, just according to their applications, general communications with them, researching the paragliding community, and phone calls. The new international Juniors include:
Tanay Ingale, 17, student from India. He is our youngest team pilot at the moment and the only Indian.
Diego Martinez, 22, student from Pucon in the Chile Lake District.
Gabriele Pittaro Truant, 23, from Italy. He works in quality control in a turbine blade machining company and he is crazy about flying in general!
In addition to the "chosen ones", we still have some pending applications. One thing is for sure: there are certainly more young talents that deserve a spot than we can accept in our team.
In addition to the Juniors, we also accepted two seniors,
Maria Grazia Crippa who is a well accomplished XC and comp pilot living near the Swiss-Italian border and
Matt Stanford, a Brit now residing in New Zealand as a teacher and being the first Kiwi in the NOVA Pilots team.
Welcome on board to all
Till
"Team Captain" – the others gave me that title