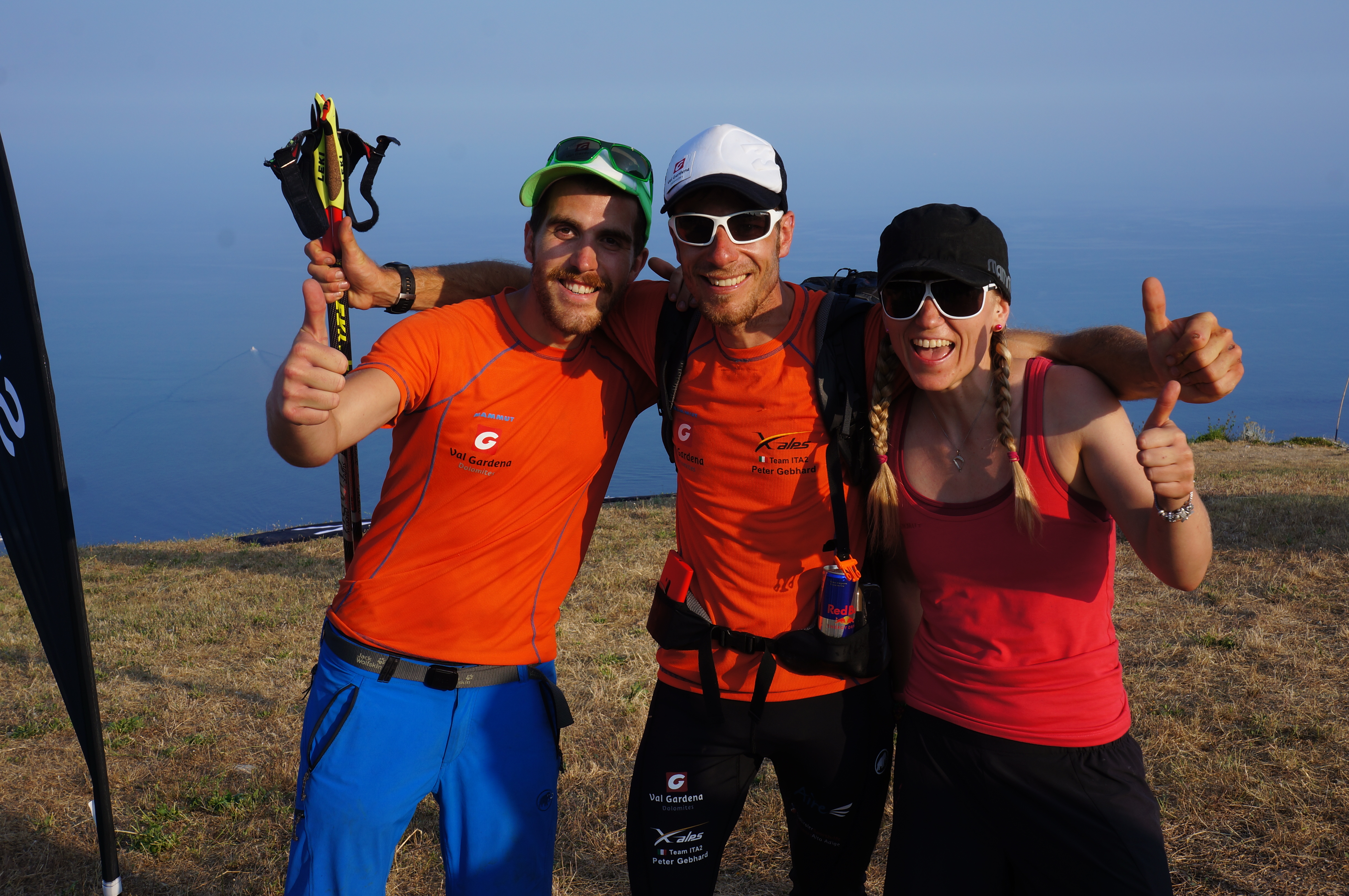 Next Post
Previous Post
Hi everybody!
This year my boyfriend Peter Gebhard and me as well as Gerald Demetz as the second supporter took part in the Redbull X-Alps 2013, the biggest (and craziest) paragliding adventure race. It was an extraordinary experience and I would like to share some moments with you! In case somebody is wondering about me being a NOVA Team Pilot and Peter flying Ozone: Peter used to be a NOVA Team Pilot too but then decided to fly open class / comp wings. So he left the NPT. But he still feels close to NOVA, Till gave us some advice in terms of sponsoring etc. even though we represent  another brand. In the end we are all friends sharing the same spirit. It was an extraordinary experience and I would like to share some moments with you!
What to say about X-Alps?! I have to admit: it was far better than I thought!!! I was afraid and bit anxious: How will we react? Will we supporters be able to give Peter the right information at any time? How will Peter be in this extreme situation? Will we work well together as a team? How can I survive with only a few hours of sleep? It was hard but it was really good as well. I am happy I had the chance to experience it!
Application to X-Alps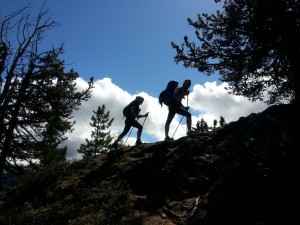 But let's go back at the very beginning. It all started with the application. Peter has been a fan of X-Alps since the first edition. Last summer we spoke a lot about this competition and who could be the right supporter for him. We also talked about me as supporter but I did not think about it seriously. End of August Peter came up with the decision that he wanted to apply for the X-Alps and that I should be his supporter! I was not really prepared for that and was not sure if it could work out to be supporter AND girlfriend as well. For Paul Guschelbauer and his girlfriend Sarah Gudelius it worked out really well in 2011! So I contacted him and other X-Alps supporters to get more informations about the supporters job… As you know, I finally said yes. As Redbull decided that teams can have two supporters we knew we need Gerald for completing the Team ITA2. From then on teamwork started.
Preparation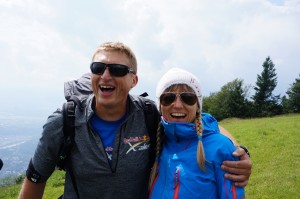 Since November 2012 we were completely involved in preparations. We had to find sponsors, choose the right material, check the route and get physically fit. A day can be really short, also if you get up at 6 am and go to bed at 11 pm. There is always something more you could do or do better. We had a checklist with the things to do and day by day we got more confident with X-Alps and what we needed for. Fellow-athlete Jon Chambers said to me before the start of the race: "It's all about preparation and you seem to be prepared!". I knew we were well prepared, the last months were pretty hard. I had to work as usual and in my free time I had to think about X-Alps. I often went up the mountain with the glider but I had no time to climb the nice thermal till the end. I had to land and go to work or sit down in front of the computer and arrange sponsors, clothing, bills, pictures etc…. It was just X-Alps but sometimes we said STOP X-Alps, now we are just Heidi and Peter having a good time! (picture: at Gaisberg with Max Fanderl a few days before the race)
 The race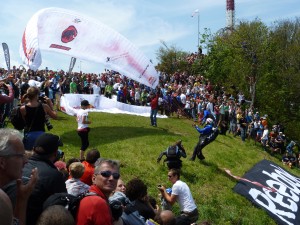 Finally 7th of July came. We were ready and happy to start! The preparation-week in Fuschl was nerve-racking. But at least we could meet the other X-Alps athlets and have interesting chats with them. Peter' s takeoff at Gaisberg was the moment I said: 'Now the game has started!' It was really windy and, as his girlfriend, I was a bit afraid of him BUT now I was supporter: Fly Peter fly! From then on all happened really fast. Peter flew, we drove. We always tried to be as near as possible to him in order to give him food, drinks and informations as soon as he landed. While driving we continuously followed the livetracking and sometimes we had to wait and see which choice Peter took. During those "dead" times I went buying food, washed dishes and clothes, tidied up and cooked. Aaaand I loved to take a power nap. Twenty minutes of sleep saved my day!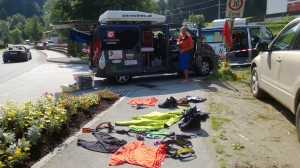 The incredible flight from the Zugspitze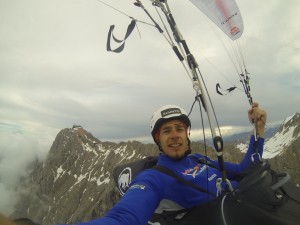 Peter landed at the back of the Zugspitze due to thunderstorms and had to walk all the way up. It was late afternoon and we did not know if weather conditions would allow him to reach the top on that day. I called Peter and said it would be the best if he could fly down today, maybe he could reach the peak by 8 pm. Maybe… I was in the valley on the computer when I got a call. It was only 7 pm. and Peter was on the phone: 'I am flying!!! Where should I head to?' Ohhh, mamma mia, he was so fast and now he is flying. Gerald was on the top of Zugspitze. He went up there to bring Peter clothes etc. but Peter did not take anything from him. He flew with only the minimum equipment, no long trousers, no gloves, no glasse! I jumped into the car and followed him by livetracking. Peter did an amazingly long flight and managed to overtake other X-Alps athlets. When I finally reached him he just said a happy hello and went off with his friend  Aaron Durogati who came along that moment.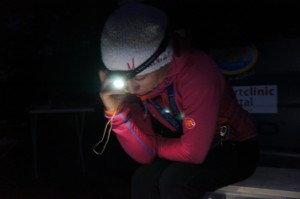 The Matterhorn day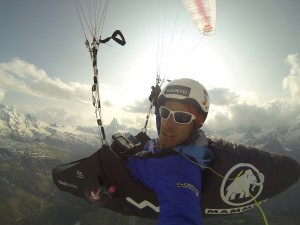 Do you remember Peter resting and resting and resting till midday?! It was a really loooong day. The day before we were on the Swiss side of the Matterhorn and, as Peter landed near to Theodulpass, we went off to the Italian side of the Matterhorn. That day we got up early to check weather conditions and then we had to WAIT! At some point Peter got nervous and wanted to fly down. NOOOO, we did not allow him to do that. We knew conditions will get better, they HAD TO get better. Finally at about midday Peter took off and succeeded in an amazing flight to Montblanc and further. (picture above: Peter on the way to Matterhorn)
Motivation
We were in contact with Peter during his flights, we gave him informations about local conditions and motivated him to hold on. The flying conditions were not easy at all and I remember one situation especially. We were in Switzerland. Peter was struggeling with the strong north-wind and lees – but it was only 4 pm. He wanted to give up and land. We did not allow him to do that and kept motivating him! He flew 30-40 more kilometers that day. Really important kilometers!
Food
Peter usually is really delicate with food but during X-Alps he ate everything! Rice with tuna at 7 am., barley and millet, cold pasta…It was only important to supply him continuously with food and drinks. When he landed after a long flight he just wanted watermelon! I did not count calories neither we had a cooking plan. I just cooked what Peter wanted or what I was able to prepare quickly! (picture: Peter having a break and eating watermelon!)
In the end we reached Monaco after a bit more than 9 days and got the fantastic 5th place! Peter flew lots of km and walked "only" 420 km (only Chrigel Maurer walked less!). Gerald and I drove for more than 4000 km. My doubts did not turn out to be true…we had a good time. We worked really well together as a team, we were able to give Peter the right information and he reacted professionally and kept the team together. At the price giving ceremony we were surprised by receiving the "Supporter of the year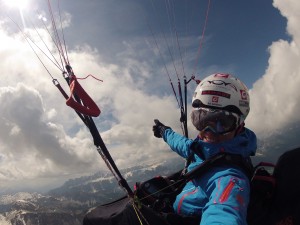 Award"!
I am happy that I was in this race but I am also happy that it's over! Now I can enjoy my free time and fly as long as I like… I missed the flying so much!
Ciao, wish you happy flights!
Heidi