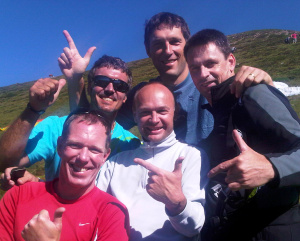 Next Post
Previous Post
I'm already sweating but it is only half past six in the morning, August 1st 2013, on my way to Grentealm. The monotonous step by step rhythm up the hill makes me daydream………was the offer from Till to become a NOVA Team Pilot a week ago reality? Yes, it was. Did I phone him yesterday to agree with a big smile? Yes, I did…..and everything started such a long time ago when I was on my circumnavigation with my lovely wife on our sailboat. When we sailed to New Zealand we had a land trip with stopover in Queenstown and there it was – my first time "hanging" under an paraglider, of course as passenger only. Directly after landing it was clear to me, that's my thing – I explored the mountain, the ocean and the water as a diver already – it was clear to me I need to get airborne one day. Some years had to pass by until I could manage, in balance with work and private life, to make my dream come true. In 2008, at an age of already 40, I started my first paragliding course not far from my current home town Fürstenfeldbruck in Bavaria. And surprisingly for me my wife joined the way and become a pilot herself – which turned out to be a real benefit to us, especially for the paragliding/rest balance. And since then she is my biggest supporter – THANKS Ulli!
In 2009 it was time to explore the air behind the starting hill and cross country flying came in to my life. From beginning on I was enthusiastic about it and of course I made some mistakes luckily without hurting myself. Every time I pushed harder and questioned myself what can I do better? I was probably the most annoying Greenhorn for other experienced pilots due to all my endless questions. But the success proved I was on the right way – in 2009 I achieved 4th and in 2010 3th place of the DHV XC Fun Cup distance and that with an old Advance Alpha 3. With my first NOVA Wing a Mentor 2 in 2011 the passion for XC flying increased. Thanks to the great performance and nice handling, I started to feel very comfortable within short time and this coming from a damped DHV1 glider – thanks Hannes for this great wing.
A shoulder injury forced me to think differently about break control (I was not able to hold hands up for long) and so I installed the laminar control principle to my harness. A bit different break feeling and handling – but thanks to my stable glider I managed even long distance flights and had much fun with the system when other pilots came close by to shout "BREAKS!". After an effective shoulder surgery I was fully motivated for 2012 and spend almost every leisure time with flying and preparation – 3th place DHV XC standard class and a 199km FAI was the result of it………was this a dog?.…oh there is a cowbell ringing and…..there we are Grentealm! Oh wow, there are already a lot pilots here and some of them wear NOVA clothes. This must be Werner Luidolt whom I recognized from the published story of the NOVA ION 2 Challenge. "Hi I'm Stefan a Newcomer to the NOVA Pilots Team." And what followed was very promising for my future in the NOVA Pilots Team – a very, very warm welcome from all attendant NPT members.
Thanks Werner, Michi, Hans, Uros and Rinaldo – you made my day and special Thanks to Till and Mik –without you I wouldn't be a NPT member yet!
I'm looking forward to seeing you all very soon at the NPT-meeting!
Cheers from Bavaria
Stefan