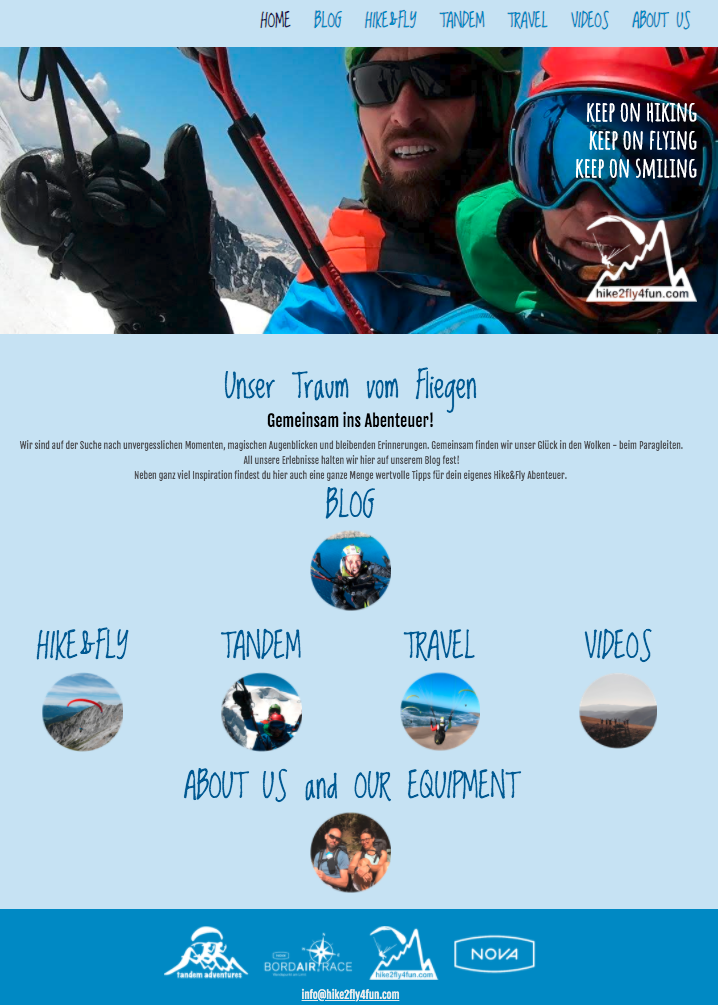 Next Post
Previous Post
Note from NOVA: NOVA Team Pilot Tomy Hofbauer and his partner Ulli Plech have a strong passion for Hike & Fly. Tomy, a former X-Alps athlete and co-organizer of the Bordairrace-series (www.bordairrace.com) and Ulli love the mountains and they love paragliding. During the Corona pandemic lockdown, Ulli took advantage of the free time and created the website www.hike2fly4fun.com. Even though in German, it's well worth to check it out. You find pictures, videos and plenty of information (altitude, wind direction, demands, area, approximate walking time, equipment etc.). Check it out.
---
Immer mehr Gleitschirmflieger entdecken Hike & Fly für sich. Für Ulli und mich ist es die perfekte Kombination, um unsere zwei großen Leidenschaften, die Berge und das Gleitschirmfliegen, zu verbinden. Ob auf dem Wanderweg oder dem Klettersteig den Gipfel zu erklimmen und dann mit einem Flug ins Tal belohnt zu werden, rundet für uns den Tag perfekt ab. Ganz besonders am Herzen liegt uns das Tandemfliegen. Wir lieben es, bei guten Thermikprognosen auf Strecke zu gehen und kombinieren dies gerne mit schönen Biwaktouren.
Vieles ist schon im Vorfeld für einen sicheren und gelungenen Hike & Fly zu beachten und zu planen. Für alle, die Informationen zu unseren Touren suchen und vielleicht motiviert sind, mit uns zu kommen oder uns von zu Hause aus virtuell begleiten wollen, hat Ulli die Webseite hike2fly4fun.com erstellt.
Da Ulli erst seit zwei Jahren fliegt, hat sie sich oft gefragt, wie sie als Anfängerin passende Touren finden kann. Worauf muss ich achten? Wie sind die Startplätze am Berg? Welche Windrichtungen passen? Undsoweiter… Auf hike2fly4fun.com hat Ulli die wichtigsten Infos wie Höhenmeter, Windrichtung, Gebiet, ungefähre Gehzeit, Equipment… übersichtlich zusammengestellt. Mein Beitrag dazu sind Fotos und Videos sowie ab und zu mein Knowhow.
Etliche Touren sind schon vorgestellt – viele werden noch dazu kommen. Außerdem bloggen wir dort zu aktuellen Themen rund um Touren, Wettkämpfe (www.bordairrace.com), Equipment und mehr.
Hier noch einige Screenshots wir wünschen Euch viel Spaß beim Schmökern
Tomy (und Ulli)
Startseite hike2fly4fun.com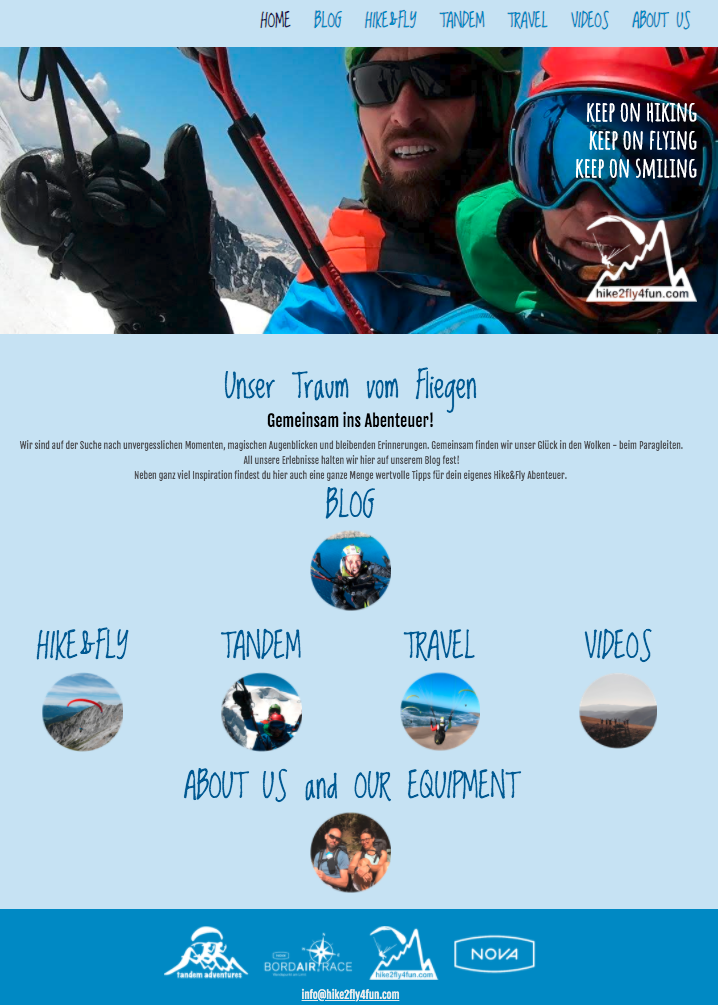 Rubrik About us and our Equipment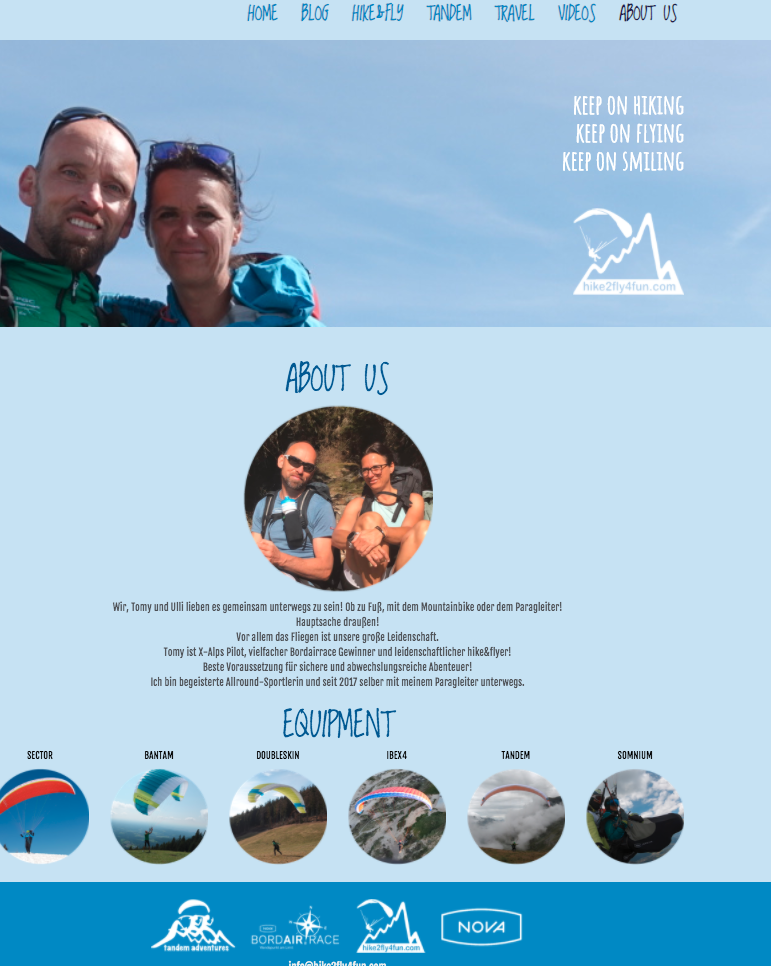 Rubrik Hike&Fly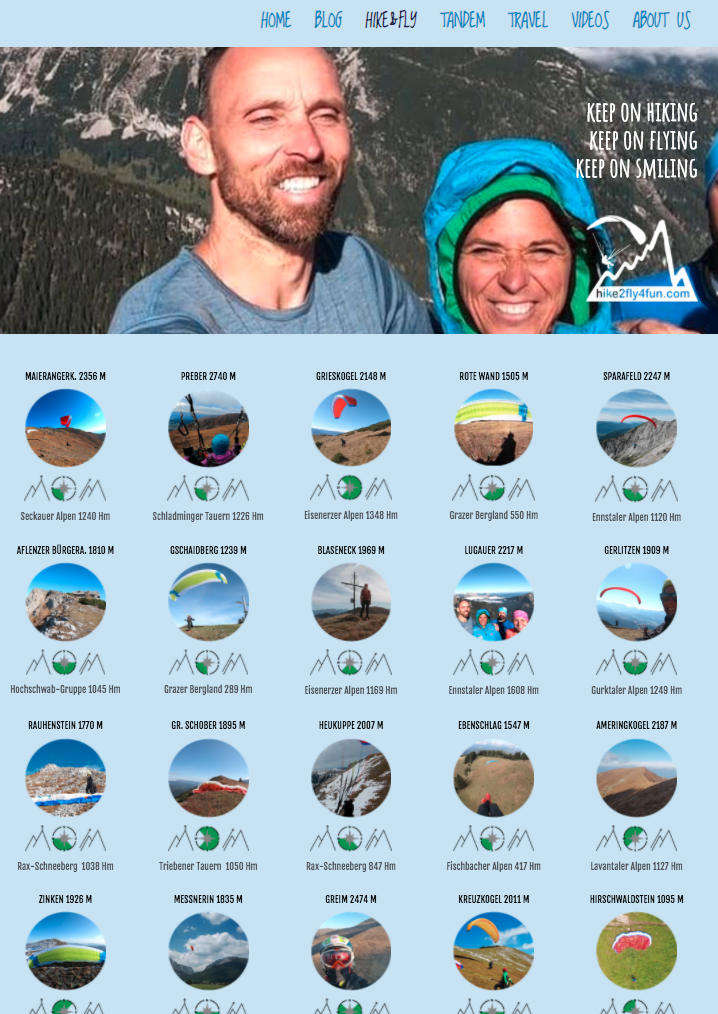 Vorstellung der einzelnen Touren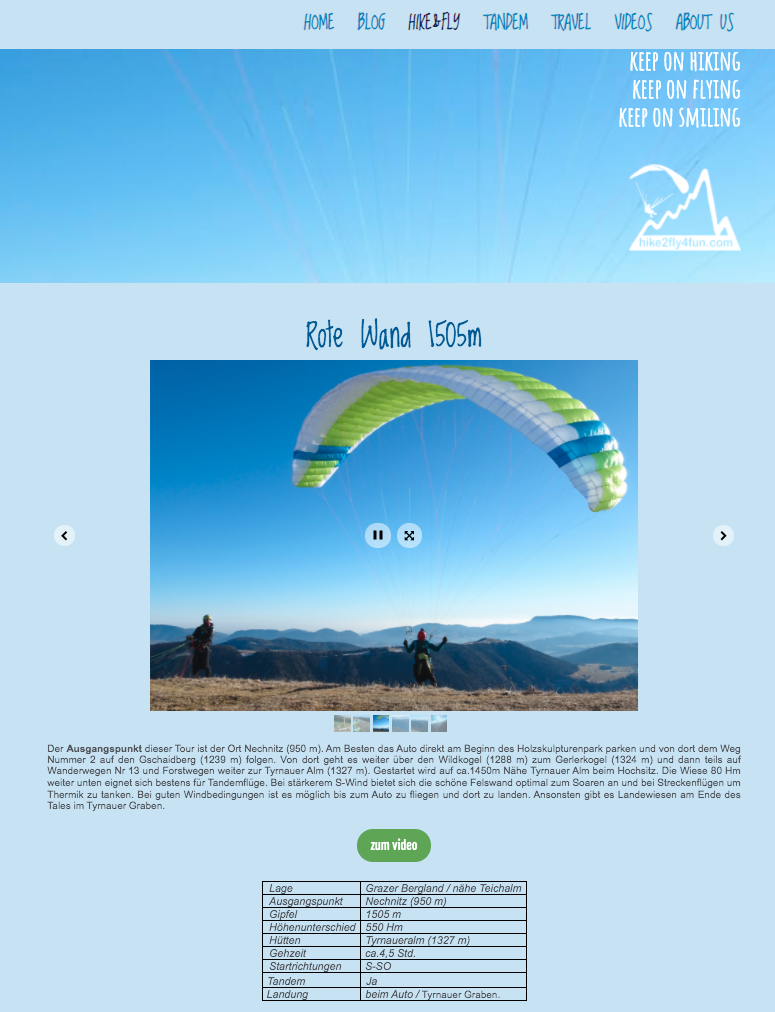 Rubrik Tandem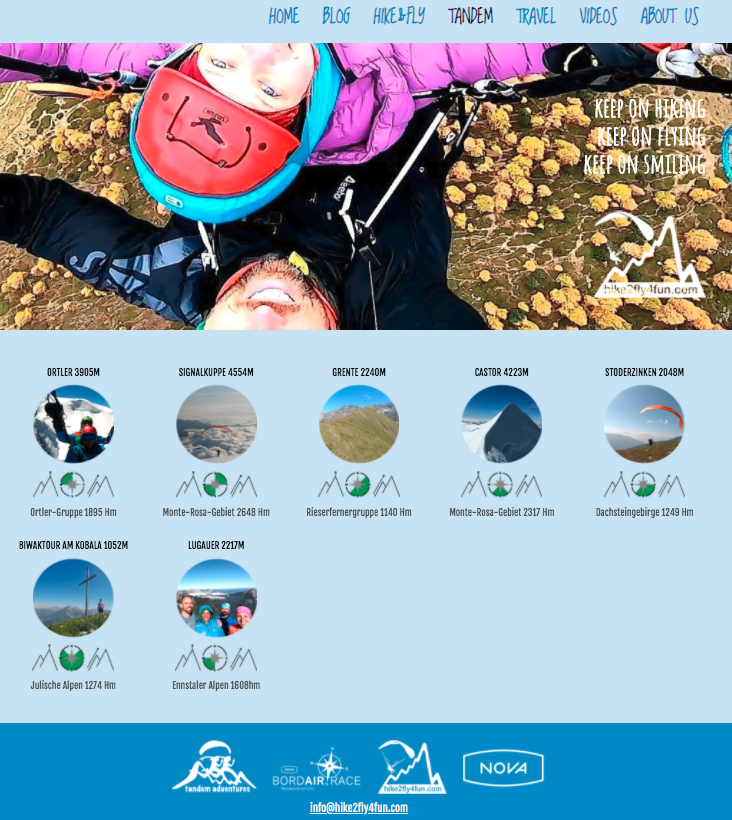 Rubrik Videos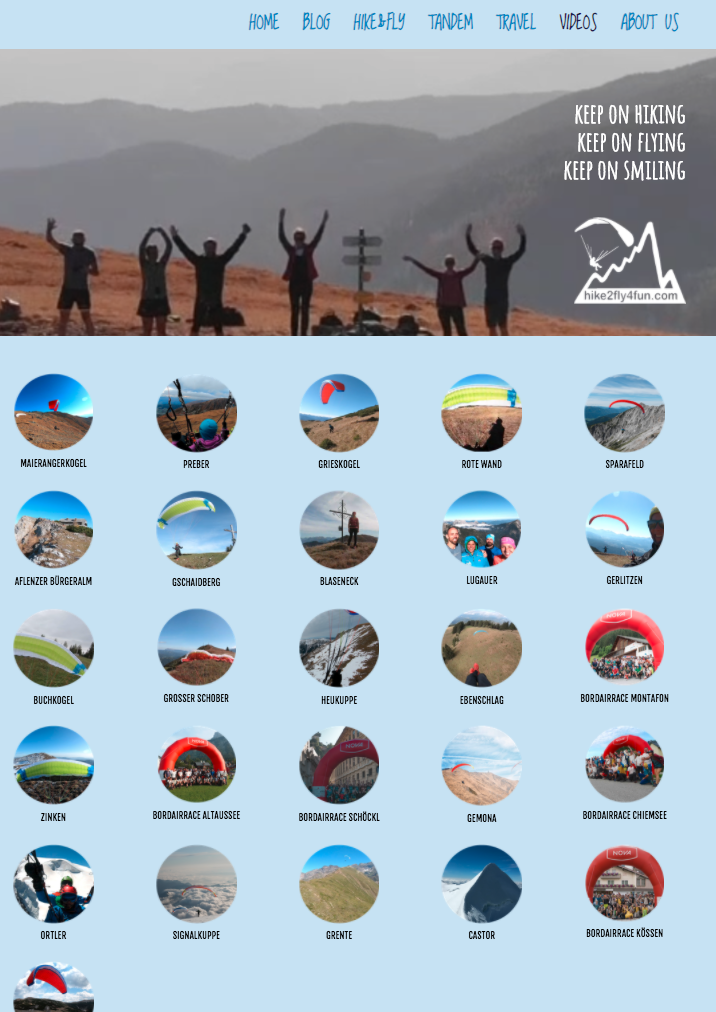 Rubrik Blog