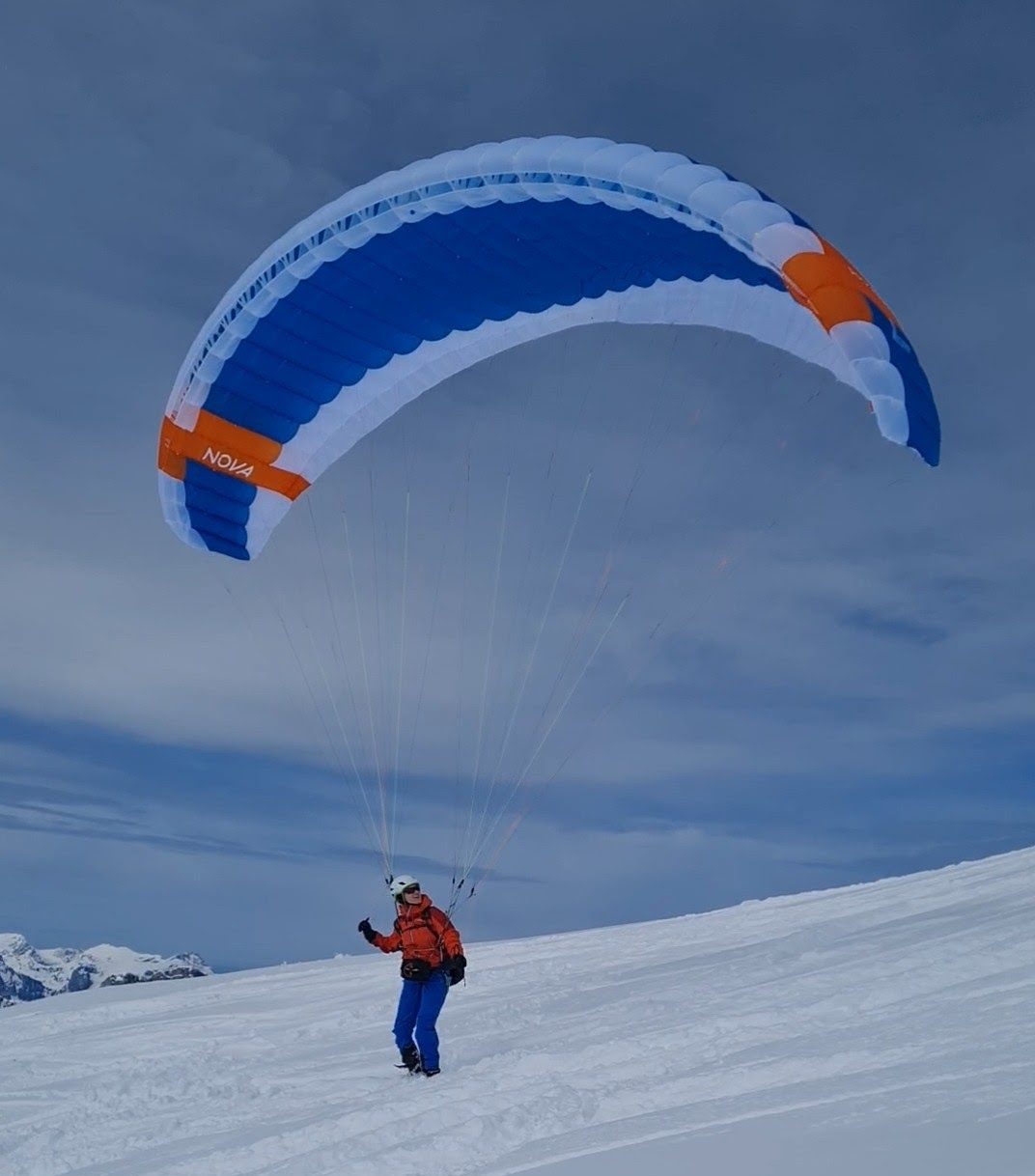 Next Post
Previous Post
«Mit dieser Knieverletzung wirst du dieses Jahr sicher nicht mehr Gleitschirm fliegen. Das wäre viel zu gefährlich!» (4. Januar 2022)
«Geht es gut mit dem Hochlaufen und Runterfliegen? Eigentlich ist Gleitschirmfliegen eine ideale Sportart für Kniepatienten.» (6. September 2022)
Zwei Aussagen meines Orthopäden. Lasst mich euch erzählen, was in den neun Monaten dazwischen alles passierte:
"With this knee injury, you will certainly not fly your paraglider again this year. That would be far too dangerous."
(January 4, 2022)
«Are you doing okay walking up and flying down? Actually, paragliding is an ideal sport for knee patients.»
(September 6, 2022,)
Two statements from my orthopedist. Let me tell you what happened in the nine months in between…
__________________________________________________________________________________________
Für das Jahr 2022 hatte ich viele Ziele: Zwei große Bergläufe, mich erstmals bei Hike & Fly-Wettbewerben messen und an einem Ski & Fly-Event teilnehmen. Ich war seit Wochen am Trainieren und konnte mich stetig verbessern. Im Job lief es super und auch privat passte auch alles. Kurz: ich war glücklich und zufrieden mit meinem Leben und top motiviert, mein sportliches Können unter Beweis zu stellen.
Nach dem ersten Schock war ich schon fast wieder positiv gestimmt: Wäre nur meine Kniescheibe luxiert, wie ich als Ärztin im ersten Moment vermutete, so sollte nach kurzer Rehabilitation den sportlichen Zielen nichts im Wege stehen. Mit Hilfe eines Kollegen war meine Kniescheibe schnell wieder in der richtigen Position. Ich war zuversichtlich, dass die Verletzung harmlos sei.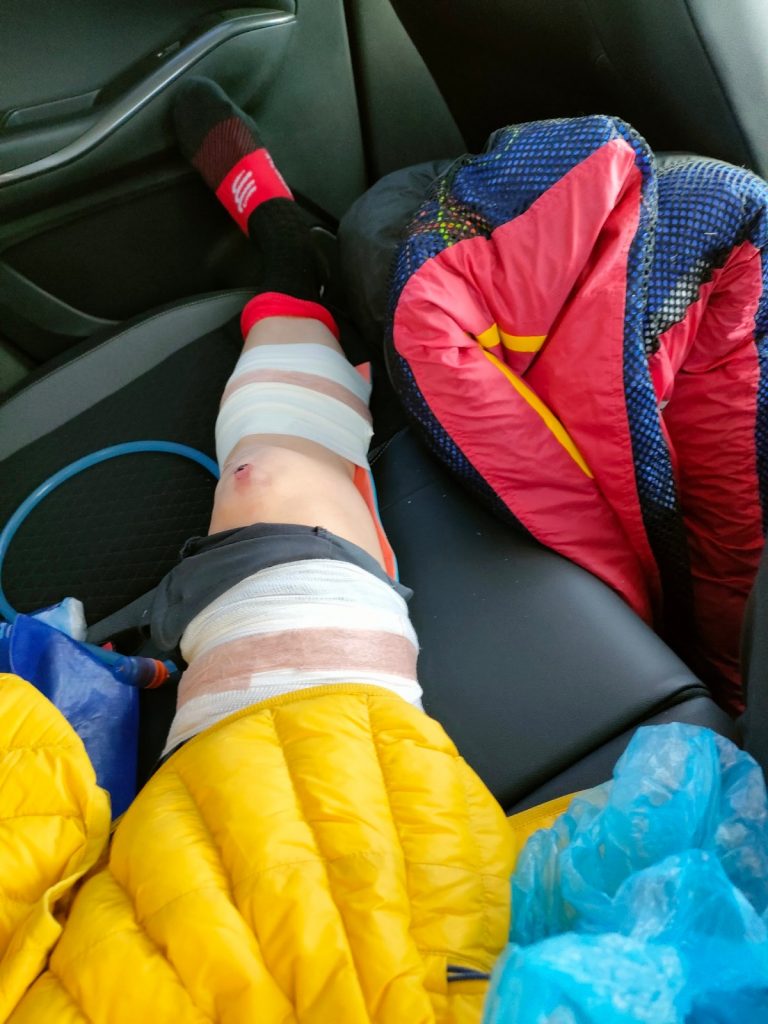 I had many goals for 2022: Two big mountain races, compete in Hike & Fly events for the first time and participate in a Ski & Fly event. I had been training for weeks and was able to improve steadily. Things were going great at work and everything was also going well in my private life. In short: I was happy and satisfied with my life and highly motivated to prove my sporting skills.
And then, the new year 2022 was barely twelve hours old, I was sitting on a Spanish plateau, full of dust from top to bottom, with a badly hurting knee after a collision with a rock. This knee definitely did not look "normal" at all.
After the initial shock, I was almost positive again: If only my kneecap had luxated, as I as a doctor suspected at the first moment, nothing should stand in the way of my sporting goals after a short rehabilitation. With the help of a colleague, my kneecap was quickly back in the right position. I was confident that the injury was rather harmless.
Alles komplett kaputt!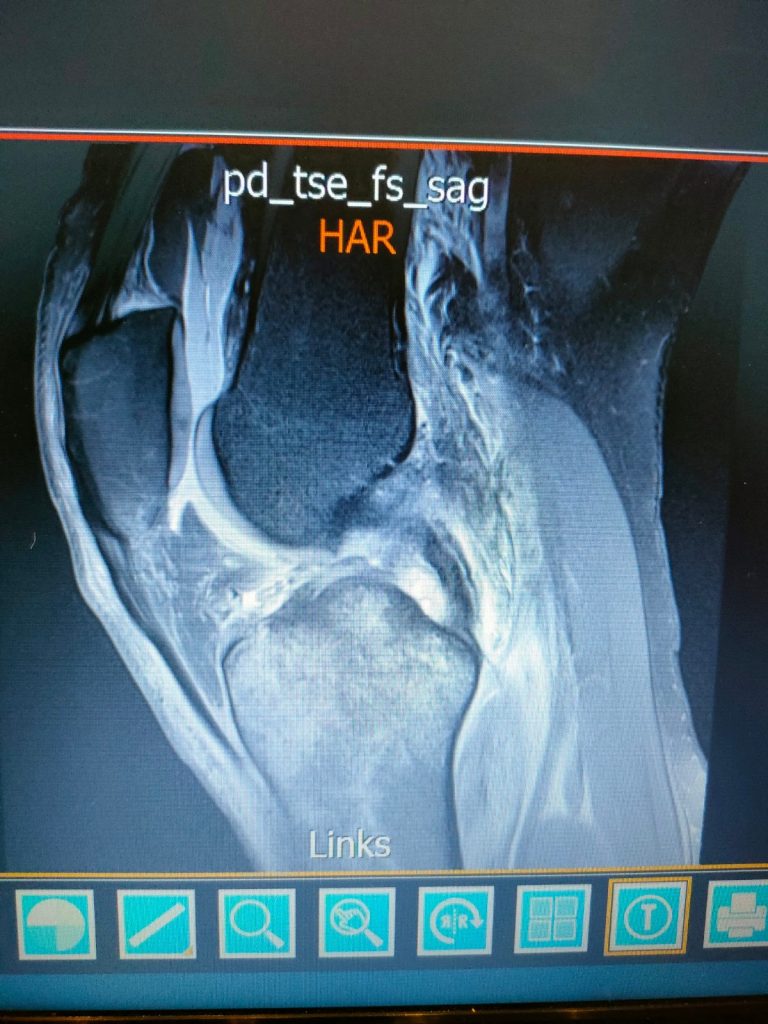 Die Ernüchterung kam zwei Tage später. Nicht nur meine Kniescheibe, mein gesamtes Kniegelenk war in Folge des Sturzes luxiert gewesen und entsprechend «komplett kaputt»: Ruptur des vorderen Kreuzbandes, kompletter Abriss des Außenmeniskus, Riss des Innenmeniskus, Teilriss des Innenbandes, schwere Kompressionsfraktur des Schienbeinkopfs und Bone-Bruise des Oberschenkelknochens. Dazu der Spruch meines Orthopäden: «Mit dieser Knieverletzung wirst du dieses Jahr sicher nicht mehr fliegen. Das wäre viel zu gefährlich!»
4. Januar 2022. Der erste Tag nach der Operation. Der Orthopäde berichtete mir, dass sie meinen Meniskus nur knapp hätten retten können, es aber unklar sei, ob dieser heilt oder in einer zweiten Operation komplett entfernt werden müsse.
Ich betrachtete meine MRT-Bilder aus dem Blickwinkel einer Ärztin und kannte den zu erwartenden Verlauf einer Knierehabilitation. Ich, eine junge sportliche Frau, mit dem Gedanken meinen Außenmeniskus zu verlieren!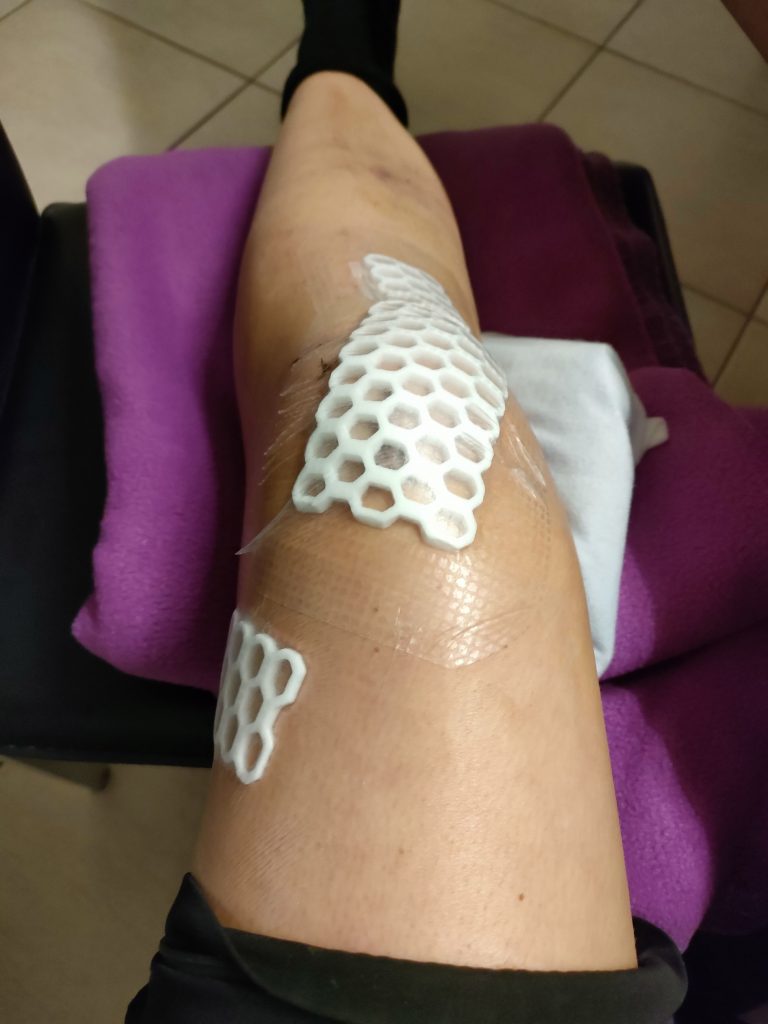 Ich wusste, was dies für Konsequenzen haben würde. Sämtliche Sportarten mit Schlägen auf das Kniegelenk würden nicht mehr möglich sein: Kein Joggen, keine Bergläufe. Ob Hike & Fly noch möglich wäre? Mein Leben stellte sich in diesen paar Tagen komplett auf den Kopf.
Alles andere als Anlass zu guter Stimmung… Und trotzdem, noch am ersten Tag nach der Operation  war für mich klar, dass ich im Sommer wieder fliegen werde. Ich wusste für mich, dass dieser Wunsch so stark ist, dass mein Knie dies mitmachen würde. Mein Meniskus würde sich erholen, das Knie genesen und ich im Sommer wieder fliegen – davon war ich überzeugt!
Everything completely destroyed!
The disillusionment came two days later. Not only my kneecap, my entire knee joint had been dislocated and was now "completely destroyed " as a result of the fall: Rupture of the anterior cruciate ligament, complete tear of the outer meniscus, tear of the inner meniscus, partial tear of the inner ligament, severe compression fracture of the tibial plateau and bone bruise of the femur. In addition, the saying of my orthopedist: "With this knee injury you will certainly not fly your paraglider again this year. That would be far too dangerous!"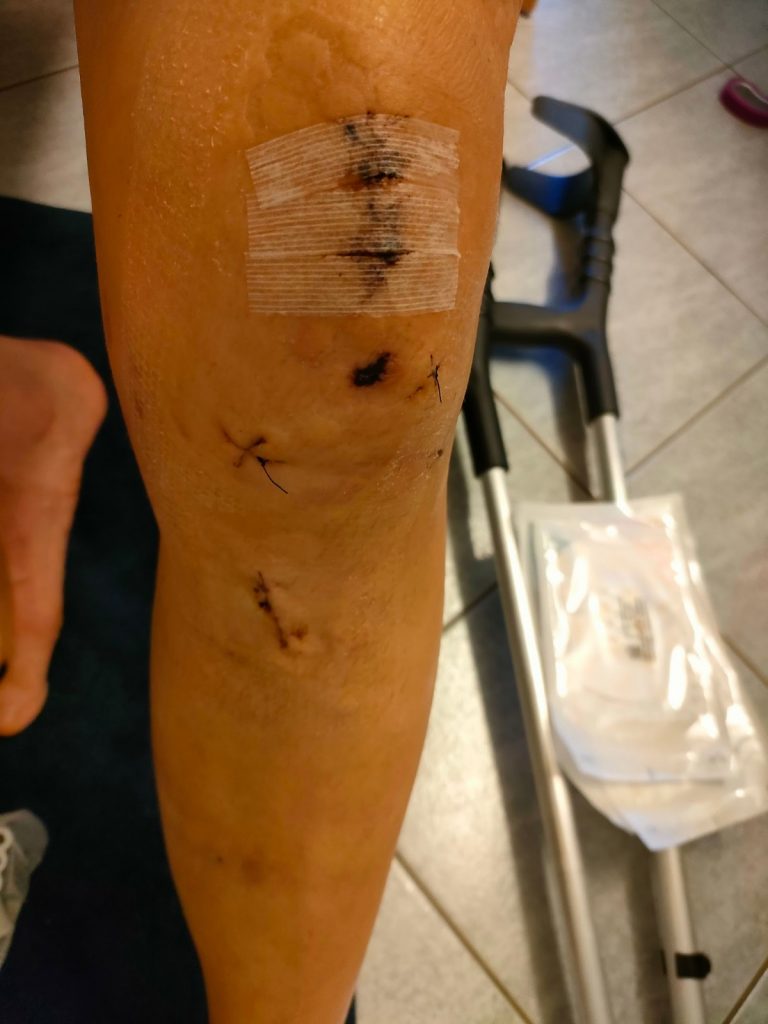 January 4, 2022, the first day after surgery. The orthopedist reported to me that they had just barely saved my outer meniscus, but that it was unclear whether it would heal or need to be completely removed in a second surgery.
I looked at my MRI images from a doctor's perspective and knew what to expect during the course of knee rehabilitation. Me, a young athletic woman, with the thought of losing my outer meniscus! I knew what the consequences would be. All sports involving blows to the knee joint would no longer be possible: no jogging, no mountain running. Would Hike & Fly still be possible? My life turned completely upside down in these few days.
Die etwas andere Reha
Mir war aber auch klar, dass dies nur mit sehr viel Arbeit und Geduld meinerseits möglich wäre. So kam mir die Idee, dass ich für mich einen auf dem Gleitschirmfliegen basierten Rehabilitationsplan entwarf:
Die erste Frage, die ich mir stellte, war ganz einfach: Welche Ressourcen müssen vorhanden sein, damit ein Flug wieder möglich wäre?
Fähigkeiten für den Start: Das Knie muss stabil genug sein, damit ich sicher drei, vier Schritte im unebenen Gelände machen kann. Außerdem müssen Korrekturschritte möglich sein.
Fähigkeiten für die Landung: Anfangs würde ich sicher auf dem Protektor landen. Ich muss das effektive Ausflairen sicher erlernen. Im weiteren zeitlichen Verlauf braucht es ein stabiles und sicheres Gelenk, um auch in unebenem Gelände landen zu können.
Kurz, eine Grundstabilität im Knie war notwendig. Und so setzte ich mir eine klare Aufgabe, um wieder zu fliegen: Ich wohne unterhalb des Fluggebietes Möntschelenalp. Eine kleine Alm, die für mich die letzten Jahre zu meinem Hauptfluggebiet geworden war. Wenn das Wetter stimmte, lief ich zwei bis drei Mal pro Woche diese Alm hoch, um einen Feierabendflug bzw. Vor-der-Arbeit-Flug zu machen. Für mich ist es bis heute einer meiner Lieblingsorte. Die 600 Höhenmeter sind eine wunderbare Trainingseinheit.
Ich dachte mir, dass, sobald ich es schaffen würde, mit meinem Gleitschirm auf die Möntschelen hochzulaufen, müsste der Bewegungsumfang des Knies weit genug und das Knie muskulär stabil genug sein, um sicher starten zu können. Bezüglich der Landung war mir klar, dass ich entweder nur auf dem rechten Bein oder eben auf dem Protektor landen würde. Also brauchte ich ein stabiles Gurtzeug mit einem noch stabileren Protektor.
The somewhat different rehab
But it was also clear to me that this would only be possible with a lot of work and patience on my part. So I came up with the idea of a rehabilitation plan for myself based on paragliding. The first question I asked myself was very simple: what resources must be available so that flying would be possible again?
Skills for takeoff: The knee must be stable enough so that I can safely take three or four steps on uneven terrain. Also, corrective steps must be possible.
Skills for landing: Initially, I would land safely on the protector. I need to learn how to flare out effectively safely. As time goes on, it takes a stable and secure joint to be able to land on uneven terrain.
In short, basic stability in the knee was necessary. And so I set myself a clear task to fly again: I live below the flying area Möntschelenalp (Switzerland). A small alpine pasture that had become my main flying site for the last few years. When the weather was right, I walked up this Alp two to three times a week to do a pre- or after-work flight. For me, it remains one of my favorite places to this day. The 600 meters of elevation gain is a wonderful workout.
I thought that as soon as I would manage to walk up to Möntschelen with my gear, the range of motion of my knee would be wide enough and muscularly stability high enough to be able to take off safely. Regarding the landing, it was clear to me that I would either land only on my right leg or just on the protector. So I needed a stable harness with an even more stable protector.
Über Geduld und Erfindungsreichtum
Auf Grund der Meniskusverletzung bestand die ersten acht Wochen eine Beuge- und Belastungsbeschränkung. Den physischen Aspekt des Fliegens zu trainieren war nicht möglich. Ich stellte mir somit die Frage, was ich anderweitig noch tun konnte, um mein Knie zu unterstützen oder mich flugtechnisch weiterzubringen?
So bestanden meine ersten acht Wochen der Rehabilitation aus Krafttraining für mein rechtes, unverletztes Bein und meinen Rumpf. Ich wusste, dass ich mit dem rechten Bein zu Beginn die Schwäche der linken Seite würde kompensieren müssen. Durch eine gestärkte Rumpfstabilität, würde ich die muskuläre Belastung der Beine weiter reduzieren können.

Auch in der Theorie bildete ich mich in diesen paar Wochen weiter. Wetterkunde gehörte bis anhin nie zu meinen Spezialitäten. Dieses Defizit arbeitete ich mit Hilfe von Büchern zum Thema Wetter auf. Dazu kamen Flugbücher, YouTube-Filme über flugspezifische Themen, Podcasts über den mentalen Teil des Fliegens, etc.
Und wie so oft wurde auch ich in dieser herausfordernden Situation kreativ und erfinderisch: Um das Handling mit dem Schirm zu üben, nahm ich mein Gurtzeug und hängte es an einem Türrahmen auf.
Weiter nahm ich einen kleinen Wäscheständer, platzierte den Laptop oben drauf, setzte mich in mein Gurtzeug und konnte so mit Théo de Blic (YouTube) Spiralen fliegen lernen und Sicherheitstrainings absolvieren.


About patience and ingenuity
Due to the meniscus injury, there was a flexion and load restriction for the first eight weeks. Training the physical aspect of flying was not possible. So I asked myself: what else could I do to support my knee or to advance flying-wise?
So, my first eight weeks of rehab consisted of strength training for my right, uninjured leg and trunk. I knew that I would have to compensate for the weakness of my left side with my right leg at the beginning. By strengthening my core stability, I would be able to further reduce the muscular load on my legs.
I also educated myself in paragliding theory during these few weeks. Up to now, meteorology had never been one of my specialties. I worked on this deficit with the help of books on the subject of weather. In addition, there were flight books, YouTube films about flight-specific topics, podcasts about the mental part of flying, etc.
And as is often the case, I got creative and inventive in this challenging situation: to practice my glider handling, I took my harness and hung it from a door frame. Further, I took a small clothes horse, placed the laptop on top, sat in my harness and was able to learn to fly spirals and do an SIV with Théo de Blic on YouTube.
Es geht vorwärts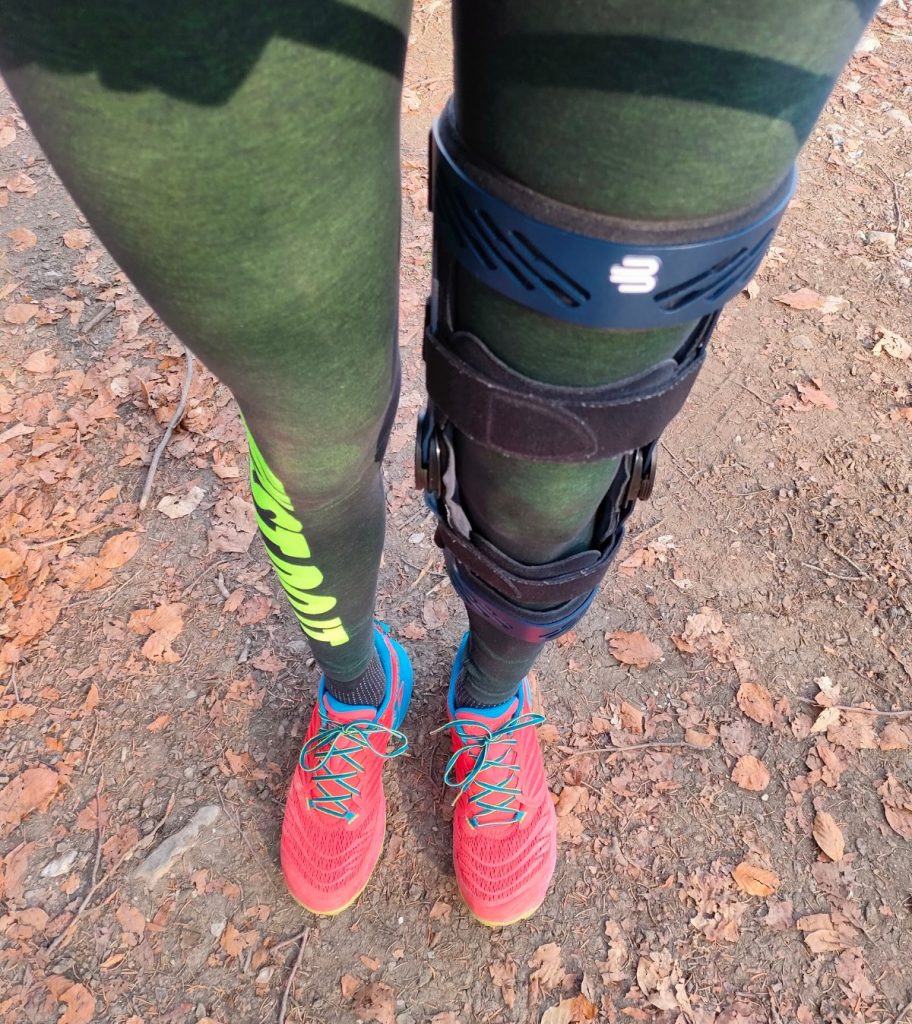 Nach den ersten acht Wochen die ersten Erfolge – keine Bewegungseinschränkung mehr, Beginn des Krafttrainings und Herumlaufen ohne Gehhilfen. Meinen ursprünglichen Plan, dass ich im März wieder joggen würde, musste ich dennoch verwerfen und anpassen. Für mich eine ungewohnte Situation. In der Regel arbeite ich mit vollem Einsatz auf ein von mir festgelegtes Ziel hin und erreiche dies dann auch meist plangemäß. Ich musste lernen, dass nun das Knie und der Körper das Tempo vorgeben – und nicht mein (Dick)Kopf.
«Sicher starten» – dass hiess ich musste wieder lernen, richtig zu laufen und mein Knie aktiv zu stabilisieren. Es folgten intensive Physiotherapie-Lektionen und viele Stunden im Krafttraining. Beim Groundhandling übte ich die Koordination, Abbremsbewegungen und Richtungswechsel.
Durch die kontinuierliche Verbesserung von Kraft, Kondition und Stabilität in meinem linken Knie, wurde Ende Mai im Gespräch mit meiner Physiotherapeutin klar, dass das Fliegen ihrer Meinung nach in ein paar Wochen wieder möglich sein müsste. Mein Orthopäde zeigte sich von der Idee dagegen nicht gerade begeistert… Von den erreichten Kraftwerten her bestand aber kein Grund, dass er mir das Fliegen weiter hätte verbieten können. So kam es dann zu meinem ersten Flug mit meinem guten, alten ION 3 Light.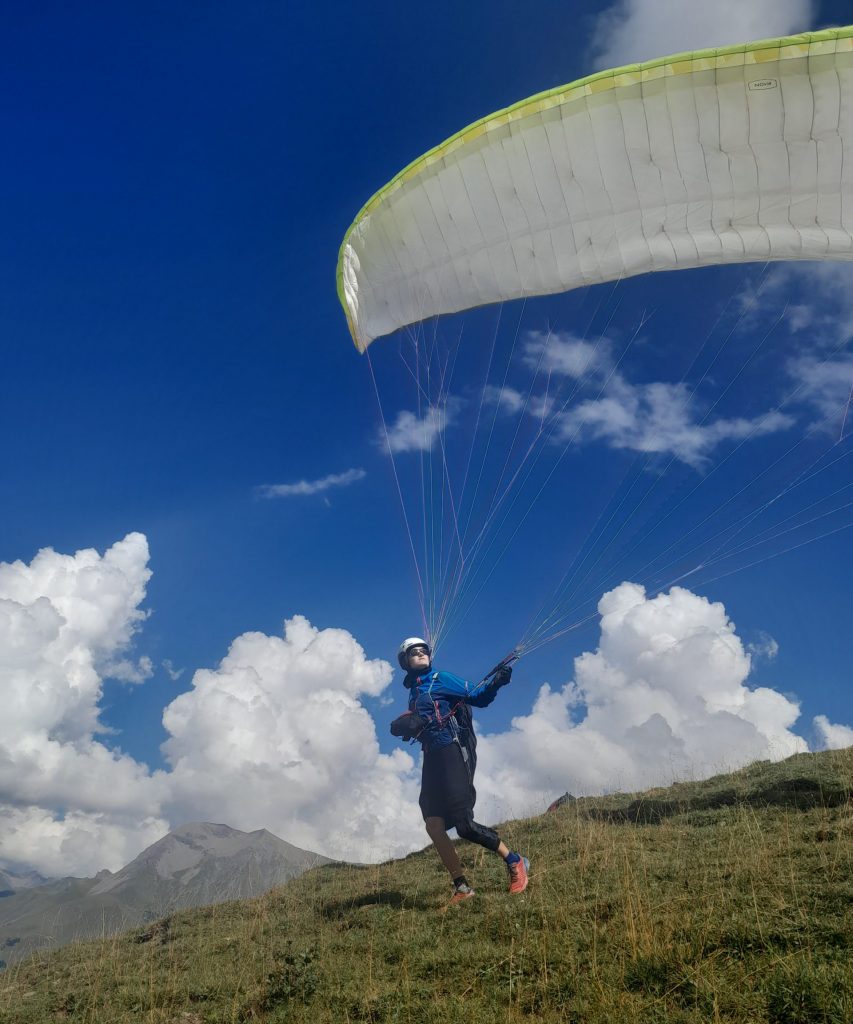 Things are moving forward
After the first eight weeks, the first successes! No more movement restrictions, starting strength training and walking around without walking aids. But I still had to discard and adjust my original plan that I would start jogging again in March. This was an unusual situation for me. Usually I work with full commitment towards a goal I have set and then achieve it according to my plan. I had to learn that now my knee and my body set the pace and not my – admittedly stubborn – head.
"Safe start" – that meant I had to learn again to run correctly and to actively stabilize my knee. Intensive physiotherapy sessions and many hours of strength training followed. During hours of ground handling I practiced coordination, braking movements and direction changes.
With the continued improvement in strength, conditioning, and stability in my left knee, it became clear in a conversation with my physical therapist at the end of May that, in her opinion, flying should be possible again in a few weeks. My orthopedist, on the other hand, was not very enthusiastic about the idea… But from the strength values I had achieved during training there was no obvious reason why he could have forbidden me to continue flying. So it came to my first flight with my good old ION 3 Light.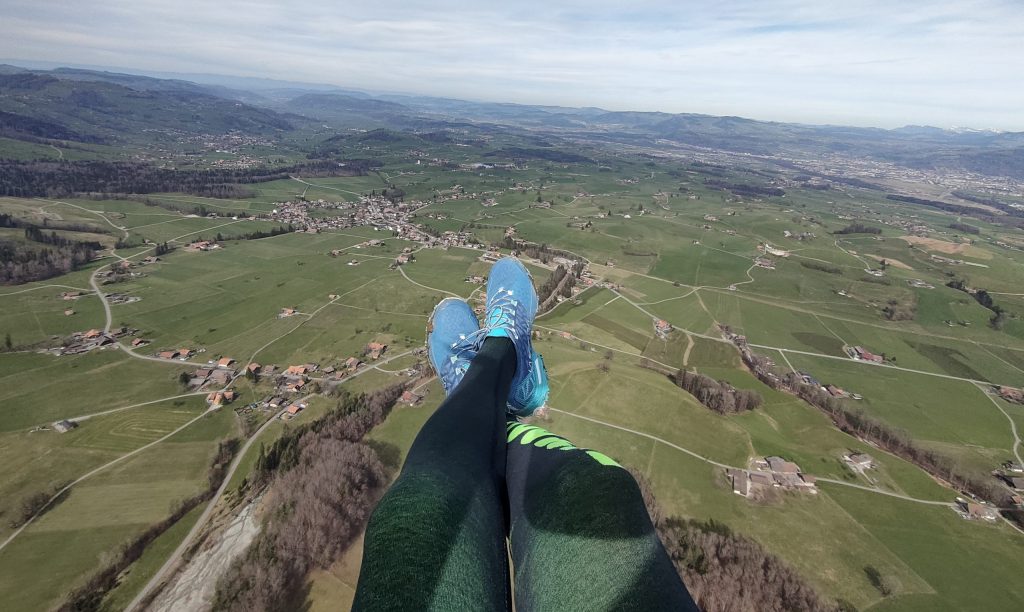 Jetzt geht es auch aufwärts
Gleitschirmfliegen ist in einer Knierehabilitation angepasst durchaus möglich – und ich glaube sogar: ein gutes Training! Beim Hochlaufen werden Kondition, Kraft und Stabilisation trainiert, durch den Flug nach unten und mit der Landung auf dem gesunden Knie oder dem Protektor, wird eine erhöhte Belastung des angeschlagenen Knies vermieden.
Ich durfte nun wieder fliegen, wusste aber, dass es noch viel Optimierungspotenzial gab. Zentral dabei war die Landung. Ich würde lernen müssen, mit Schlägen umzugehen, um mich in unwegsamen Gelände sicher fortbewegen zu können.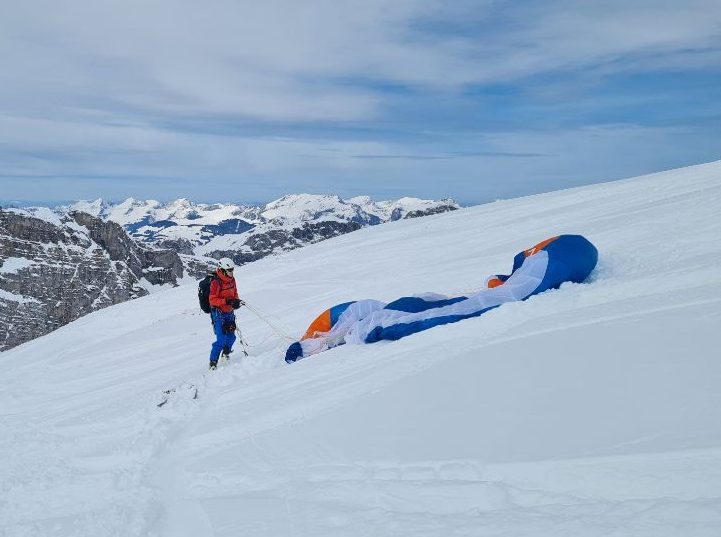 Es folgten intensive Trainingseinheiten mit Seilspringen und Sprungübungen. Weiter half mir das Hochlaufen auf Wanderwegen enorm bezüglich meiner Koordination im linken Bein. Nach etwa einem Dreivierteljahr hatte ich das Gefühl und Vertrauen, dass mein Knie auch in schwierigen Situationen, wieder stabil genug ist, um auch in unwegsamen Gelände wieder auf beiden Beinen zu landen.
Und am 6. September 2022, sagt mein Orthopäde zu mir: «Geht es gut mit dem Hochlaufen und Runterfliegen? Eigentlich ist Gleitschirmfliegen eine ideale Sportart für Kniepatienten.»
Direction upwards!
Hike & fly is quite possible in a knee rehabilitation adapted to the specific situation – and I even believe: it is an efficient training! When walking up, fitness, strength and stabilization are trained. By flying down and with the landing on the healthy knee or the protector, an increased load on the damaged knee is avoided.
I was now allowed to fly again, but I knew that there was still a lot of potential for optimization. Essential to this was the landing. I would have to learn how to deal with impacts in order to be able to move safely in rough terrain.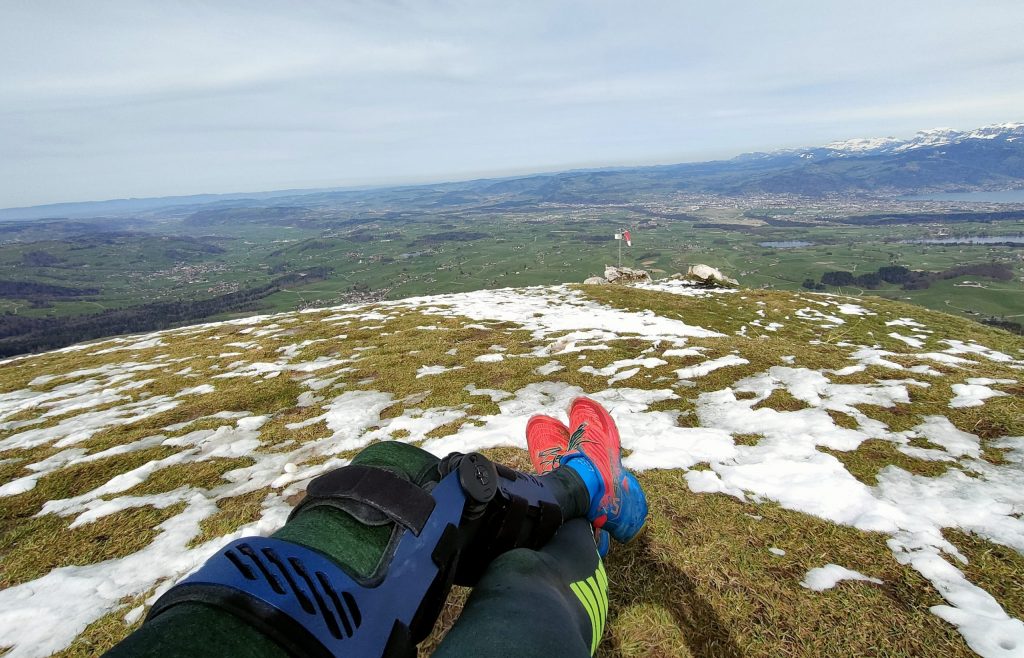 Intensive training sessions followed with rope skipping and jumping exercises. Further, walking up trails helped me tremendously regarding my coordination in my left leg. After about three quarters of a year, I had the feeling and confidence that my knee, even in difficult situations, was stable enough to land on both legs again, even in rough terrain.
And on September 6, 2022, my orthopedist said to me: "Is it going well with the walking up and flying down? Actually, paragliding is an ideal sport for knee patients."
_______________
Wieso ich meine Geschichte teilen möchte
Es gibt viele Kommentare über uns Gleitschirmflieger, wir seien gefährlich unterwegs, spielen mit dem Leben, usw. So ist es meiner Meinung nach nicht!
Werden Gleitschirmpilotinnen und -piloten nach dem Grund fürs Fliegen gefragt, so werden verschiedene Motivationen genannt. Nicht wenigen Menschen hat das Fliegen aus Lebenskrisen oder schweren Zeiten geholfen.
Ich selber glaube, dass das Gleitschirmfliegen eine Art Lebensschule ist. Wir können dabei viel über uns und das Leben lernen. Für mich hat die Fliegerei, neben vielen weiteren Aspekten, eine persönliche Wichtigkeit bekommen: Sie hat mich während meiner Rehabilitation indirekt unterstützt und motiviert. Das Fliegen war mein Ziel, einer der Gründe jeden Tag hart zu trainieren. Auch wenn das Leben manchmal anders läuft, als wir es uns wünschen. Das Gleitschirmfliegen bringt uns, dazu motiviert weiter zu gehen, nicht aufzugeben und weiter für unsere Leidenschaft zu kämpfen.
Es gibt also jede Menge wunderbarer Gründe zu fliegen. In diesem Sinne viel Spaß, bleibt gesund und "happy landings"
Sue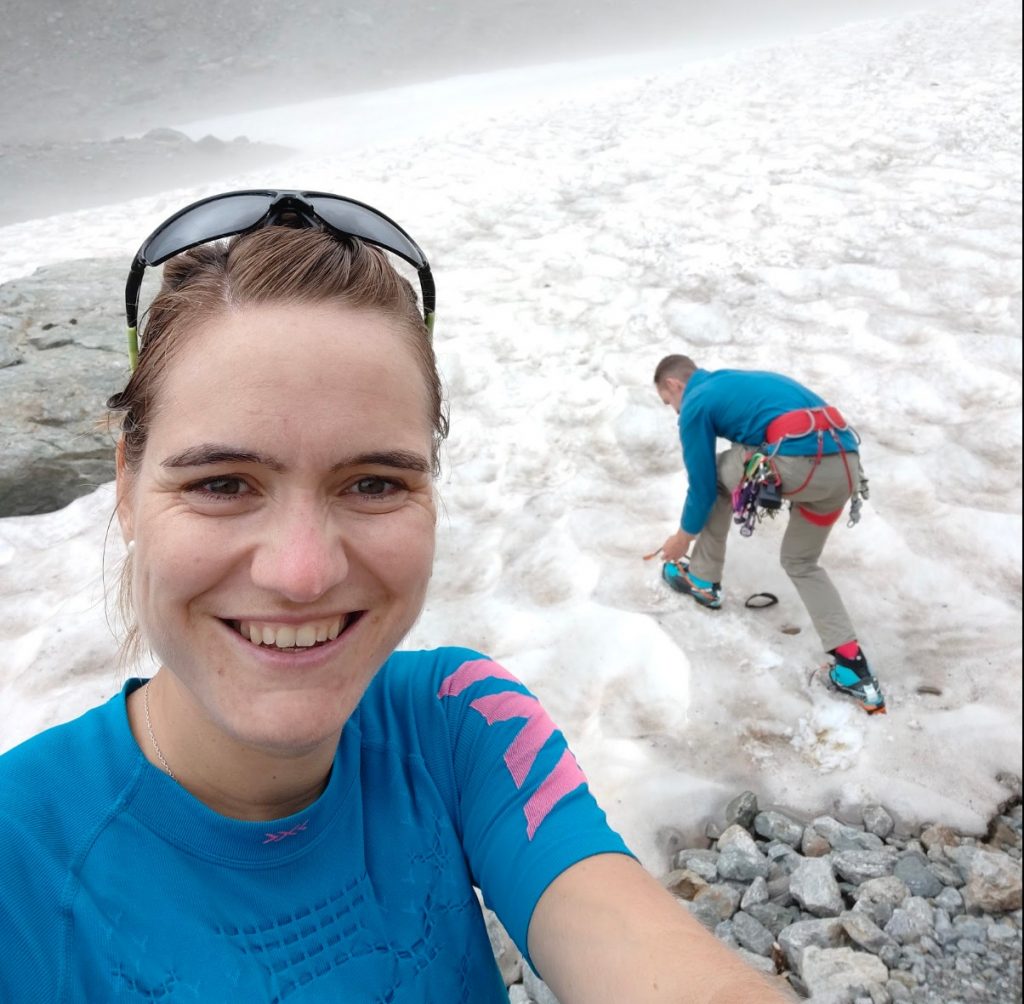 Why I want to share my story?
There are a lot of comments about us paraglider pilots, we are dangerous on the road, playing with life, etc. In my opinion it's not like that!
When paragliding pilots are asked about the reason for flying, various motivations are mentioned. Flying has helped quite a few people out of life crises or hard times.
I strongly believe that paragliding is a kind of school of life. We can learn a lot about ourselves and about life. For me, among many other aspects, flying has become personally important: It has indirectly supported and motivated me during my rehabilitation. Flying was my goal, one of the reasons to train hard every day. Even if life sometimes goes differently than we would like – paragliding keeps us motivated to keep going, not to give up and to keep fighting for our passion.
There are lots of wonderful reasons to fly. In this sense have fun, stay healthy and happy landings.
Sue