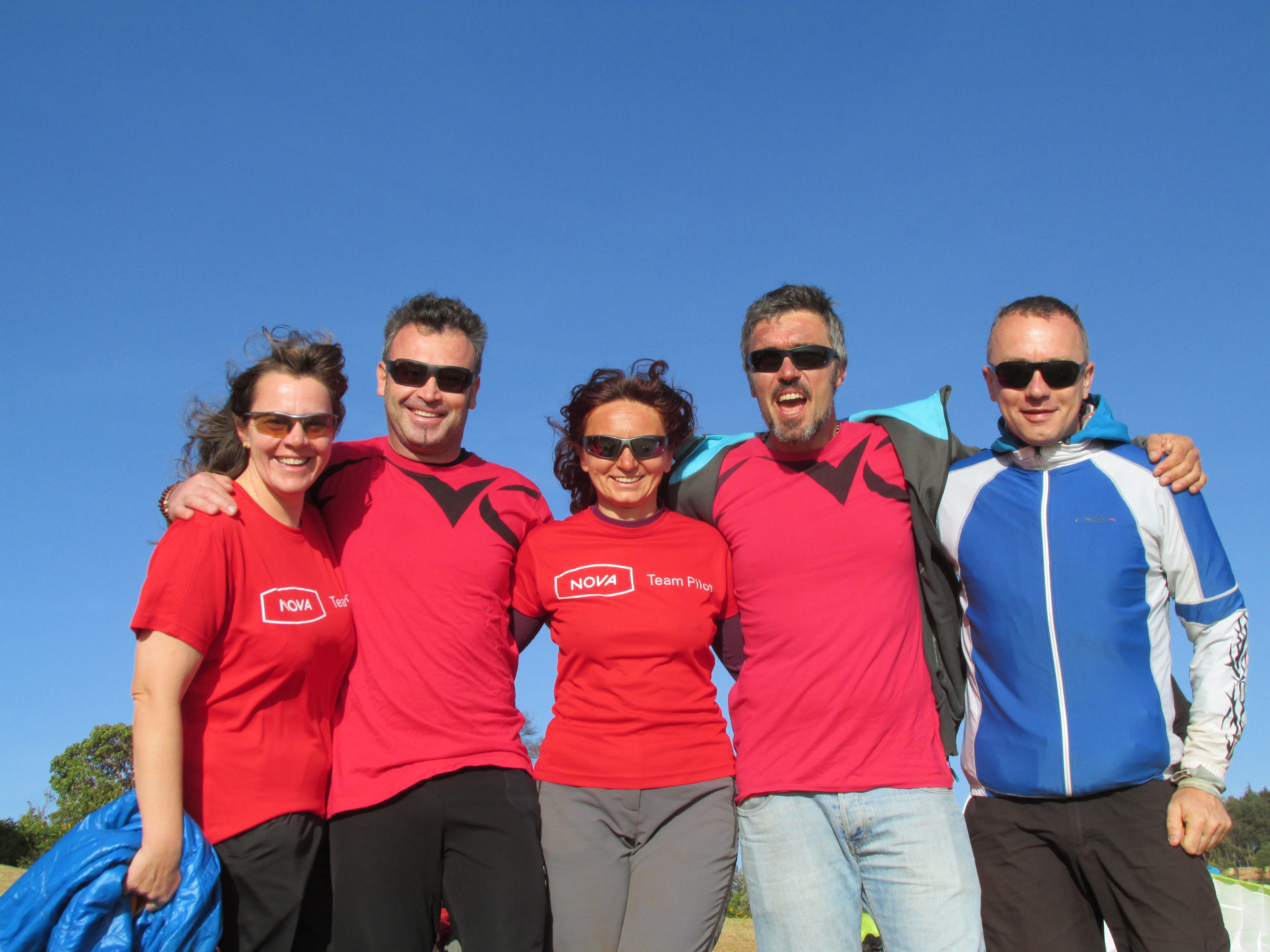 Next Post
Previous Post
Kerio, Rift Valley, Kenya, 15-25 January 2015
When my Italian team mate Rinaldo Vuerich, jokingly, told us that he intend to go again in Kenya in 2015 to stay less time than last year and in a cheaper accommodation, I began to think that it could be a good alternative for me, for my way of being and for my possibilities. And I did it.
We bought our airplane tickets (Rinaldo gave us all the indication) and we met all at Istanbul , in the airport. We were  six: me and Rinaldo from Rome, Federico from Pisa, Max from Verona and Lukasz and Pawel from Poland. With four of us being Nova Team Pilots. Great! Lukasz organised everything for the accommodation and the transport from Eldoret to Lelin Camping Site with a matatu. Matatu is the name of the local bush taxi with four wheels.
At Eldoret we spent quite some time to buy phone cards and we also bought some food and water. It was important for us not to drink water from wells because we are too delicate. European stomachs are different from African ones… I was impressed with the fact that we saw guards with guns everywhere: airport, on the street, in front of banks. They used the metal detector to let us go in shops. But they were always smiling and laughing and happy for nothing, for seeing us, for shaking our hands. They had nothing and they were so happy.
Finally we arrived at the camping: nice place in the middle of trees, overlooking the Rift Valley. There was also a bar and a kitchen with possibility to eat. The rooms had beds and shower. We didn't need anything else. It was perfect.
The take off is at 2340 meters and the official landing at 2190 meters. Worse than Norma, my home flying site, for a bombout :) .
In the afternoon we did a first flight. My first bombout. Very important because I was a little bit scared before. There already were three incidents days ago and I knew that the conditions can be very strong. I was wondering if I didn't make a too long step byflying the Rift Valley. In the afternoon, conditions are softer and you can achieve considerable altitudes, even 4000 meters. With this first flight I broke the ice and I saw that it is not so difficult. The wind was strong but not too strong, the landing was normal… What else did I want? It is a normal place to fly :) . In the landing the first contact with the Kenyan kids and with Tiki-Tiki . Tiki-Tiki is the Kenyan taxi with 2 wheels. And the kids: I was a new entry for them and they asked for my name, my country, where I live….
The second day we started early in the morning and we went a bit to the south and after to the north. After half an hour I already put my feet on the ground. And I was not so happy. I also had my welcome first asymmetric collapse. Fortunatly, a Tiki-Tiki was waiting for me and I arrived  at home soon (photo of my Tiki-Tiki). Dont loose hope…
The third day (18 January) it was better. We took off early as usual and  headed south. With full bar I tried to follow the others. I had a lot of movements of my sail, asymmetrics but my baby (Mentor 3) behaved wonderfully. I always had full control and we were in syntonies. Great day. Great sail. I love it. Slowly I began to understand the place and the flying: full speed and the sail must stay open! easy! With this flight, I was testing the south.
A free day and on 20th of January I went to taste the north. I went 20 km to north and came back to the landing place. I was happy because I didn't bomb out in the place were I landed the other day. I saw the corner of the so-called "monster" also but I didn't pass it.
My first 100 km came by itself. Now I knew some rules of this place and I put on my mind some geographical points: waterfalls, pyramid, high voltage power line to 8 km, corner of the monster. In this flight you talk only in km: I set my first turnpoint at the 39 km to the south and went north. It was simplye My aim was that day to make 100 km and I did it. Two days after I flew 156 km straight flight but the contest decided that I will have more points with a flat triangle. But for me it is important that I did 150+ km. A new personal best!
Saturday morning, one day before leave, I said to Max: "At the begining I wanted to turn home healthy. The incidents scared me a little. After I saw that it is not too difficult and I wanted to do 100 km and after 150 km. Now I made all of this happen. What can I ask for today? 200 is too much for me at the moment." Max said: "Now you enjoy your flight. Fly slowly and safely. Look at the monkeys and the birds, the kids and their houses in the top of the mountains. Look at the sky and water falls. The life is not only about munching kilometers!" So that day I had an early bomb out. I ran to the take-off and I took off for the second time in that morning. Everybody was flying to the south but for me it was too late. So I headed to the north. just by myself. Alone, alone, alone. And it was great. I made 43 km solo and after I decided to turn back to the south. At 10 km from the start I made a mistake and bombed out again. But I wasn't angry because I did all of this alone and I enjoyed it tremenduously. It was not easy but it was great.
It was not easy to stay night and day near "paragliding monsters" like Rinaldo, Max, Lukasz, Federico and Pawel. It is not easy to stay at the diner and hear them talking about 100, 200 or even 250 km. And you are a bomb-outer. But it was GREAT GREAT GREAT and a strong experience. It was very educational because you can't grow if you don't look forward, if you do not want to become like your idols. And it was wonderful because they had good words for me always, sometimes Zio Rinaldo pulled my ears because I have not try to do more but this is part of a game. This is the sweet and the bitter of life. It was wonderful also because the life is not only about flying as many kilometers as possible. The life is to fly together with your friends with your baby-love-paraglider, to be one body and soul with it. The life is to have the courage to travel a foreign country and to meet their reality and their culture and civilization. The life is the preparation before and the metabolization after.
See you friends and hope to meet you in flight somewhere in this big world.
Claudia