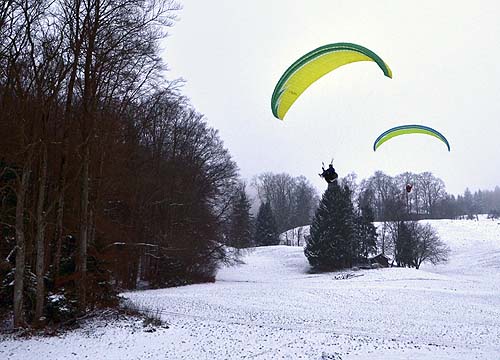 Next Post
Previous Post
Last weekend we held the annual Christmas Party of our club (www.Kampenwand-flieger.de). This year we included some flying in the afternoon. Our main intention was having fun together – in spite of a grey winter day, which otherwise wouldn't be very appealing in terms paragliding. So we added some Glühwein (hot, spiced red wine) to "prepare ourselves against the cold".
We also had planned to do some performance comparisons. I had asked Pipo Medicus and Mario Eder how they normally do this at NOVA: identical harnesses, same harness adjustment, 100 % exactly the wing-load, same clothes, same everything. Then get up early on a zero wind day, launch, get "levelled in" wing to wing while in the air – and THEN compare. When I told Mario that we have an elevation difference of less than 100 meters, he said that the launch itself will be more important than the L/D of the wing. We didn't let ourselves disencourage as the main target was the "social part" and NOT L/D test. Yet, everybody was kind of curious how the brand-new MENTOR 3 would do.
On this afternoon we had a reasonable range of wings in the air: Sky Anakis 2, Swing Astral 6, Gin Boomerang 6, Ozone Delta, Advance Epsilon 6, Team 5 Green, Gin Sprint, Gin Sprint X-Alps, Skywalk Tequila and a handful of Mentor 2s.
As Mario had promised, launch conditions had a major impact, so providing L/D figures here would simply be nonsense. Still it was visible that the MENTOR 3 clearly outperformed all other wings.
But most important: we really had a great day out! During winter times when there isn't much "real" flying going on, this idea is a nice format to meet with others and have fun. I can strongly recommend it!
Cheers
Till
(Of course, I have to write this, as I am NOVA's PR-guy. However, everybody else who was present could see it too.)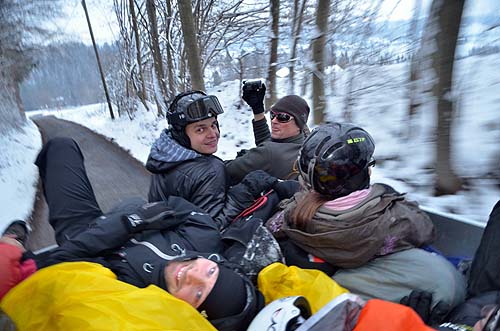 Jürgen Schreiner provided great transportation to us!