Next Post
Previous Post
After much planning and lots of anticipation I found myself on the way to Annecy with two friends in the beginning of April. The weather was poor to start with North East meteo wind blowing which makes it rough in the Annecy valley.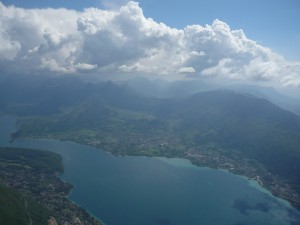 Despite the adverse condition I was determined to fly the Nova Factor for the first time. This was also my first experience on a EN C wing too. My very first impression of the wing came as it accelerated as I left the new launch mat at Col de la Forclaz. The acceleration was an amazing feeling which I had not experienced on my old DHV 1-2, it sparked one word in my head… Wow. From then instinct took over and I felt an instant connection with the wing, without thinking I worked the punchy lift and banged against a stubborn inversion. It was several minutes before my brain stopped concentrating on going up and started to comprehend that I had a different wing, it was a strange moment but quickly passed as the vario started beeping again. As a pilot stepping up a to a EN C it didn't feel like a massive step, it was definitely a step but not as big as I had worried about. Safety wise the Factor feels more solid than my old wing, though it does require a bit more active piloting this is reassuring because it makes me feel more connected to the wing. The first flight on the Factor saw me land with a big smile on my face despite the rough conditions and the lack of XC.
More poor weather followed so when Irwyn (local paragliding guru who I stayed with for the first week) told us that a flight off the famous Aiguille du Midi was possible my friends and I jumped at it. After the stunning cable car to the top I was surprised how affected I was by the altitude (~3600m); I was having to make a conscious effort to breath deeply to hold a migraine at bay. After the nerve racking descent down the arête (which was much wider than I had seen in videos because of the time of year) we found perfect soaring conditions. We launched and were able to soar the North face for as long as we wanted, enjoying the view and the companionship of flying with friends in such a beautiful place.
A few more days of top-to-bottom weather and I was beginning to get frustrated, aside from the spectacular Aiguille du Midi flight the trip had seen almost a week of no xc! Little did I know my luck was changing. My two friends Jamie and Eva sacrificed themselves to the weather gods by heading South to Larange. This did the trick and the weather was stunning! The next three days saw everything you want in an xc; nice clouds, big glides and low saves. On each of the three days I flew 5 hours, and a total of 220km but still no 100km for me unfortunately, it is safe to say I was exhausted. The fourth day saw me pushing hard in an effort to fly the ton, a combination of pushing too hard, not taking climbs to their top and cloud shadows saw me on the deck after 30km. For the next couple of days I took some much needed rest as did the weather.
A few days later I flew two more "fun" flights; I wanted to fly similar flights to those I had flown when the weather was perfect but in less than perfect conditions. I almost got more than I asked for when I found myself flying xc with only two wings in sight (rare for a popular place like Annecy) and lenticular clouds in the distance. Also up high was a 20km/hr South wind. Luckily cloudbase was a chilly 3500m. Because of the wind I made a real effort to stay as high as possible while I scuttled back to the Annecy valley.
Then all of a sudden the holiday was all but over, while musing the success of the trip with Irwyn over a few beers I mentioned that it would be nice to fly one more nice flight before retuning to Wales. Irwyn took command and briefed us on a 100km triangle from a morning site called Col de Tamie. We woke early the next day and set out to a launch that none of us had been to before (Irwyn was busy with customers so couldn't come), after navigating to the car park we set off into the woods, me leading the way with map in hand (big mistake).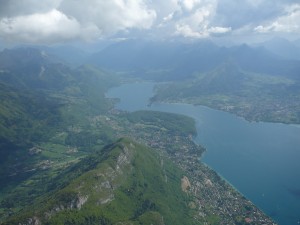 After spying a small clearing through the trees I quickly dismissed it as too small to be a launch… around 20mins later after the path came to an end I realised my mistake and half ran half stumbled back down the path to the clearing which had a lovely light breeze coming up its face. After tearing the wing out of the bag in an attempt to make up for lost time I launched and soon realised my second mistake of the day. I'd launched too early and was struggling to maintain my height 300m below the launch. After an hour and a half of scratching the others in the group had launched and were able to climb out while I grovelled on the lower cliffs. As they climbed out and set off around the set task I was determined not to be left behind and pushed along after scratching back to take-off. For the next ninety minutes I crept around the spines of a long ridge hoping that just around the next spine was a wide thermal inviting bowl perfectly orientated into the valley breeze. This went on for ~25km while above me I could see the others gliding and topping up their height at will. Eventually I got near the first turnpoint and finally got to cloudbase (almost 4 hours into the flight) I could see that the sky was over developing so I decided not to fly the 4km onto the next mountain to get the first turnpoint.
Instead I pointed towards lake Annecy which shone in the distance. As I neared the South end of the lake it began to rain under a towering cumulus, not heavily so I wasn't too worried. After gliding against the valley breeze to the Forclaz launch I could see that not many pilots were in the air and in the valleys to the East of Annecy it was raining heavily. This is where the Nova Factor made a huge difference to my flying, on bar it feels more safe than my old wing and its top speed makes into-wind glides much more manageable. I was sure that closing the flight was possible but I would have to be quick to beat the weather. As the clouds were so big the cloud suck was amazing; for the last hour and a half of the flight I only turned to spiral of the cloud. After skirting up the side of the last cumlus to 2800m with a 10km glide to goal I finally relaxed and felt happy enough to take photos. It was an amazing feeling to close such a flight. I had experienced so many emotions through the day and when I landed I was exhausted. Sadly the flight was not over 100km though it was a personal best and lasted 6 hours; also I didn't feel bad because I knew that I had done ok considering the conditions.
The trip was a huge success with 47 hours of airtime logged; spring time in the Alps means that the weather was not perfect very often but when it's good; it's very good. Because this year is a La Nina year Spring came very early and there was not much snow on the mountains. The thermals were punchy but not unmanageable.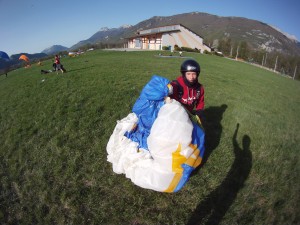 Despite my terrible grasp of the French language, the locals are very kind and hitch-hiking is still very easy. The trip was made even better by Irwyn's (http://www.maison-du-moulin.co.uk/) advice and guidance. The trip would never have happened but for Jamie and Eva, who kindly drove me to the Alps and back.
Flights can be seen in the UK International League (http://www.xcleague.com/xc/leagues/view-20.html). Also thanks to NOVA (http://www.nova-wings.com/) for supplying a fantastic wing and for taking me into their Junior Pilots Team.